Social Studies considers year-long extension of AP Gov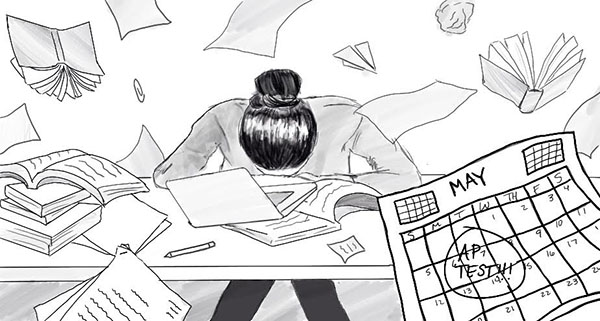 Om Patel, staff reporter
December 14, 2018
The Social Studies Department is considering switching the AP Government course from semester-long to year-long in order to accommodate the expanding curriculum of the class and  to enhance the experience for students, according to Jeannie Logan, instructional supervisor for the Social Studies Department.
Logan says that the department had pursued making the change in the past; however, there was an increased necessity to start the decision-making process this year. Logan adds that the Social Studies Department was also worried that the class was overwhelming.
"I think primarily we are really concerned about how much material the course is expected to cover, especially because this is the first year of a major curricular revision," Logan said.
AP Government Teacher David Kane states the course originated as a semester-long class called Political Science. Since many students enrolled in the class were taking the AP Government test, the Social Studies Department began teaching AP Government as a one-semester class, Kane says. 
Kane expresses his frustration on the additions the College Board has included such as the new requirement to learn about certain Supreme Court cases and primary source documents. Teachers are also expected to teach in four different formats and require students to write research papers, Kane says.
"[The College Board] has added even more content [that AP Government teachers] have to cover now … [so] we're struggling with time management," Kane said. "Every day [teachers] seem to commiserate after school saying 'I'm farther and farther behind.' It is becoming harder and harder to get through the material."
Students in the class have also voiced their desire for AP Government to become a year-long course. Senior Kathleen Bock, who currently takes the class, wishes for more time to cover the material in order to understand it. She also hopes to cover more current events in class to connect it to reality.
"I think we would capture the interest of students more if something that was happening in their lives now was tied to the course," Bock said. "For me, personally, it would make it easier to follow."
Although there is support for the change, senior Kayla Zuiker feels that it is not necessary. She compares the course to others and says that the workload is not as intense, thus eliminating the need for another semester.
"We have never felt particularly rushed so I guess they could add more," Zuiker said. "Compared to other classes like [AP U.S. History], you don't really have that much reading each night and you don't have any quizzes every day."
Zuiker also has concerns about scheduling issues since students tend to choose the class to pair it with another semester-long course. Zuiker feels the change would disrupt her schedule, as she was planning on taking International Relations next semester.
"I'm taking International Relations next semester and I am really interested in that so I think it would just mess up a lot of people's schedules," Zuiker added.
Senior Maddy McGrath, who took the class last year, believes that the Civics requirement which can be fulfilled by AP Gov, is a very significant implementation at South. She sees a necessity for students to take AP Government in order to gain an awareness of the political climate of their country. McGrath also finds the course to be a fulfilling experience that cannot be found in other classes at South.
"I think that AP [Government] is one of the most engaging classes that I have taken throughout high school," McGrath said. "It's really important, especially as high school students who are coming of age and close to obtaining the right to vote, to know how their government functions and the exact roles that government officials play."