UIUC announces free in-state tuition program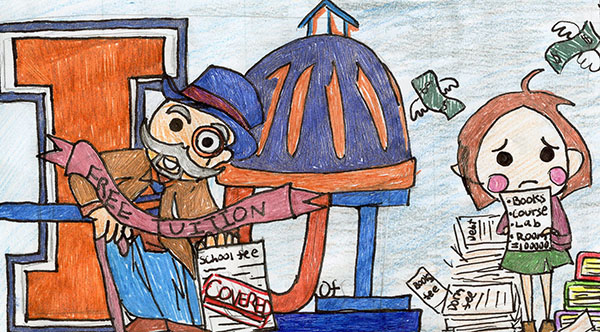 University of Illinois at Urbana-Champaign recently announced a program offering free tuition and school fees for Illinoisans whose family incomes meet or falls below the state median of $61,000. This new program, labeled 'Illinois Commitment', launches in the fall term of 2019 for freshmen and new transfer students.
College Counselor John Klasen speculated that a motive in implementing UIUC's new program was the increasing loss of Illinois high school students to out-of-state colleges.
"[UIUC] is  losing students to out-of-state schools who are recruiting our students, but I think they want to target kids who are [burdened] by the rising cost of tuition at [UIUC]," Klasen said.
Illinois Commitment covers tuition and school fees in any available field of study, but room and board, books, course and laboratory fees remain uncovered, Klasen explains. Klasen says he believes attending UIUC would still be costly and a financial stretch for qualifying families.
"While I think it is a wonderful thing anytime a school comes out and says they're going to offer free tuition, in reality of meeting the needs of our students, I'm concerned that they are going to fall short," Klasen said.
The targets of this program, according to Klasen, are students whose families have middle-income closer to $61,000 and who do not qualify for the PELL and MAP federal and state grants.
"This program doesn't change anything for low-income students at all," Klasen said. "They are probably going to be in the same situation they were in before."
Senior Toni Zheleva states that she felt relieved by this announcement. UIUC served as a backup school for her. However, she believes that UIUC has failed to advertise the program accurately.
"For a family like mine that makes well under $61,000, my search for colleges is narrowed in comparison to kids who have the exact same grades and test scores," Zheleva said. "[Illinois Commitment] made me feel like I had a cushion if everything else backfires. After doing more research, I realized it isn't what the advertising makes it seem to be."
Despite this new program and the increased quantity of applications UIUC expects to receive, it is not planning to increase enrollment and are not modifying their standards, according Daniel Mann, UIUC associate provost for enrollment management.
"Admission to UIUC is competitive and academic preparation of our students matters," Mann said. "We continue to utilize holistic application review that is blind to financial need when making admission decisions."