Team, Studies levels combine in Science Department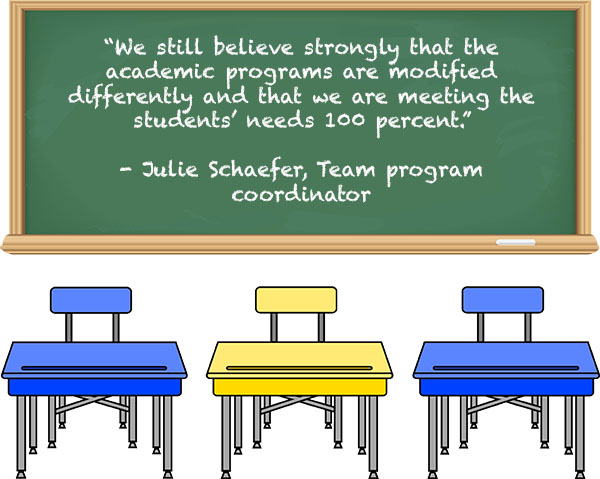 Within the 2017-2018 and 2018-2019 school years, the Team and Studies levels for Biology and Chemistry have combined to establish a singular Studies level, according to Jeffrey Rylander, Science Department instructional supervisor.
When students moved from Team to Studies, there was a sense of lost motivation due to less peer interaction, Science Teacher Lisa Pavic says. Therefore the discussion of combining Team and Studies took place to allow more peer collaboration.
"We do so much collaborative work in science, having those positive peer interactions to drive the lab and students to stay focused is nice when the peers are doing it versus me doing it," Pavic said. "Sometimes kids are more motivated with each other."
Last year the implementation was applied to Biology Studies classrooms; this school year, it included Chemistry Studies, Rylander says. Rylander and the Science Department presented the idea to the principal and associate principals who all had the final say.
"Our desire is really to raise the bar for all students in an environment that is very supportive and … that'll help them find success," Rylander said. "'How do we best address those diverse needs for all learners in the classroom?' was probably the biggest question that we wrestled with."
The new Studies level classes have a main teacher and an instructional assistant, Rylander explains. Pavic agrees that having two adults helps facilitate classes.
"A lot of times students just want confidence to just check in with a teacher before moving on," Pavic said. "Now there's two of us to check with versus just one."
Principal Dr. Lauren Fagel says that de facto segregation, the unintentional split between students in the classroom by race, is prevalent. Pavic says many of the Team classes had students of color, who are used to being around each other. Therefore, the combination of both levels allows students to have the opportunity to branch out and meet other peers, Pavic says.
"I love hearing the conversations and just them interacting with each other, and …maybe they might not have known this person," Pavic said. "Maybe it's somebody they'll be friends with for a while."   
The levels of classes should be dependent on reaching students' needs, Julie Schaefer, Team program coordinator says.
"We're not holding back on eliminating a level," Schaefer said. "We believe that the academic programs are modified differently and that we are meeting students' needs 100 percent."
Although the Science Department has altered its system with Studies, other departments have not followed this change, Schaefer says. David Berkson, social studies teacher, elaborates that Studies and Team leveled classes serve great significance to the curriculum.
"Team is interesting in which students get a little bit of one on one attention," Berkson said. "I think there is a reason why there are still two separate courses [in social studies]."