Shabelman's wish granted, attends Grammys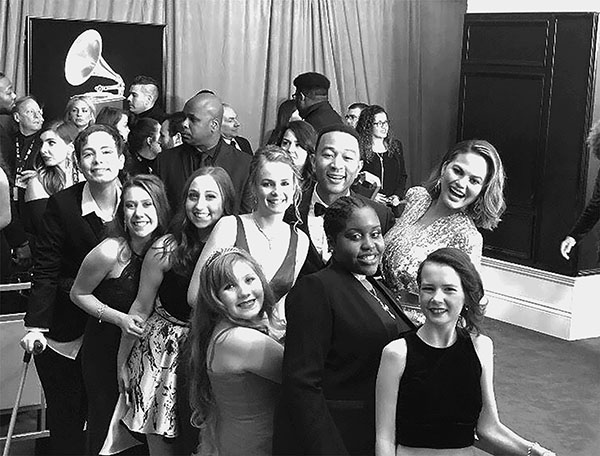 Brigid Murphy, co-features editor
February 9, 2018
Hang on for a minute...we're trying to find some more stories you might like.
Junior Anna Shabelman attended this year's 60th annual Grammy awards ceremony on Jan. 28. The trip was granted to her by the Make-A-Wish Foundation because of her kidney failure, according to Shabelman. At the event, she was able to meet numerous celebrities like Cardi B, Ben Platt and P!nk.
Shabelman was diagnosed with kidney disease in sixth grade, she says. She explains that for the majority of this time, symptoms have been moderate, but in late February and early March of her sophomore year, her kidneys began to fail with no apparent cause. Shabelman said that this loss of kidney function prompted a new dialysis routine in her day-to-day life.
"Your kidneys filter out the waste in your body, so when you can't do that yourself, you need to rely on a machine to basically keep you alive," Shabelman said. "I used to do hemodialysis, which is in a [health] center, and I would go three times a week but I switched over in August to peritoneal dialysis. That is dialysis that I do at home every single night for nine hours."
Shabelman explained that if a patient begins dialysis or experiences kidney failure, they qualify for Make-A-Wish services. Upon finding out about her condition, Shabelman was put in touch with her volunteer wish granters, Joanne Walker and Chris Donoghue. According to Walker, the pair set up multiple meetings with Shabelman and her family to get to know her and determine a plan of action for her wish.
"We sat down and we talked to Anna; we talked about her likes and dislikes, and she wanted an experience," Walker said. "She kept gravitating toward some kind of an awards show, and she finally decided that the Grammys was the one she wanted to go for. She likes lots of different music, and she thought that would be the most interesting one to see."
Working with Shabelman and being able to grant her wish was very exciting, says Walker. The close relationship Walker developed with the Shabelman family made the announcement of the wish that much more special.  
"I got some balloons and I got a big box and I made an invitation to the Grammys," Walker said. "[And] I made it look like an actual envelope from an awards show, wrapped it all up and left it at their house before Anna got home one day. I hid in the basement … and then she came home and I could hear them saying 'What's that?' She and her sister opened it and the balloons floated up and she saw the card and got very, very excited."
Shabelman said that during her trip to New York City, Make-A-Wish organized many supplementary events for the wish recipients, including: attending a private Demi Lovato concert, sitting in a live audience during an MTV show, and watching Logic practice before his performance at the Grammys that night.
"We got to go to the rehearsal for Logic, Alessia Cara and Khalid's performance and that was super cool," Shabelman said. "We were on the floor when they were performing and Logic was standing there and he started waving at us and we were close enough where we could actually have an interaction."
Shabelman said that she will never forget meeting actor Ben Platt on the Grammys red carpet.  
"He walked down the red carpet and he walked off and he didn't come say 'Hi'," Shabelman said. "He was one of the only people that did that so I was really upset, so Sheinelle Jones, the Today Show host who was with us, ran to track him down and brought him back to me. I turn around and he was right there; we started talking and he gave me a hug and he was so nice."  
According to junior Emma Schwartz-Dodek, a close friend to Shabelman, she believes that Shabelman deserved a gratifying experience to distract from the struggles that her health problems can trigger.
"She has gone through so much, and I think that [was] such a great break for her," Schwartz-Dodek said. "Every day there was a new surprise and I'm really glad that she had something that she could really look forward to and take her mind off other things."
According to Shabelman, the granting of her wish was a break from the daily struggle that accompanies kidney disease.  
"Make-A-Wish is such a cool organization because, especially for me, this has been a challenging year, and it's not always obvious to people, which in some ways make it harder," Shabelman said. "Sometimes I feel like I need a break and it's hard for people to understand that, but having something to look forward to was just so special."