O'Malley recognized with new teacher award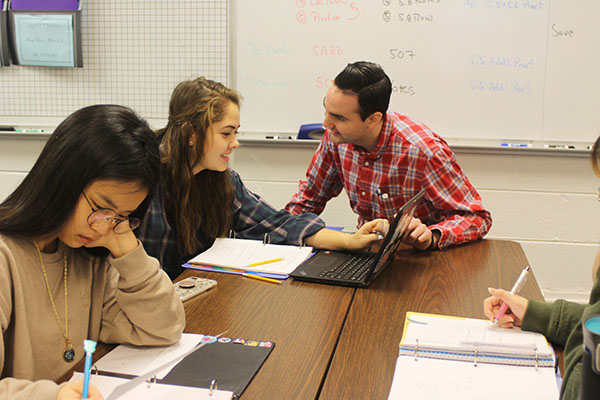 Mathematics Teacher John O'Malley received the Illinois Promising New Teacher of Mathematics Award at the Illinois Council of Teachers of Mathematics (ICTM) conference on Nov. 30, 2017 according to Phil Gartner, Math Department instructional supervisor. 
Gartner, who nominated O'Malley, says he deserved the award for his enthusiasm and passion for both teaching math and working with students.
"He really develops a positive classroom environment, great relationships with the students and he does a great job bringing his math lesson to life," Gartner said. "[He creates] activities that really hook students and really keeps them interested. He's engaging and just uses some really sound teaching methods that foster active involvement and help make students make sense of the math lesson."
O'Malley, who has been teaching at South for six years, was both surprised and honored to be receiving this award.
"To be honest, I was shocked," O'Malley said. "I always believed that I was trying to do the best job I can as a teacher, but when other people are further validating that for me, it makes me feel accomplished. It's always great to hear that other people think you're doing a good job."
O'Malley says he decided to go into teaching because he struggled with math in high school and wanted to help students, like himself, who are challenged by math.
"I've always liked helping and working with people, and I found that … I really like the idea of how math works and how you can get creative and be logical, so I decided to merge those two passions of mine together and go into the teaching field," O'Malley said.
Helping students grow in their understanding is what O'Malley claims he loves most about his job. He says it's rewarding to both him and the student when they make sense of the math they are doing.
"[The kids] make me want to come here everyday," O'Malley said. "Just by being able to show them something and to see that light bulb go off in their heads and their facial expressions [I] see that they finally got it and they understand something about math just makes it so worthwhile."
O'Malley works hard at the interactions he has with his students and makes an effort to connect with each one, according to junior Songhee Back who was both a student of O'Malley's and his lab assistant.
"Mr. O'Malley is such an amazing teacher," Back said. "I know it's such a wild statement, but he cares about his students to the next level. He sincerely wants the best for them and I agree with his teaching method. I think he is one of the best teachers out there. He connects with people at a personal level and I just believe he is an awesome guy."
According to Mathematics Teacher Marianne Kerr, who has worked with O'Malley since he began at GBS, he is full of energy and looks forward to sharing his ideas with not only students, but his co-workers as well.
"One of the things that I find most fun is to meet new young teachers that bring an enthusiasm, just a fresh sense and even some of the things that become very mundane for me, they get really excited about and that excites me," Kerr said.
Kerr believes that O'Malley's energy and excitement for teaching, combined with his creativity, allows students to have fun with their activities.
"He has lots of really great ideas and he loves to share those ideas," Kerr said. "Beyond that, he's very enthusiastic about helping students and so it all comes together it's just really a whole lot of fun."
Despite this accomplishment, O'Malley says he is always working to improve upon his teaching strategies to become an even better teacher.
"The teaching job is never done," O'Malley said. "I don't think I've ever hit my best stride. I think you have to continually keep working at it and you have to keep finding new ideas and finding new ways to engage students."
Gartner agrees with O'Malley that there are still ways to improve. Gartner says he hopes to see O'Malley emerge as more of a leader as his career advances.
"[O'Malley] is going to continue to grow," Gartner said. "I know he's very involved in the professional community, so I know that he is going to want to learn more and to hone his practice. He's also going to become more and more of a leader. He speaks at conferences, [and] he shares with other teachers, so I look forward to seeing him continue to grow as a leader in the math community and in the school."
According to O'Malley, he is thankful for being able to work at South where he has the resources to continue to advance in his career.
"I'm really grateful to work at a school where I have lots of wonderful colleagues and a lot of people who I can bounce ideas off of and learn from," O'Malley said. "And the fact that we have such an atmosphere here at GBS really makes me glad that I'm teaching here. I think I found a place that I continue to enjoy coming to work for every single day."