Field wins JEA National Yearbook Advisor of the Year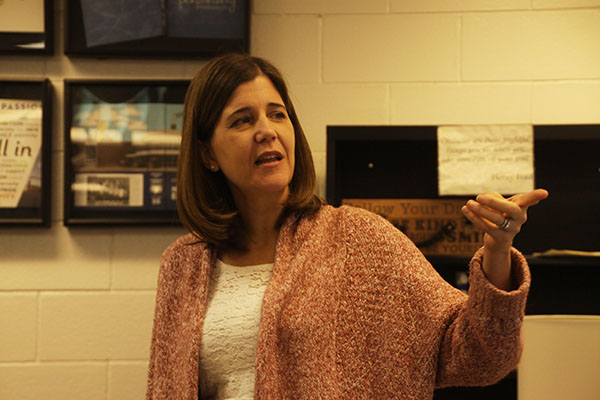 The Journalism Education Association (JEA) named Brenda Field, GBS yearbook adviser, as its 2017 H.L. Hall National Yearbook Adviser of the Year. She will be formally recognized April 14 during the JEA Spring National High School Journalism Convention hosted in San Francisco.
In addition to the honor, Field received both a personal prize and a monetary contribution to the Etruscan Yearbook program, and will give a speech at the San Francisco convention. Field says that she felt honored and humbled when she was surprised with the award on Jan. 24.
"I was totally speechless," Field said. "Honestly, I'm still trying to process all of it just because it was overwhelming in the best of ways.  It was a reminder to me of how incredibly supportive the scholastic journalism community is."
According to Kelly Glasscock, Executive Director of JEA, Field's unmatched dedication to the yearbook and scholastic journalism make the award well-deserved.
"Her commitment to her students, but also to our association, is just quite impressive," Glasscock said. "She has been involved on so many levels, including her involvement in our upcoming national convention as our local chair, which is in itself quite an honor. I think that she has just shown time and again that she cares about journalism education and free scholastic press."
Nancy Smith, yearbook adviser at Lafayette High School in Wildwood, Missouri, was last year's Yearbook Adviser of the Year, and sat on the committee responsible for selecting Field and presented the award this year.
"We really look at a wide variety of things that make someone the National Yearbook Adviser of the Year," Smith said. "Having a great yearbook, a great staff, and a great program is certainly really important, but there's a lot more to it, and they're probably things that your students don't see. Her involvement on the local and national level with our association is really impressive."
Field says that although she appreciates the award, her work is driven by the students and their publication.
"All of this is incredibly exciting, on the one hand," Field said. "On the other hand, I'm not the kind of person who [is] in it for [the awards]. It's awesome to feel like people value what you're doing but at the bottom line, the program is ultimately about the students who are creating the book and all the work that they're putting in. I just feel like I'm lucky to be able to work with them and create, hopefully, something students really love."