Steve Cho breaks Rubik's Cube world record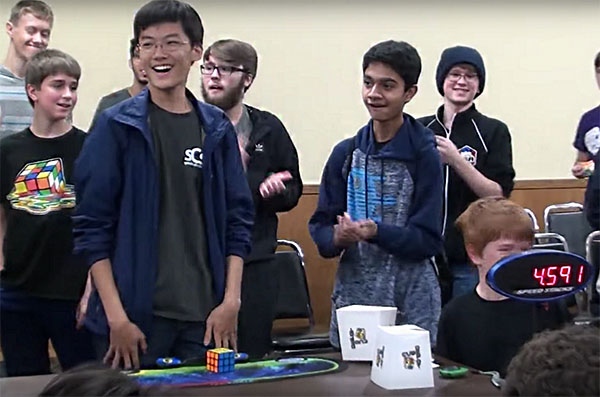 Senior Steve Cho broke the world record for fastest time solving a standard Rubik's Cube with a time of 4.59 seconds at the 'ChicaGhosts 2017' competition held in Chicago on Oct. 28.
In a Youtube video that shows Cho completing the puzzle, he can be seen looking at the clock in disbelief as his competitors applaud (scan snap code to see). The video has racked up one point nine million as of Nov. 7. According to Cho, the moment which followed his official world record was a surreal experience.
"There was a huge line [that] formed," Cho said. "Everyone was waiting for me to sign my signature and take pictures. It was crazy. I couldn't believe it."
Cho's world record was deemed official at the World Cube Association (WCA) sponsored competition 'ChicaGhosts 2017.' According to 'ChicaGhosts 2017' organizer Ryan Jew of San Francisco, the World Cube Association (WCA) is more legitimate and credible when it comes to documenting times. Sofia Rocher, public relations coordinator of the Guiness World Records, says Cho would have to apply to be included in the book.
Jew said, "[Cubers] only care about the World Cube Association reported world records because they update continuously rather than once a year."
Although Cho's 4.59 seconds is a record for individual solves, Jew says most competitions average five solve-times. The best and worst times are removed, the remaining three are averaged and a winner is declared.
Beyond the standard Rubik's Cube challenge, other competition events include solving a 3×3 Rubik's Cube with a restriction to one hand or with the fewest amount of moves, Jew says. Other avenues for competition include solving 4×4 or 6×6 cubes and solving other puzzles like a Skewb. One day events typically host 5-9 events out of the official 18, Jew says.
According to Cho, he has attended thirteen American Cube Association competitions since his first one in 2012. When deciphering these cubes seconds prior to solving, the world-record holder reviews complex algorithms necessary for a concise solve-time.
"I plan out a couple moves ahead," Cho said. "I can see the moves I need to do. While turning it, I look ahead even more to see the moves. I solve it like that."
Some of Cho's other WCA documented times include solving a megaminx and a dodecahedron-shaped puzzle with 50 pieces, in approximately one hour and six minutes. Additionally, Cho has completed a 6x6x6 Cube in an hour and fifty four minutes and a 3×3 cube while being blindfolded.
Looking toward the future, Cho says he is optimistic about his pursuits with speed cubing and will continue to compete within the World Cube Association.
"I always look forward to enjoying the competitions as much as possible, as well as meeting new people, because competitions are not all about winning," Cho said. "Goals are [also] about self improvement and I always try to improve my times."