Student Services limits schedule changes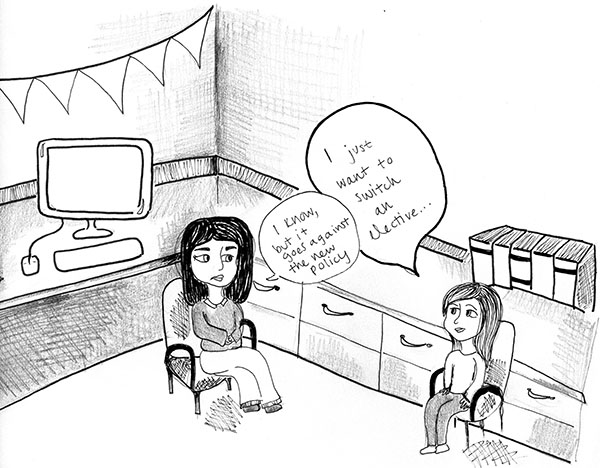 The GBS Guidance Counselors implemented a new policy that limits the reasons a student can change their schedule for the 2017-2018 school year.
According to Guidance Counselor Matthew Drone, there are four valid reasons that a counselor will now change a student schedule.
"We have been gradually getting ourselves to this point where we are really restricting what students can do down to: level changes, if a student took a class over the summer that is still on their schedule, [if a student needs a class to meet college requirements], or if they wanted to drop a class for an SRT," Drone said.
According to Dr. Lara Cummings, assistant principal of student services, during book sale in the past, counselors would be tasked with changing as many as 2,000 schedules by the start of the school year. In addition to significantly reducing the number of schedules that need to be changed at the start of the school year, these new restrictions have uncovered other unforeseen benefits such as improving student problem solving skills, perseverance, and preparation for college.
"One of the things we really tried to do was mimic what life is going to be like after Glenbrook South," Cummings added. "I don't know many colleges or universities that allow you to switch classes like we were allowing. Even our sister school, Glenbrook North, had this process and procedure in place for many years. Luckily, we now recognize how easy the start to the school year can be if we implement a couple [of similar] parameters."
Drone attested to the new policy's success, in that, he believes that these past few months have been the least stressful beginning of a school year he has seen at GBS and that it will only continue to improve as the years go on.
"We were expecting [the transition] to be a challenge but […] this was probably the smoothest start to a school year I've ever been a  part of," Drone said.
Cummings explained that when restricting schedule changes became a serious talking point among the guidance counselors a couple of years ago, she sent out a survey to other members of the Directors of Counseling and Student Services of Suburban Chicago to see which schools in the Northwest suburbs still allowed lenient schedule changes.
"We were one of the few that still allowed essentially limitless changes," Cummings said. "Most had set procedures and their students were required to make their [final] schedule choices in the spring. There are also some schools out there that charge students for changes, but we were not comfortable [doing that]."
The surveyed administrators were only a few of the people who influenced the final decision to change the policy. Both Drone and Cummings pointed out the key involvement of instructional supervisors, Dr. Principal Lauren Fagel, and select South teachers.
"I can't say that we actually surveyed students," Cummings said. "My gut says that if we did that, a majority of students probably would have said [that they] still want to be able to change their schedules whenever."
Senior Meghan Zeivel, who unsuccessfully attempted to switch her elective this fall, wishes that the students were a part of the initial conversation and able to advocate why having the ability to change their schedule freely is, in fact, beneficial.
"For the past three years of high school, I have been able to manage my schedule at the end of the year and [had comfort in] knowing that if I changed my mind, I could change it," Zeivel argued. "If there is an opening in the class, I don't understand why [students] can't be switched into it. I was ready for my senior year to not be stressful, but the beginning of the year turned out to be the most stressful time."
Unlike Zeivel, senior Rachel Schwartz attempted to drop out of AP Government, but now finds that she is happy that she was required to tough it out.
"I didn't have the teacher I wanted to have so I went into the class with a negative mindset and I didn't click with the teaching style at first so I had to self advocate," Schwartz recalled. "It's actually becoming really interesting and the class discussions are really awesome. I'm really glad I decided not to switch out of it."
To try to ensure that students take class registration seriously, Cummings sent two emails to all students and their parents in February of 2017 regarding the upcoming strictness of schedule switching.
"Faculty members are employed, textbooks are purchased, and rooms are assigned on the basis of course requests," the first email explained. "Students and parents will be asked to review final course selections soon after registration. Then, in early August, students can view their final schedule on Powerschool. At that time, students may only modify their schedules if there is an error or if they are changing levels in a course."
Cummings says that a committee has been created in the Guidance Department to talk to students about registration in the spring. This committee, which is made up of five guidance counselors and Cummings, meets for the first time this month.
"An informed [student] is the best [student]," Cummings said. "We want to make sure that students know exactly what they are signing up for, meaning, they've read the course description, they have talked to teachers, and done whatever they need to do so that they are comfortable with their final decisions [in the spring]."