Josh Koo named incoming Student Activities Director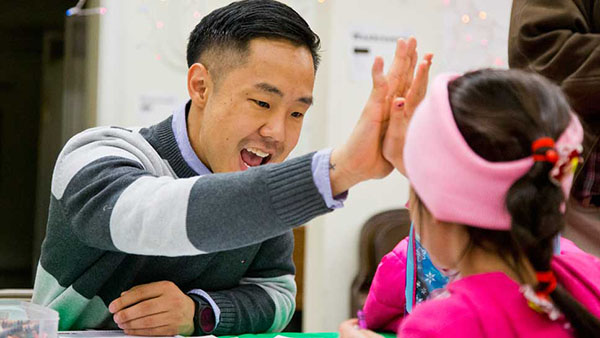 Science teacher Josh Koo was selected to become the next GBS assistant principal of student activities on Feb. 13, starting with the 2017-2018 school year.
According to Principal Lauren Fagel, Koo empowers all kinds of students both inside and outside of the classroom to reach their fullest potential in their endeavors.
"There's really no kind of project or idea that [he'll respond to with], 'No, that won't work'," Fagel said. "And he […] has that Shellard quality, like 'Yeah! Let's do it! Let's bring a cow in for homecoming, why not?' [Koo] has that thinking-outside-the-box quality."
Like Fagel, science teacher Jennifer Friedmann agrees that Koo has presented outstanding credentials for the position over the years while working in the Science Department. Friedmann explains that Koo's efforts and ideas always take into account what is best for the students.
"My impression of Mr. Koo is that nothing that he does is a facade or for show; everything that he does is based on what he truly thinks is in the best interest of the students he is working with, the colleagues he wants to help and the student body as a whole," Friedmann said.
Koo's colleagues are not the only ones to acknowledge his successes and his compatibility with the position. Senior Lori Steffel, Key Club leader, says Koo is deserving of the job because of his ability to spark important collaboration between students while taking the backseat.
"Almost every successful thing that has happened in Key Club has been the product of Mr. Koo," Steffel said. "Every year, John [Schurer], Mr. Koo and I talk at the beginning of the school year […]. We stay maybe a couple hours after school once a week for a couple weeks and we just talk for hours about […] what activities we want to do and we all just feed off of each other, and Mr. Koo is the source of the energy."
Although students were not involved in the nomination process for the position, Fagel recognized the student admiration toward Koo and their willingness to express clear support for him. Steffel was among one of the students to advocate Koo's qualifications for the job in a creative way, according to Fagel.
"When there was a group of students that heard [Koo] was a finalist, I got a compilation of videos that was organized by [Steffel]," Fagel said. "And it was [about] thirty kids saying why they thought he was awesome."
As the 2016-2017 school year comes to a close, Koo says that he is trying to learn as much as possible from Jim Shellard, the current assistant principal of student activities, while he still can.
"Any free period or free time during the day is just to absorb and learn as much as I can [from Shellard]," Koo explained. "[I'm] trying to learn 26 years of amazingness, of experience, in four months. […] What I eventually want to do is […] be prepared to uphold those traditions that he worked so hard to build, but then also bring in new things and new traditions and new cultures."
For next year, one of Koo's main priorities is restoring Titan pride throughout the building and ensuring every student feels important in the construction of South's character.
"A school is only as strong as its weakest link," Koo said. "And we can do all those things to support our strongest and most exceptional students who always make the headlines, but we cannot neglect the students that maybe don't want to be here, or don't feel a sense of pride."
In a school of nearly 3,000 kids, Koo feels it is essential to consider several student perspectives on South's culture in order to maximize a sense of community amongst students and faculty. According to Koo, he began this process shortly after receiving the job.
"I've been slowly [listening to students] now and I'll be doing it more next year, listening to groups of students from all over and asking them, 'What are your thoughts about being in this school? What are the pros? What are the cons? What would you like to see represented?'" Koo said.
According to Koo, he plans to maintain a resonating theme of service throughout the building in the years to come despite resigning as the Key Club sponsor. Koo intends to celebrate meaningful service performed by students.
"Dr. Shellard and I […] are very passionate to our core about service and making sure that it's meaningful service, not just […] where you're kind of patting yourself on the back or [posting it] for your Instagram," Koo said. "I fully intend to keep what Dr. Shellard has built over the years [by] progressing that [culture of service] even more. […] It's really cool that clubs and sports are always doing service-minded things, whether they have charity games, or events, or they go to service; […] clubs kind of make it their own and that's the beauty of it."
In his responsibility as the Student Council sponsor, Koo is particularly excited to seek out improvements for the Canned Food Drive.
"I'm really looking forward to working with Student Council next year, and taking a really close look at what's the heart of it," Koo said. "[…] [For Canned Food Drive], it's great that we have this huge number and we got this objective, but what are we trying to get out of it? What's the heart of it? If our goal is 100,000 [cans] and we only get 99,000, do we consider that a failure? Or do we say, 'we still helped so many people'?"
According to Koo, his ultimate aspiration is immersing every South student in an environment where they can be proud of the school and its accomplishments.
"I want to make sure that every single student in this building has the same sense of Titan pride when they walk in," Koo said.