Newly approved courses add depth to special interests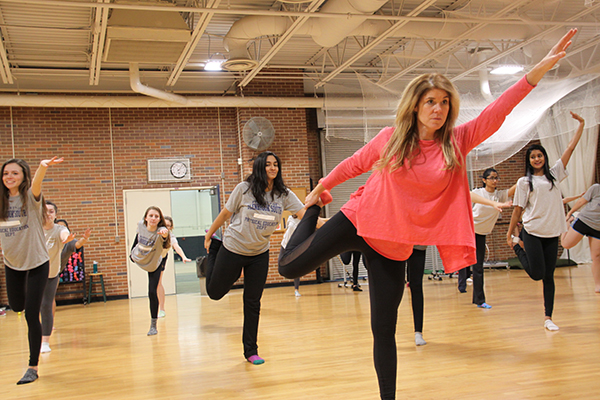 The District 225 Board of Education approved new course offerings for the 2017-2018 school year at their meeting on Jan. 23.
New courses that will be available include Dance 2, American Sign Language (ASL) 463, Interior Design 2, Civics, and AP Computer Science Principles.
According to Dance teacher Trisha Moulakelis, Dance 2 will provide creative opportunities for advanced dancers.
"Dance 2 was recommended by other students […] and something I wanted to do for a very long time now," Moulakelis said. "With the higher level [dancers], I want to give them the opportunity to have more choreography experience and less reviewing of dance skills. […] The fitness [will] probably [be] geared more towards skill ability."
In addition to Dance 2, ASL 463 will be offered next year due to the high interest from the community. According to ASL teacher Rosemarie Carsello, the new course will put more emphasis on culture.
"There's interest by the students, […] requests by parents, and there's been […] support from the team of instructional supervisors as well as the board," Carsello said.
"ASL 463 is going to be similar in the style as the level 363 in that […] we are doing a unit on culture and another focusing more on grammar and vocabulary acquisition. And what makes it different from other classes […] is that there's a good amount of emphasis on culture."
Carsello indicates that students will have the advantage of being prepared for college and improving their skills to socialize with the deaf community.
"[ASL 463] allows the students to pursue the level for four years if it's something that they would like to pursue in college," Carsello said. "[…] They can continue to improve [and] build their skills so [they are] relatively competent and [have] the goal of socializing with the deaf community […] so they become more confident with their skills […] and have further exposure to the deaf community."
Melissa Regan, Interior Design teacher, will be creating the curriculum for Interior Design 2, forstudents who desire to pursue interior design in the future.
"The idea is to make it really career focused, and give a lot of hands-on projects and exposure to designing different types of spaces. In [Interior Design 2,] I'm envisioning maybe [designing] a retail store, a more sustainable design, […] and then maybe a whole house," Regan said.
To aid the students for their career, Regan says that a digital port folio will be created for applying to colleges.
"One of the advantages is going to be the digital portfolio that is being built," Regan said. "Most design schools require some sort of portfolio. So I've been in contact with some of the colleges to see what they expect in their standards in terms of a portfolio, I can best help the students who want to really go into design."
Another change to the GBS curriculum next year is a required Civics course for the Class of 2020 and all classes henceforth. According to Jeannine Logan, Social Studies instructional supervisor, Civics will be based on current events and full of discussions and hands on activities.
"While there will be a curriculum about the foundations of government and how government works, a lot of the course [is about] current events," Logan said. "We're looking at designing projects and assignments where kids are actually going out into the community […] and putting […] some kind of civic action. So it could be open depending on [events] in the news at any given time."
Logan says the timing to offer Civics is incredible due to the events going on in the world. Logan hopes this course will help students to understand their role in the political process.
"We had a presidential election, and then […] two and a half million women around the world mobilizing in peaceful marches," Logan said. "So I think there's a lot of energy  [among] young people who are ready to get involved, who are ready to see themselves as part of the political process. […] It's one thing to want to be involved, it's another thing to understand, well what does that require?"
AP Computer Science Principles, initiated by Philip Gartner, Math instructional supervisor, and Dawn Hall, Career and Technology Education instructional supervisor, will unite both departments together and allow students to explore the concepts of computer science."
"It's intended to be unique and about problem solving and applying programming to real world situations, versus an intensive immersion into a language like Java," Hall said. "Computer science is almost a new literacy. There's a lot of value in the problem solving, the thinking, the habits of mind that you develop in code writing that are unique."
Additionally, Hall thinks the one year long course invites the underrepresented population to be engaged in computer science and have  experiences that will only benefit the students.
"[A part of the role as instructional supervisors] is to continue to provide great opportunities for students but also be looking ahead," Hall said. "We are passionate about underrepresented populations."
While new courses are being formed, Logan hopes students will be willing to take other electives and opportunities provided at GBS.
"We'll have to see what students choose," Logan said. "I think [students] will [take other electives] because […] students know that they've got good opportunities here."