Lip dub highlights South extracurriculars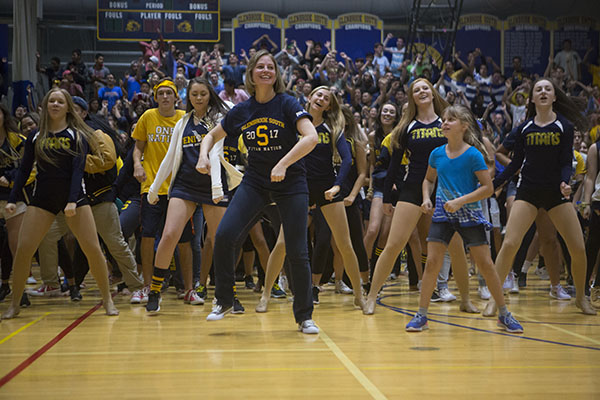 The 2016 GBS lip dub was filmed during school on Sept. 16 and was then presented on the same day at the home football game.
A lip dub is a video that integrates lip syncing and audio dubbing. According to Josh Koo, Key Club sponsor, this year's lip dub was partially created to help raise money for the Glenview/Northbrook Youth Services, a local organization.
"[The Youth Services] building is right down the street from us," Koo said. "They provide a lot of really cool after school and mentorship programs for [the youth] in Glenview who are underserved or low-income. We really wanted that to be the focus of our lip dub."
In 2011, a Titan lip dub was created to draw attention to a telethon that would help Youth Services, while [another] goal was to raise awareness for the program, Dr. Jim Shellard, assistant principal of student activities, explained. He said the video highlights the connection between GBS and Youth Services.
"[In the beginning] Principal Fagel picks up a little girl from Youth Services and shows [her GBS]," Shellard said. "Throughout the video there are little factoids about the organization—on signs or on walls—and a PSA at the end asking people to donate."
Karen Paszkiewicz, director of special events at Youth Services, worked very closely with Shellard and Koo in the making of the lip dub and the incorporation of the organization. She expressed her satisfaction at the result of the lip dub.
"We were just blown away," Paskiewicz said. "We just thought it was amazing. It was so well done; the students are so talented."
Julie Benca, broadcasting teacher and the director of television and film, led the students that filmed the lip dub this year. Some significant changes she noted from the creation of this year's lip dub include the use of more advanced technology such as drones. Benca also mentioned the extensive practice the students in charge of the filming participated in, as well as the many discussions she had with her students.
"[I worked] with some of my students in the Advanced Television class to go through the path [and check if] we're finding the best shots to get, the best angles, and making sure we're hitting turns if a beat drops at a certain point," Benca said.
Benca worked with TV students George Gould, Josh Noll, Chris Daus, Cam Daly, Walter Snyder, Sam Waller, Ashley Sklena and Dasha German. German co-directed the lip dub with Sklena and worked with the other students to bring the project together.  
"We put a lot of time [into] the video before school even started," German said. "We spent 80 hours before the event, just planning. Then on Friday, we worked 20 hours straight to finish. It was stressful but amazing."
Students outside of the TV department also became deeply involved in the creation of the lip dub. Koo emphasized that student opinions were taken seriously and that ideas had to be passed by groups of students before being approved. One student that was involved in the groups was senior Saarah Bhaiji who also lip synced in the lip dub.
"They had us write down our ideas [for the lip dub] like song ideas, song requests for different transitions, how many cuts we would want in the lip dub," Bhaiji said. "[We were] thinking outside of the box. We had no idea how it was going to go down, but it was awesome."
According to Junior Eden Kim, who performed in the lip dub with hip hop dance crew De La Cru, the experience was eye-opening for him in a myriad of ways. Although it was a bit stressful, it was also an opportunity to learn about his team mates, Kim explained.
"This year we had quite a lot of freshman and every time we had an obstacle that we had to overcome, we [had] people who were natural born leaders who [stepped up]," Kim said. "[The lip dub] brought out good qualities in all of us and we all helped each other out."  
Kim also recorded a tutorial for the collective senior dance to "All In This Together". He went on to say that he was happy that he got to be a part of the lip dub not only as a member of De La Cru but also as a student.  
"I was showing [the video] to anyone," Kim said. "I was so proud to be associated with [lip dub]. Everytime I watch the video, I get so happy."
He also commented on the amount of club diversity he saw during the video. Even the smallest of clubs was represented in some shape or form, according to Kim.
"The amount of inclusivity that [the lip dub] was able to [display] was amazing," Kim said. "Everyone was able to be shown in some way, and most, if not all, were represented in some way."
Senior Dahlia Maleh, one of the student leaders of the production behind the lip dub, says this school-wide event united GBS in an awe-inspiring way.
"Everyone [at GBS] is so interconnected now," Maleh said. "Clubs are working with other clubs, groups are working with other groups. We really are a community now."