Principal Fagel's first year in review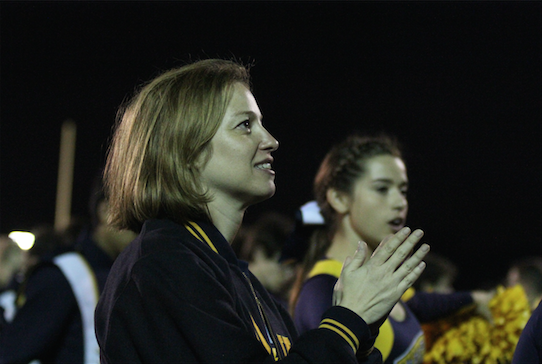 After a year of new experiences such as assemblies, Variety Show and homecoming, Principal Lauren Fagel reflects on her first school year as Glenbrook South's principal.
According to Fagel, she has worked at four high schools previous to South including Lake Forest, Mundelein, Deerfield and Highland Park. Of all of the high schools she has previously worked at, South has the most unique, positive atmosphere, according to Fagel.
"I really do feel that [Glenbrook South] is the most positive, welcoming and warm environment than any school I've been at […]," Fagel said. "It seems like everyone very happily exists together. That's what I would say is the biggest difference. You can't touch it, you can't put your hands around it, but it's just the feeling that you get."
From that start of the year, according to Fagel, she had one goal, and as she mulls over her first nine months she believes that her goal was successfully met.
"[I wanted to] build relationships, get people comfortable with me as their principal and get me comfortable with them, and I do feel like I've accomplished that," Fagel said.
According to Fagel, she was initially unsure if she wanted to take on the role of a principal. However, her previous experience as a principal for Mundelein High School influenced her to decide to be principal again.
"I was hoping and thinking that I would love being a principal again, and I did," Fagel said.
According to Fagel, some highlights of the year, include the Variety Show (in which she tap danced alongside Singer-Dancers), Spring Fling and the TLS basketball game.
"[The Variety Show] was amazing and I loved participating in it," Fagel said. "[Initially], I was quite anxious and nervous about performing on the stage but it was an incredible experience."
According to Fagel, she is currently attending graduate school in order to receive her doctorate in August of 2017.  She hopes that her graduate work will help her identify ways to improve upon South's already welcoming environment. Fagel summarized her year as an encouraging first impression of South.
"Glenbrook South, to me, it just stands out as really warm and welcoming and friendly and happy," Fagel said. "I'm in the hallways and I'm in the classrooms a lot and I get this very comfortable feeling. That's what stands out to me."