Alumna earns BridgeBuilder award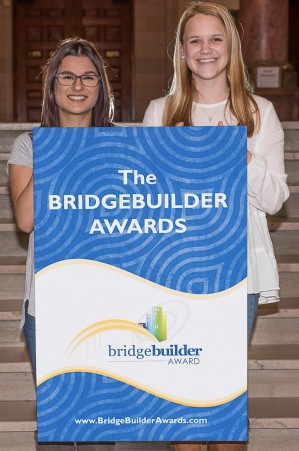 Briana Flores, graduate of Glenbrook Evening class of January 2016, earned a Techny BridgeBuilder award on April 9.
The BridgeBuilder award was created in 2007 to recognize students making a difference in their communities, according to Jerome Hoynes, consultant to the BridgeBuilder committee and past winner of the BridgeBuilder award. Eleven other Chicago-area students received the award, and each recipient made a significant effort to help their classmates or community members, according to Hoynes.
"[The award] is validation of the efforts that [the winners have] put forth already, and inspiration for them to continue with [those efforts] their whole lives," Hoynes said.
Hoynes explained that many Chicago area schools got the chance to put forward one or two students they felt exemplified the characteristics of a BridgeBuilder. According to Melissa Defrenza-Israel, Glenbrook Evening counselor, Flores was the clear choice for the Glenbrook Evening nominee.
"Briana came right to mind," DeFrenza-Israel said. "She's just always extending out a hand to help others, she's a very hard worker and she's got strong qualities of citizenship."
According to DeFrenza-Israel, Flores was very skilled at reaching out to other students in the school and supported them through little things, like pointing out the positives in life.
"[Defrenza-Israel] acknowledged how I acted with the [other students] and showed me that, as cliché as it sounds, my actions affect other kids," Flores said.
According to Flores, she was very surprised when she had found out she was a winner, but also was grateful that DeFrenza-Israel nominated her.
"I appreciate that I was acknowledged, and [the award] really made me reflect on who I am as a person," Flores said.