TED-Ed Club promotes presentation skills, facilitates discussion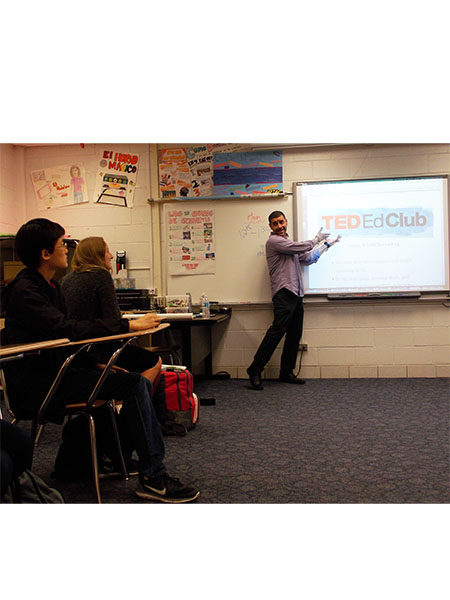 TED-Ed (Technology, Entertainment and Design) Club is a new club at South; according to its website, the club looks to both develop students' presentation skills and fostering discussion, development and distribution of their ideals.
According to club sponsor Jorge Zamora, who initiated the process of the club's creation, the club allows for students to hone their presentation skills and present their thoughts on a new platform.
"It's just a venue for them to become better speakers, for one thing, and just to go out there and tell their ideas," Zamora said. "Any topic whatsoever is a possibility."
The goal, according to Zamora, is for students to enhance their public speaking skills and gain confidence in their ideas.
"[One goal of the club is] that they're comfortable knowing that their ideas can be turned into something great," Zamora said.
Club member Sara Moradi also sees the club as an avenue to voice her opinions, using an engaging platform.
"I've always been interested in […] informing people about certain topics that are not as mainstream as others," Moradi said. "I think [TED-Ed club] is an informative way to get young people involved.
According to Zamora, students can talk about anything they want to talk about. The process put forward by TED for students to create their own talks begins with them finding their passion.
"[The process] makes it more personal," Zamora said. "There's no specific thing like in the classroom, [where] there's always a theme or unit. […] This is just unique to their personality, their likes [and] their dislikes."
Additionally, Moradi says it has a less pressuring environment due to the amount of preparation that will be put into the talks.
"I feel like there's just so much practice that will be placed on it to the point where you're comfortable enough giving your presentation on something you're passionate about," Moradi said.
In addition to development and discussion, the club will also provide the opportunity for students to interact with others across the world. In creating the club, Zamora encountered other hopeful facilitators from Virginia, Italy and Syria. Zamora says the global interactions will happen through video conferences, where students will be able to get out of the Glenview bubble and speak with students participating in their school's TED-Ed.
"[Dialogue between different places] needs to be had because […] we're just not as informed as we'd like to be about certain things," Moradi said. "I feel like getting the other perspective is one of the most important parts of the club as a whole."