Speech team qualifies for regionals, Patel for state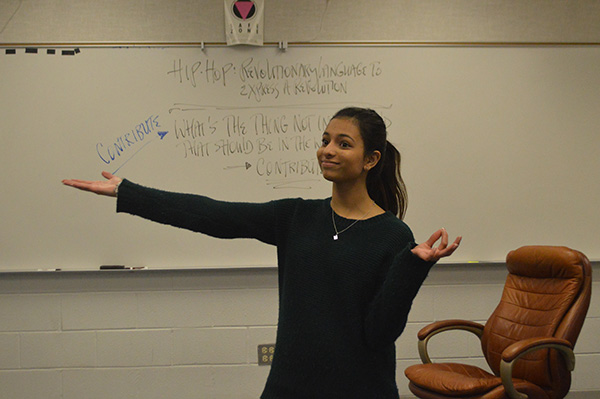 Speech team members competed in all 14 events at the Illinois High School Association (IHSA) Regional Tournament on Feb. 6 at Warren Township High School, according to Nancy Schultz, new team head coach.
Seniors Maya Patel, Helene Paulson, Becky Pavichinskiy, Abby Roberts and Luana Dumitrache; juniors Spencer Colbeck, James Neuson, Dahlia Maleh and Jidapia Thia and sophomore Kayla Kraft came in the top four in their events to qualify for the sectional tournament at Downers Grove High School on Feb. 13.
Events at speech competitions are diverse, ranging from humorous interpretation, to prose reading, radio speaking, original comedy and informative speaking, according to Paulson. Typically, speakers talk for eight minutes per event. Paulson qualified for sectionals in dramatic interpretation and humorous duet acting with Neuson.
"I was in regionals and sectionals, and I got into final rounds for sectionals, so it meant that I was closer to [qualifying for] state, but I didn't get [into] the top three at sectionals," Paulson said.
Four others advanced to the sectional finals including Roberts, Patel, Neuson and Kraft. Patel was awarded third place in her event and qualified for the state tournament at the Peoria Civic Center on Feb. 19-20. Patel's event was humorous interpretation.
"[Humorous interpretation is] essentially when you take a script, and you play every single character from the script yourself," Patel said. "You change voices, you change your stance and you give each different personality its quirks."
Patel's advancement to state this year was exciting for the entire team, according to Paulson. Last year, there were no state qualifiers, and only one person made it to finals at sectionals. This year, five people made it to finals.   
"Our speech team this year has done incredibly well," Paulson said. "We [also] got more team trophies than expected; last year, we didn't get any team trophies throughout the season. […] I think we've just grown as a team more."
Patel left for state on Feb. 18 with some teammates and Schultz. Patel spoke for two rounds, one on each day, and ended up ranking eighth in state.
"Every single round at state was like a final round," Patel said. "[…] I remember both of the rounds I had were jam-packed [and] it was just an amazing feeling to be able to perform for that many people. Even if I wasn't in the top 10, I still would have been perfectly okay with just going to state to experience it […], so finding out that I even got eighth was like, 'What? Are you sure? Are you serious?' I was completely surprised by it, […] but to know that I'm right up there with all these amazing, talented, hard-working people is an awesome feeling in itself."
South hosted National Qualifiers on March 6. Patel and Neuson qualified for Nationals at this competition for their dramatic duo performance. Nationals will be held in June in Salt Lake City, Utah, and will feature both speech and debate competitions.
"I've never done [something as big as Nationals] before, and it's a big opportunity, so [I'm excited] to run with it and see where it goes," Neuson said.