STEM pilots new buddy program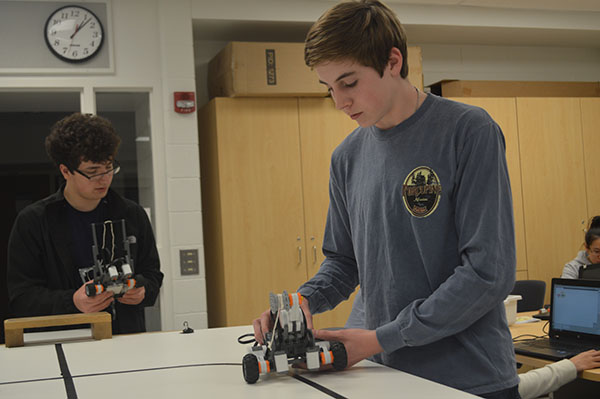 The Science, Technology, Engineering and Mathematics (STEM) Learning Community, South's new science and applied technology educational track, has developed a buddy program that pairs a freshman with a sophomore mentor.
STEM teacher Michael Sinde explained that because the program was implemented last year, the sophomores this year are the only ones able to share their experiences and provide help if the freshmen have questions outside of class. Sinde hopes for each freshman to have a sophomore classmate they feel comfortable reaching out to for assistance.
"All the sophomores took physics last year, and all the freshman are currently in physics, so if they have a question about physics they can talk to their STEM buddy or big brother/sister and get help with it," Sinde said.
According to Sinde, STEM teachers sent out a mass email to the freshman and sophomores at the start of the year, briefly describing the program and telling each student the name of their mentor or mentee. Ideally, after receiving their buddies, one student would contact the other—like sophomore Katie Roberts did with her buddy, freshman Shannon Schmidt.
"When we found out who our mentees were, I emailed [Shannon], and we started texting, and I just asked her if she needed any help with freshman year, STEM or making friends," Roberts said. "I introduced her to people in my grade [and] gave her tips."
Freshman Matt Moran's mentor, sophomore Jimmy Palmer has helped him similarly. Moran says he meets with his buddy once or twice each week, typically for a few minutes during lunch to discuss what Moran is working on.
"Whenever I have a question on something we're working on or on the course, he can help me out because he went through it already," Moran said.
Sophomore Abby Grant also quickly contacted her mentee. She helped by giving tips and pointers on how to study, explaining the tendencies and expectations of certain teachers, and advising on ways to get involved with the school. Grant took the mentorship as more than just a responsibility to help her buddy with STEM concepts.
"If I were a freshman, I'd love to have a sophomore telling me how to get through high school," Grant said. "I think that's the idea behind [the buddy program], to kind of act like big sisters and big brothers to these students."