New teachers join Titan community with optimism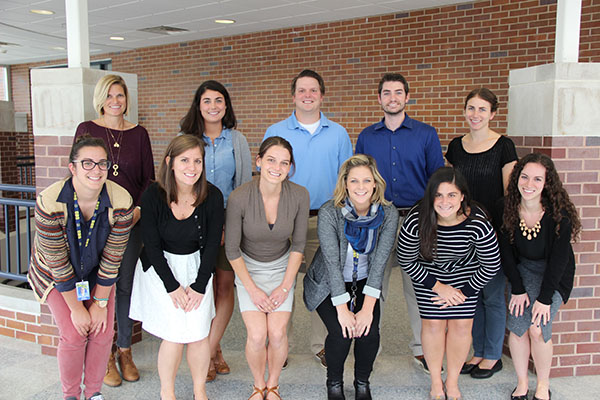 Lauren Benson & Kate Springer, staff reporters
October 2, 2015
South is experiencing one of the largest influxes of new teachers it has seen in years, balancing out the retiring Titans in almost every department.
This year, the Science Department has accepted Lucas Osterbur, Chemistry 163 and STEM teacher. According to Osterbur, he spent 6 years at the University of Illinois and originally planned to enter private research or teach at a collegiate level, but changed his mind after becoming involved in community outreach.
"[I was] attracted to teaching and so I transitioned [to] a teacher ed program," Osterbur said. "And that's the last two years of what I've done. Now I'm here at Glenbrook South."
According to Osterbur, although the longer class periods and technology have helped him keep track of his students and their schedules, the transition into South's environment was still  intimidating at first.
"I was terrified [at first]," Osterbur said. "It's hard not to be, you spend so long thinking about the first day and anticipating […] meeting a whole new staff, a whole new group of people you're going to be working with [and] a hundred plus students. […] It's a pretty overwhelming experience."
Christina Zagorski, new P.E. teacher,  shares Osterbur's enthusiasm for the block schedule. The last school she worked at had a combination of periods and blocks, and she says she has always preferred the latter.
"By the time you really start getting into a topic, an exercise, or something like that, I feel like time runs out pretty quickly, so I like having [blocks] here," Zagorski said. "I love the freedom to be able to teach any kind of fitness I want the second half [of class], and to find what everybody likes and not just do the same things consistently."
Even teachers unaccustomed to and initially apprehensive of the block schedule have not only adjusted to it, but now prefer it, including Michelle Steinberg, new math teacher. According to Kelly O'Toole, new social studies teacher, one factor contributing to the smooth transition into GBS for the new teachers was the in-school preparation they received over summer break from experienced staff.
"We had a week-long new-teacher orientation […] where we learned about the environment outside of the school," O'Toole said. "We learned about the student body, [the] physical structure of the building, the best teaching practices. […] We learned a lot."
O'Toole had been teaching for five years before coming to South, three of those years at an inner-city Chicago high school. She says she has been impressed with the spirit and attitude of both students and teachers in her first month as GBS staff.
"The manners of the students and the way that the students interact with each other and their teachers is just wonderful," O'Toole said. "It was hard to get used to how many 'thank yous' I hear after class."
Students this year have had some adjusting to do as well. Not only are they getting used to unfamiliar faces, but they will also have to part with many familiar ones. Mary Vicars, social studies teacher is one of the most experienced in her department and will be saying goodbye to South  at the end of this year.
"This is my last year, and I've seen a lot of changes," Vicars said. "There's value in being here a long time and seeing how things really work. […] What makes a good teacher is two things: passion that he or she has for the subject and the relationship that he or she develops with the kids."
As for the new teachers on staff, Vicars has faith that they will serve the school well. She also has some advice for those just beginning their South teaching career.
"I think when you're teaching something, you have to ask yourself why this is important, why do kids need to know that?" Vicars said. "Make it relevant."
Vicars says that she greatly prizes her years at South. Zagorski, Osterbur, Steinberg and O'Toole all say that they have been impressed and pleased by the attitude of South's students and staff thus far.
"The first year of teaching can be a very hard and trying experience and [my coworkers have] been very supportive and very helpful," Osterbur said.
In addition to the teachers mentioned, and the ones pictured, there are nine more teachers that are new to GBS.