STEM scheduled to replace Chem/Phys Program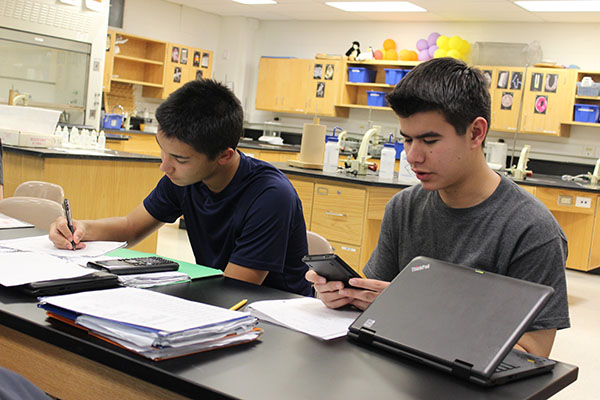 The STEM (Science, Technology, Engineering and Mathematics) Learning Community, an alternative advanced science course to the Chem/Phys course for freshmen, has produced good results so far this year and is poised to replace Chem/Phys—an intensive science track for gifted freshmen and sophomores—after this year's conclusion.
Like Chem/Phys, The STEM Learning Community is a multi-year track for freshmen that begins with Chemistry and Physics, rather than Biology. According to Jeffrey Rylander, Science Department instructional supervisor, the STEM Learning Community is focused on integrating science and engineering classes. For each level of a science course, there is an engineering class designed to go along with it.
"[The ultimate end of] the engineering sequence [is] the engineering design and development course," Rylander said. "Students take all that they've learned in science and in engineering and take a real-life problem, develop a solution and actually a prototype of a physical device that is a solution to the real-life problem."
Physics students in the STEM Learning community are currently learning about sound waves, according to Rylander. In engineering, they have been able to apply what they've learned somewhere else, in order to expand their understanding of the topics covered.
"[Students will] take what they've learned [in physics] and put that into some mathematical representations, then they're going to take these [microcontroller robots] in engineering and [program them]," Rylander said. "So they've understood the physics, but it has an actual application where they're going to program something."
Freshman Jonah Frese, a STEM Learning Community student, finds it beneficial to have started learning physics as he goes through engineering.
"I think that the way we started out with physics gives us a better application of learning how we can use [it related to engineering]," Frese said. "[It provides us with] a better understanding of math and how it's applied in real-world situations."
According to freshman William Sander, a STEM Learning Community student, the class was an appealing option to him because of the new and different learning potential it presented during the year.
"I was very interested in science and engineering and the technology that's involved with it," Sander said. "I thought it was a great opportunity for college and all the other career opportunities that we experience in later life."
There is more than just the engineering component to the engineering and physics pair, according to Thomas Henderson, freshman Physics teacher. He said it does not matter whether a student becomes an engineer in their future, they will still be able to use what they learned in engineering class.
"Really what we're trying to create is kids with a real engineering mentality," Henderson said. "A person may become a surgeon, for instance, and as they're doing their surgery, they will run into a problem. It's the engineering mentality really that dissects it, breaks it apart, decomposes the problem and thinks [scientifically] and sort of brings engineering [to another situation]."
Sander is enthusiastic about the future of the STEM Learning Program. He hopes it appeals to the interests of incoming students, just as it appealed to him.
"I'm just really excited for what's to come with STEM, and what's to come with all the other grades to sign up for it, since we're the inaugural class," Sander said.