Marks nominated for GRAMMY Educator Award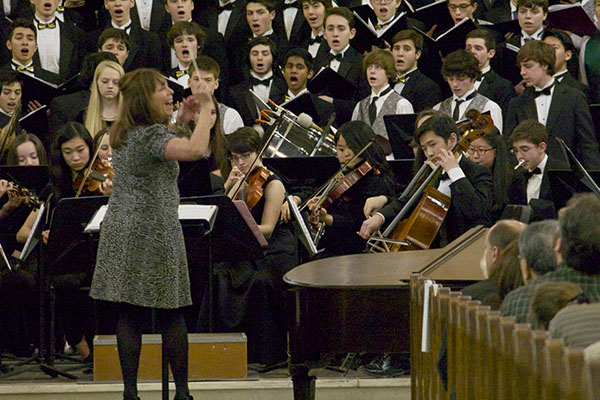 Stevi Marks, current GBS Variety Show director and retired choral director, has been nominated for the Music Educator Award, becoming a semi-finalist as of September, according to the official Music Educator Award website.
The Music Educator Award was founded by The Recording Academy and The GRAMMY Foundation, who presented South with the NationalGRAMMY Signature School Award in 2008 along with a 10,000 dollar cash reward from sponsors such as Converse and Disney Performing Arts. This is the second year the Music Educator award is being given and Marks, nominated by South senior Sophia Andricopulos, was announced to be a semifinalist for this year.
"I was shocked when I was informed that I was a quarter-finalist in, like, April, I think, and they finally announced [it officially] in May," Marks commented. "And then, I got a phone call in September telling me that I was a semifinalist and I kept going 'Are you sure you have the right person?'"
This award is given to musical educators who have made a significant contribution to musical education and to those who demonstrate a commitment maintaining music education in schools, according to the Music Educator Award website.
Each teacher is evaluated based on evidence that they have made a measurable difference in the lives of students, the school and the community. They are also assessed on their significant and lasting contribution to music education and exemplary work in the field.
"I am very aware that there are thousands of applications that go in […] and I'm also very aware that the Grammy's process is very difficult," Marks said. "So, I had no real intention, I wasn't going to go through, I wasn't going to do it. And Sophia said to me, 'But, Mrs. Marks you have to do it; that's why I nominated you!' And I said, 'Okay Sophia, I'll do it, I'll do it, I'll do it.'"
Andricopulos and Marks became close through the choir and music theory classes Marks taught at South. According to Andricopulos, the greatest way Marks influenced her was through the music theory classes.
"I'd always played the piano and been involved in music, but I'd never really understood the meaning behind [music theory] and how composers write music," Andricopulos said. "It was different to see [the music world] from a different side."
Although Andricopulos is the student that nominated Marks for the award, she is not the only student Marks has influenced. Senior Julia Packer has known Marks since she was in eighth grade, through her sister who was a choir student of Marks'. Ever since Packer entered high school, she and Marks became closer in their relationship through the choir, Bel Canto, the jazz ensemble, Scat That!, music theory class and the Variety Show, which Marks will also be directing in 2015.
"She's been a really big part of my high school career, and in mentoring me," Packer said. "She was very loving and guiding towards me."
Both Andricopulos and Packer agree that one of Marks' greatest strategies when teaching her students is that she would use multiple ways to explain something in order to accommodate many different types of learners, making it easier for the large group of students to understand the lesson.
"She's just really helped me when I'd been struggling with understanding concepts and theory, and she'll literally go out of her way to assist you and understand your learning, like ways so she can adapt to how you learn," Packer said.
Marks has greatly influenced both students, encouraging them to discover new areas in music to expand their ability. She recommended music theory to Andricopulos and Scat That! to Packer, giving both something new to explore.
"I just think she really pushed me to go out of my comfort zone," Packer said. "I auditioned for Scat That! and I had never done jazz in my entire life. I was just like, 'Okay, I guess I'll do it."
According to Marks, the students at South had a great impact on her both as a teacher and a mentor. She found that the students inspired her to work harder to teach them, and she learned from them as well.
"Every student that I've had influences me one way or another," Marks said. "In some ways it's not the most talented kids that influence me. It's the ones who have talent, but also have a phenomenal work ethic. […] A student with a lot of talent who doesn't work very hard, that influences me too, to try to motivate them to use their talent in a good way. And a student who maybe is afraid, doesn't think that they can measure up, that student influences me so much. […] That's what it's about for me, and that really, really, really drives me."
Marks had as much of an impact on her students as they did on her, according to Andricopulos. They motivated her to work harder in teaching, and she motivated them to pursue new experiences and expand their knowledge of the musical world.
"She introduced me to the idea that I could have a future in music if I really set my mind to it, because I've never thought of it as anything before," Andricopulos said. "But then, when I was introduced to theory, I realized there was more behind [music], and how much it actually is."
On Dec. 6, the official Music Educator website revealed that Marks was not on the list of finalists for this year.
"While it was a great and unexpected honor to be nominated and be named a semifinalist, I never expected to move ahead, and it would have been wonderful to have GBS receive the matching grant which could have provided for scholarships for private study for private musicians," Marks commented.