Students, teachers reflect on block schedule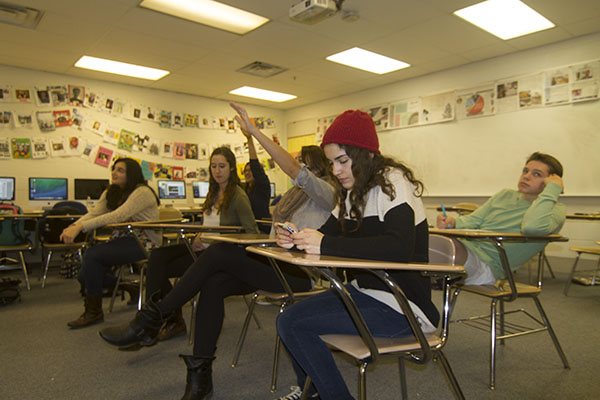 Students and teachers alike continue to have differing opinions on the advantages and disadvantages of the block schedule.
According to Dawn Hall, instructional supervisor of the Applied Technology Department, the block schedule has given students the chance to take electives that they may not have had time for with the 8-period schedule.
"[The block schedule] allows for greater opportunity for students in accessing courses that let them explore their passions or further an area of interest," Hall said.
According to senior Jessica Chepurda, varsity tennis player, the block schedule has many benefits. It has helped her manage her time and allowed for some time away from studying after practice.
"I have so much more time to get all my homework done and more free time, because I don't have every class each day," Chepurda said. "I think the block system helped me manage my time as an athlete, because if I came home later one day after a meet or [practice] I wouldn't have to worry as much about getting my homework done, because I would have an extra day to complete it."
According to Jeffrey Rylander, instructional supervisor of the Science Department, the block schedule allows students the time to reflect on information and newly acquired skills in a classroom setting.
"Some of that processing time […] has been able to happen in the classroom," Rylander said.
However, not all students are in favor of the block schedule. The new schedule has increased the time spent in each class from a 50-minute class period to a 90-minute block, and according to sophomore George Gould, it is difficult to focus for the entire block.
"[It] can be a pain to sit through [a class] for an hour and a half," Gould said.
According to senior Andrew Callas, another disadvantage of the block schedule is not having class every day. Students have a day in between their practice of skills learned in the previous class period, and according to Callas, he tends to forget much of what happened in class.
"Memorization is especially difficult, because you might spend one night learning it for a homework assignment, but with the block schedule, two days is enough to forget it," Callas said.
According to Hall, the disadvantages of the block schedule aren't more or less of a problem than the ones that occurred on the previous schedule, but that they are just different.
"We have a complete schedule shift to the block schedule," Hall said. "That changes the needs of students, [and] that changes the need for support."
South's administration has been actively seeking feedback from students and teachers regarding experiences on the block schedule and is continuously seeking ways in which students can be supported. Additionally, according to Principal Dr. Brian Wegley, Glenbrook North has been very helpful with the school's transition to the block schedule.
"I can't tell you how much I appreciate their true partnership as we've gone through this ," Wegley said. "They have learned through practice and through experience a ton of lessons through a 15-year period that they openly shared with us."