World Within Reach: The Plight of ISIS
Hang on for a minute...we're trying to find some more stories you might like.
On Sept. 23 the United States began the first of a series of aerial operations over the nation of Syria in order to stifle advances made by the terrorist group called the Islamic State in Iraq and the Levant (ISIL).
In order to understand the global implications of such an event, it is important to know why the group has made headlines worldwide. ISIL – or more commonly referenced as ISIS (Islamic State in Iraq and Syria) – is an unrecognized insurgent group that has asserted its authority over the people and territory in the northeastern Middle East.
Of its evidently serious and complex motives, the self-designated caliphate has made its primary goal to create a Pan-Islamic state governed by the religious principles of Sunni Islam (the largest and most orthodox branch of the religion) and sharia law, or the law of Islam.  The majority of Muslims, however, vehemently reject the group's ideals and uses of violence.
Such law, which presently governs the nation of Saudi Arabia, is characterized by a strict code of ethics and guidelines that, especially by Western standards, severely limit many social freedoms. Women governed under sharia law are prohibited from driving cars, speaking alone with non-relative men and taking a non-Muslim husband. Deviation from law by either gender is punishable by death.
Like many extremists of jihadism (the belief in waging a "Holy War" to promote Pan-Islamism, often through guerilla warfare), ISIL was founded on the ideals of the "Muslim Brotherhood," an early 20th century Islamist organization which believes in strict interpretation and following of the Quran, or the book of Islam.
Today, ISIL has continued to thrive on the group's ideals, taking a retrograde stance on its own religion. The group seeks to revert back to a more archaic interpretation of the Islamic faith by rejecting its modern interpretations, denouncing all Western values and practices and persecuting those who are not in accordance with its own viewpoints (Huffington Post).
For the past six months the Islamic State has made top news across the world. Since early 2011, violent conflicts between the government of president Bashar al-Assad and rebel uprisings have ravaged Syria and created a serious power vacuum in the country, allowing ISIL to slip its way in and further its jihadist conquest (CNN).
In February of 2014, the notoriously known terrorist group al-Qaeda formally renounced all ties with the radical Islamic State for its aggressive and uncompromising expansionism across northern Syria.
On June 29, ISIL attempted to legitimize its developing Islamic State by naming Abu Bakr al-Baghdadi caliph, a successor of the Islamic prophet Muhammad and ruler of the caliphate,  (body of governance). Such declaration has been particularly controversial amongst many other jihadist groups for its outward assertion of a leader by a single body – in this case ISIL – rather than the entirety of a Muslim nation (Atlantic).
Al-Baghdadi has created particular unrest in many nations across the world for his blatant pronouncement as the leader of all Muslims and forthright declarations of conquering the Middle East as well as parts of Europe in efforts to establish his Islamic State.
But it's not just al-Baghdadi serving as the puppeteer of the extremists; many executioners of ISIL ideals have proved relentless in their devotion to the group's movement to assert its power both militarily and psychologically.
Most recently, ISIL's tactics have included threats through multimedia propoganda, particularly a series of videos, some of which have included graphic beheadings of American and Birtish journalists (James Foley and Steven Sotloff, respectively) and a British aidworker (David Haines). The videos characteristically warn the United States of the possible repercussions of their intervention in their expansion.
Yet despite this blackmail, the U.S. has begun to lead a multinational initiative against ISIL. After a series of  unauthorized drone surveillances across Syria in August, the airstrikes targeted at the strategic locations of Aleppo and Raqqa began in late September.
Additionally, on Sept. 17, the House of Representatives authorized formal military training of Syrian rebels against ISIS. Yet President Obama assures the nation and its people there will be no boots on the ground.

About the Writer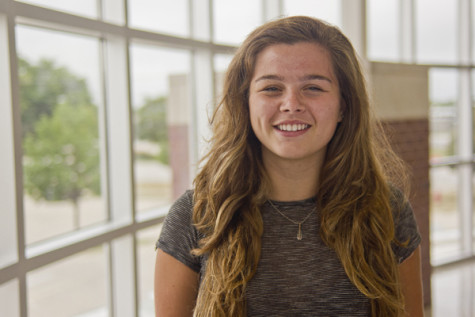 Kali Croke, Co-A&E Editor
Kali has been writing on The Oracle since the fall of 2012 and is currently the co-editor for A&E. She is a member of the student council as president...