South celebrates its veterans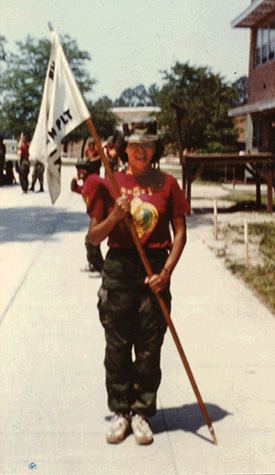 Diana Starcevich of Glenbrook South's English Department woke up on November 11 to dozens of texts flooding her phone: her family, friends, and even high school acquaintances were reaching out to her, thanking her for her three years spent in the U.S. Army. While, for some students, the day is just a break from school, Starcevich spends Veterans Day not only being acknowledged for the time she served in the U.S. Army, but thanking those who have done the same.
According to data from the Department of Veterans Affairs, a federal cabinet agency that provides services to veterans, Starcevich is one of 20.4 million American veterans celebrating Veterans Day on November 11, a day dedicated to showing gratitude for current and past members of the military. Starcevich feels she is very fortunate to have the day off to reflect on her time served, and she greatly appreciates the way South's students recognize her dedication to the country through newspaper articles, videos, and more. Thinking of the people in her life who have served reminds her of the importance of honoring veterans, she explained.
"I'm just proud to have served," Starcevich said. "[I served] so long ago, but around Veterans Day it gets mentioned, and it's such a special day for me."
Like Starcevich, South alum Taylor Keime not only recognizes the importance of honoring military personnel on November 11, but honors them every other day as well. After graduating in 2017, Keime enlisted in the National Guard, where he trains several times a month and is currently preparing for a summer deployment to Africa, he explained. Keime said he uses Veterans Day to connect with family; additionally, he stressed the importance of helping veterans beyond simple recognition on November 11.
"We need to incorporate [remembering veterans] into our everyday lives," Keime said. 'There are so many issues with veterans getting jobs, coming home from deployment, getting reacclimated into society, and I just think that sometimes it's not recognized as much as it should be."
Something as little as walking up to someone in uniform and thanking them for their service is so important, Keime said. While Keime is a part of the National Guard, he attends Oakton Community College and is a regular person underneath the uniform, he explained. Keime hopes people are never nervous to come up and talk to him, because youth education about the military—especially why Veterans Day is celebrated—is very important to him, he said.
"There's been a lot of involvement [with schools like South] promoting veterans, which is awesome, and I think we need to continue that," Keime said. "A lot of people take [Veterans Day] as a day to themselves when it's really a day to reflect on why we're here and why we live the life that we do. There's a lot of people willing to sacrifice time away from their family and put themselves in dangerous situations [for our safety], which is why I think schools and communities need to continue to promote not only that we celebrate the holiday, but why we celebrate."
Sophomore Regan Koh agrees that being grateful for veterans is just as important as showing gratitude. Having many family members who served in the military, including both her parents, Koh understands the importance of being respectful and thankful to veterans, she explained.
"I try to make sure that my [parents] know how proud of them I am and how cool it is that they [served]," Koh said.
In addition to Starcevich, Koh also believes a lot of students treat the holiday as just a day off from school and do not have gratitude for  veterans at the front of their mind. However, she explained that there are many simple ways to honor veterans, from thanking them for their service to attending flag raising ceremonies at a park center.
"It takes a lot to [serve in the military], and you have to be a certain type of person to go through all that," Koh said. "Especially since my grandpa died because he served in the Vietnam War, I think [veterans] should have recognition for doing something so brave."