Speech Team eliminates common fear of public speaking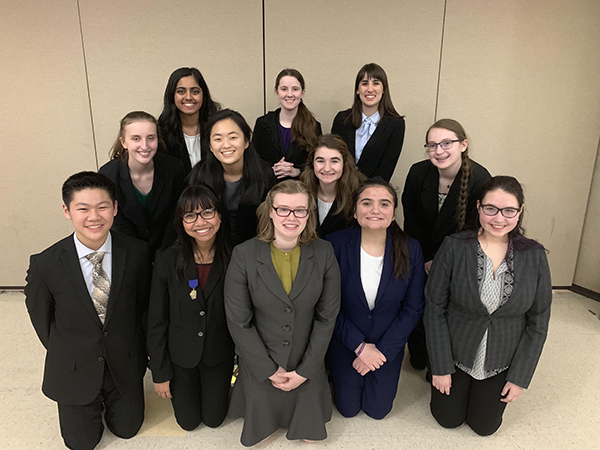 Speaking in front of a large group of people is an underlying fear for many students at South. According to the National Social Anxiety Center, 70% of people struggle with public speaking. Fortunately, South's Speech Team provides a welcoming environment to learn new public speaking skills for the future, Head Coach Nancy Stickels says.
Assistant Coach Rosa Nevin believes Speech Team gives students an ability to express themselves and their identities through writing and public speaking.
"[One] girl did a piece on being Asian," Nevin said. "She [spoke about] the misconceptions and what it is like to be an Asian student at GBS. It's almost therapeutic to write your own [speech]."
Stickels says students can utilize the skills they have acquired from the Speech Team in their future professions. Throughout the season, they learn how to use their voice, body and expression to engage an audience. 
"Right now, with everything being screen time, we are finding that people are having a hard time getting contact because there has been so much screen time," Stickels said. "This generation really needs [the speaking skills] to go out in the working world and college. It helps [with] college interviews, job interviews [and] just all sorts of everyday life."
Nevin notes how one of her favorite parts of being an assistant coach is watching her students grow throughout the year. According to Nevin, she looks for improvement in all her students during the season. One year she experienced a particularly memorable moment while watching the progression of two students' speech skills, Nevin says.
"Two years ago I had two young girls [and] they were freshmen," Nevin said. "When they first started, they had talent but it was very raw. But they were very hard workers [and] by the end of the season, their growth had been just amazing. From day one to their last performance, it was night and day. They had gained so much confidence."
However, the growth seen in the students is a result from the hard work they put in all season, Stickels says. Students have tryouts at the beginning of the year for event placements, practices and meetings with assistant coaches and competitions every Saturday beginning in late fall, Stickels says.
"If you do the work you will probably see something like [winning]," Stickels said. "But, it does take work and there is a lot of competition in this area. [However,] it's fun or they wouldn't do it, because there are long Saturdays that we spend in a school and they wake up early to get on the bus. They do it because they love it."
Senior Miranda Nevin, captain of the speech team and daughter of Rosa Nevin, believes that although the team is smaller than other teams at South such as debate or sport teams, it is composed of a diverse group of people who share her common interests in speech.
"I found a community of people that come from all different corners of this school from sports, to theater, community service, [and] language," Miranda said. "Everyone has so many different interests, but the wide variety of events in Speech [Team] ensures that everyone finds at least one [area] that they discover a new interest in or that relates to something they love to do."