South camp counselors reflect on experience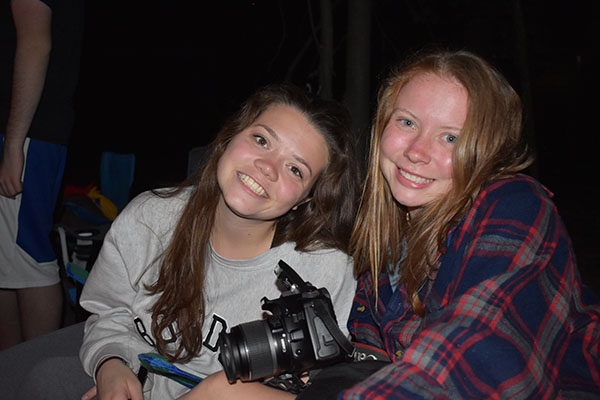 When high school students think of summer, they might think about relaxing at the beach, hanging out with friends or even traveling to different places. However, for some students here at South, summer is about teaching valuable lessons to younger children and becoming a role model through being a camp counselor.
According to sophomore Lauren White, she and her friend, sophomore Ellie Ruos, created a dance camp for young girls the summer after their freshman year of high school. White is on South's varsity poms team, and they started the camp because of their love for dancing.
"[Seeing the kids] having so much fun and learning to dance, and [seeing] so much improvement through the week… it was honestly amazing," White said.
White explained how one of her campers was struggling to perfect a jump that White was trying to teach. However, towards the end of the week, the camper was finally able to master the jump.
"It just worked in her body because it clicked in her head and then she was just able to do it over and over again," White said. "That was really cool just to see her have that moment."
According to senior Sam Parsons, he is following his years as a camper to become a counselor at Kids Zone Summer Camp this year. While Parsons was a camper, his counselors had always been role models to him and left a positive impact on the camp.
"They definitely made the camp worth it; I looked forward to seeing them everyday," Parsons said.
Kids Zone Summer Camp was not the only camp that had influenced his decision to become a counselor. Parsons says he also attended a diabetes camp in which some of the counselors were international students.
"They made this decision to come and spend their summer in America so that is a really bold choice," Parsons said. "And you know, they are getting out in the world so that is something I look up too."
According to senior Lily Smith, she attended YMCA Camp Eberhart in Three Rivers, MI as a camper for six years and for the past few years she has worked as a counselor. While being a counselor, Smith also saw her campers grow and mature.
Smith explains how her past camp counselors have also been leading examples and have influenced her decision to become a camp counselor.
"I always wanted to be a water skiing counselor, and one of my favorite counselors was the head of water skiing," Smith said. "She taught me how to water ski, so I kind of adopted the way she told me how to learn and [I] helped other kids do that too."
According to White, in previous years, she participated in several dance camps as a camper. Like Smith, White also found role models in her counselors through camps.
"I was always that little girl that really looked up to the big girls, I wanted to idolize them, and just knowing that I am that person for these [campers] is so mind boggling to me … and that is just super cool to put it in perspective," White said.