Lasting Impact: 2018 Retirees – Cindy Pouplikollas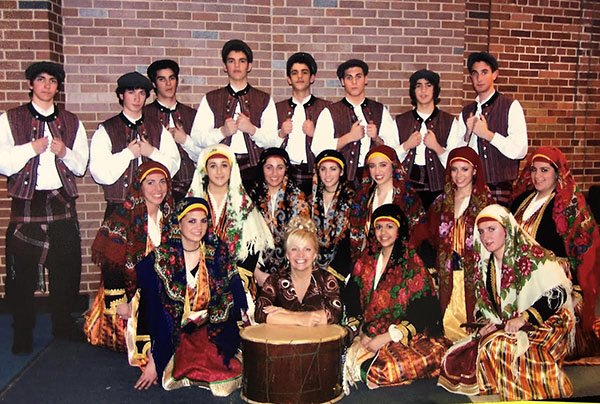 Every Christmas season, the students at Philip Rogers Elementary School in Chicago always have a smile on their faces, says Amanda Sideris, Hellenic Club president. Thanks to Cindy Pouplikollas, Hellenic Club sponsor and P.E. administrative assistant, these students receive Christmas gifts through the Letters to Santa program which Pouplikollas leads. After 23 years at GBS, Pouplikollas will hang up her Santa hat and will begin a new chapter of her life in retirement.
According to Steve Stanicek, P.E. instructional supervisor, Pouplikollas has added so much positivity to their department along with a caring personality that she shares with the staff.          
"I think the biggest thing that I'll take away from [Pouplikollas] is the mother hen type of personality that she's brought to [the P.E.] office," Stanicek said. "She has treated this entire staff as part of her family and the way she takes care of everybody [will] be the part that will be missed next year."
Pouplikollas says she shares her mothering qualities with the student body as well, as she views the students at GBS as if they are her own.
"When you're a mom, you see kids and you're like, 'Oh, that could be my kid,'" Pouplikollas said. "If anybody needs help, I always want to make them feel like they're real welcome [at South] because school is scary to some kids. I want them to know they can come and ask me questions and not have to worry about it."
Sideris says she has admired these characteristics of Pouplikollas. Through the Hellenic Club and going to the same church, she has been able to develop a strong relationship with Pouplikollas.
"[Pouplikollas] fully surrounds herself around us and really embraces us as kids," Sideris said. "She has been such a vital part to [Hellenic Club] and really does everything for us. She does [as much as] she can in order to make sure we have fun and we're so blessed to have her."
In the time she has known Pouplikollas, Sideris has learned how to juggle all the different things that are going on in her life.
"[Pouplikollas] is amazing because she's so organized and does everything so perfectly," Sideris said. "She is able to make the difficult things seem so easy because she has such a great and positive attitude about everything."
In her time working at South, Pouplikollas says she has loved every second of it. She believes she'll be walking away with so much more than she came in with and will miss all the friends she has made along the way dearly.
"I've loved my job [at GBS] and no matter what department or task I was given, I always felt at home," Pouplikollas said. "It was a wonderful opportunity for me and I've enjoyed every day coming into work. You can't ask for any more from a job."