Koo finds meaning in backpacking passion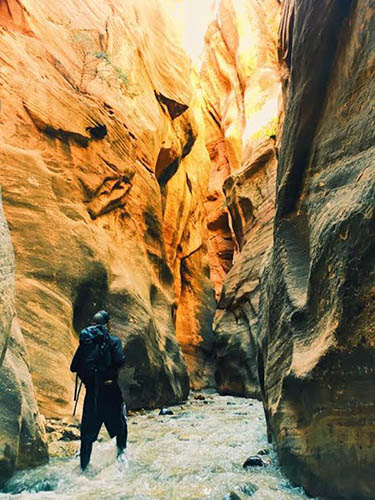 Calling his mom through a payphone along the way, Josh Koo, assistant principal of student activities, said that he was headed to Niagara Falls. According to Koo, on a Friday after school, he told his mom he was going on a backpacking trip and would be home in time for classes on Monday.
According to Koo, travelling in his high school years culminated into a passion for backpacking. Driven by his desire to do things off the beaten path, Koo said that he likes to travel to remote places with no running water, electricity, civilization, or phone reception and bringing with him only the necessities. Koo says that the minimalistic nature of his trips helps him recharge and reconnect with himself.
"The reason I want to [backpack] is because when you are so busy with work, you think [that] the problems you are frustrated with and stressed out [by] are magnified," Koo said. "When [I] put [myself] out in the wilderness, in states of vulnerability, it helps [me] realize my problems aren't as big as I think they are."
According to senior Alex Ladan, Koo likes to do service when he travels. Ladan says that when he was the sponsor of Key Club last year, he would try to impart bits of what he learned from doing service while he travelled.  
"Last year when he was running Key Club Board, [Mr. Koo] told us a lot about learning about the world around you and not just the city that you live in," Ladan said. "He's really encouraging. I know that we can't really travel on our own yet but out of college [he emphasized] making sure that the things you learn here carry on [and when] you experience the world around you, [you] then carry that on throughout your life."
Koo said that he has traveled to places such as Australia, Japan, Africa and China. This summer, Koo said that he is planning a trip to Iceland and other Scandinavian countries. According to Koo, out of all the places he's traveled this far in his life, his most memorable backpacking trip was to Africa.
"The people's perspective was the most beautiful," Koo said. "Africa is always seen as a third world country but I feel like they are first world in terms of compassion and their human obligation to help each other no matter who [they] are."
According to Ladan, Koo has helped influence her perspective on life. Ladan says one gift of Koo's is still something that she holds dear today.
"He gave [Key Club Board] little wooden gifts and on each one was a quote," Ladan said. "The quote that he gave to me was 'Dream big, dare to fail' and that was something that I remembered my sophomore year and have lived by. I feel like I always have these big ideas or these things that I want to do or change and I feel like, 'Oh i'm just one person, I can't do this' but he's encouraged me to follow that and see where it takes me."
Backpacking for Koo is a matter of changed perspectives. Koo said that he enjoys immersing himself into cultures. Koo also enjoys that to the residents of the places he goes, Koo is just another person and has no title or history attached to him.
"For me to be a visitor and to say I want to learn about you, and having them welcome you is a really humbling experience," Koo said. "For them I am just another person, and that is the beauty of it."