Students find escape through journaling and blogging, honor personal memories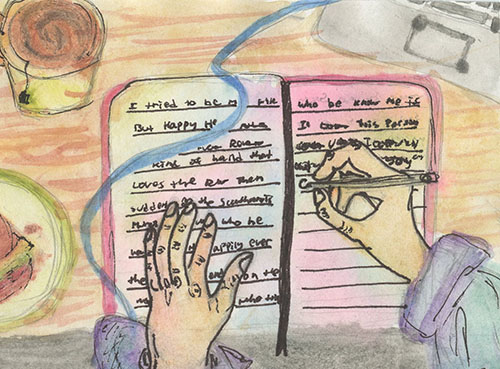 At South, students calculate math problems, take long sections of history notes and write essays. There is a group of students who take their passion for writing from school to outside the classroom and learn to convey their thoughts through journaling and blogging.
Junior Kenna Tripple has had a journal for two years, where she records memories of important days in her life. According to Tripple, she began her journal to commemorate her grandfather when he passed away.
"I started [journaling] because I wanted to keep track after my grandpa passed away. I wanted to keep track of pictures and anything I had from him, and doing that just kind of started going into every aspect of my life and not just my grandfather," Tripple said.
While Tripple does not write as much as she used to, she says she uses her journal like a scrapbook to document her life with things like Polaroids and train tickets.
"I like the fact that one day I'll be able to look back at [my journal] and see that this was a part of my life, and I really appreciated and enjoyed it," Tripple said. "It's like one of those things that you can look back and see [the best parts of] your life, and you don't necessarily have to keep track of the worst parts."
Like Tripple, senior Madelyn St Clair used writing as a way to let her thoughts out when her parents passed away freshman year. According to St Clair, she began her blog in August of 2016, where she could write about her life experiences. Her first post was to honor her mother.
"My blog was titled 'For Living,' so it was just about making the most out of your life when you can't control circumstances," St Clair said.
While St Clair didn't start her blog until a few years after her parents passed away, before she sought writing as a way to release all of the emotions swimming in her head.
"I had been writing potential blog posts for like a year or two beforehand," St Clair said. "I would keep writing just whenever I was feeling  stressed. It was always just kind of like an outlet for me."
Like Tripple and St Clair, senior Zach Peterson uses writing as a creative way to express what is on his mind. According to Peterson, he started out journaling and decided to start a blog this past summer.
"It started off just [about] stuff I was thinking of during the day, just whatever domestic or local things were going on in my personal life, but now I just write about whatever is on my mind in terms of anything going on in the world," Peterson said.
Peterson reflects on how writing is a great tool he uses in his life. He also transitioned from a journal to a blog to see if others would agree and could relate with the points he made.
"I like writing, writing is fantastic," Peterson said. "Journaling is a great way to get my thoughts somewhere. I decided to make the transition [from a journal to a blog] because I wanted to see if other people would like it. [Writing] online is a little more protected than if you were going to talk to someone in person," Peterson said.
Overall, Peterson, St Clair and Tripple agree that journaling has allowed them to reflect on their lives and also share their opinions on certain issues.
"It was my own wish to be more vulnerable with my life and shine a light on issues that I feel like are important," St Clair said.