GSA changes club name to SAGA to promote inclusion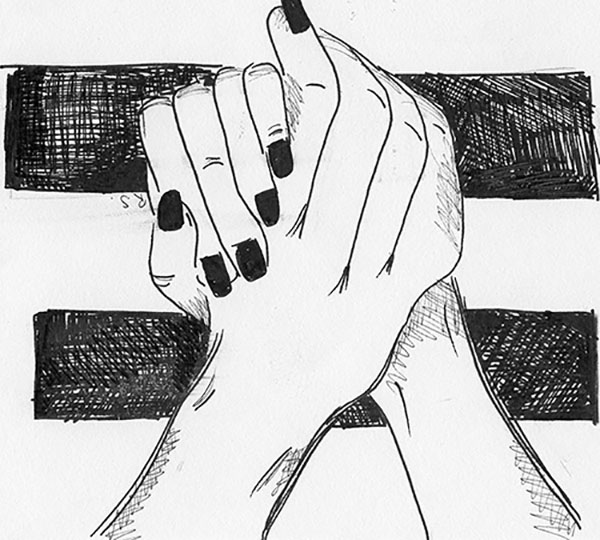 The first time junior Kaleb Garden attended a Sexuality and Gender Alliance (SAGA) club meeting his freshman year, he was greeted by the previous club sponsor, Katrina Prockovic. According to Garden, current president of SAGA, Prockovic welcomed everyone by saying, "Ladies and gentlemen and everybody in between." Garden said that was when he knew that he would be a part of the club.
According to Matthew Bertke, French teacher and co-sponsor,  SAGA changed their name from Gay Straight Alliance (GSA) to be more accepting of other genders and sexualities.
"GSA did not fit in with the core beliefs of our club," Bertke said. "We really felt that GSA was not inclusive of everyone in the room.    "
According to Bertke, the club's two most important goals include  making sure that everyone is treated equally and creating a safe space in which all feel welcomed.
"I would like to reach students who are uncomfortable or students who are feeling a little lost, and for everyone to realize that they have a place in this school," Bertke said. "I think it is [rewarding] watching people feel comfortable and feel at ease in this space to participate, share and be who they are."
Freshman Annabelle Northrup, a member of SAGA, mentioned that before she first joined SAGA, she was doubtful if the club would be as accepting or caring as they advertised. But after joining SAGA, she said she felt very welcomed.
"They are very accepting people," Northrup said. "They weren't just doing it because they were told it was the right thing to do, they did it because they wanted to, and I think that really resonated with me."
According to Northrup, this club is a safe space, an activism club, and it raises money for LGBTQIA (lesbian, gay, bisexual, transgender, queer, intersex, asexual) charities through bake sales and concessions.
Heather Chambers, social studies teacher and co-sponsor of SAGA, says two key events the club organized last year for the LGBTQIA community were the Transgender Day of Remembrance Candle Vigil and the GSA Dance. According to Chambers, these events were created to support the LGBTQIA community, and they plan on continuing to host these events throughout the year.
"The vigil honored the memory of individuals whose lives were lost in acts of anti-transgender violence," Chambers said. "The dance provided a safe space for GBS, GBN and other high school LGBTQIA communities to have fun and dance the night away."
Both Northrup and Garden agree that the biggest accomplishment of this club was creating gender-neutral bathrooms by the freshman cafeteria.
According to Garden, GBS students should join SAGA because of the community and acceptance within the club.
"The most rewarding part is knowing that somebody feels safe and themselves when they are there," Garden said. "We are really like a community, and we really try to make sure that everyone is included."
According to Northrup, even if GBS students are not in the LGBTQIA community, they should join SAGA, which meets in Room 204 every Tuesday. Northrup says everyone's ideas are represented and acknowledged no matter how they identify.
"It really opens your eyes to other people and things that you would have never known, or things you have never cared about if you had not gotten involved," Northrup said.