Glenbrook Academy students travel to China and experience new culture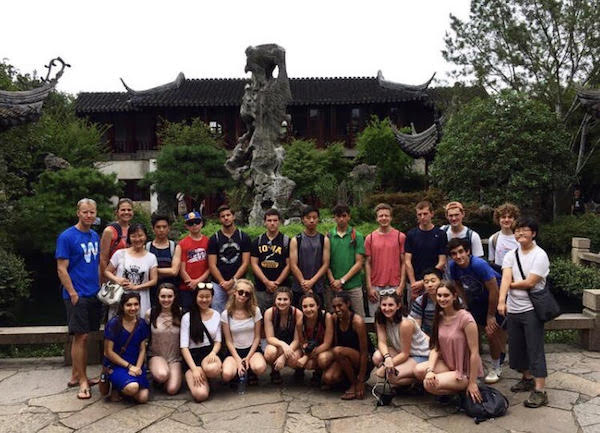 High above the clouds in Huangshan, China, the fog and mist slowly gave way to the lush scenery of the Yellow Mountain Range. The scenic peaks of the mountains were gradually revealed to 22 North and South seniors who travelled to China over the past summer with the Glenbrook Academy.
According to senior George Wood, the Academy students had known that the trip was a possibility since their freshman year. Lasting 14 days, the students travelled to five cities and stayed in various hotels around China. Wood said he had been looking forward to experiencing the language and culture in it's element.
"I was excited to go on the trip because I wanted to see China and where the language came from," Wood said. "It sort of seemed like the right thing to do because I knew I was going to have a great time and I knew I was going to learn a lot about different cultures and about the language I loved."
According to Wood, the cultural differences in China were noticeable right away, with one difference being that no price was considered final.
"Our Chinese teacher had asked us to bargain and haggle in Chinese," Wood said. "One time we went to a market that had a bunch of knock-offs and items for sale. I was haggling for some fake Ray-Bans where the original mark was 500 yuan (about $75), and I ended up getting them for 70 yuan (about $10) because everything is made very cheaply."
Similar to Wood, senior Kathryn Woo was also looking forward to the trip. As a Chinese-American, Woo believed she learned more about her culture on the trip.
"When I was in China, I saw how much different me and the locals are," Woo said. "It was fascinating. I was able to be submerged in my own culture. Being in that environment and seeing how things were there was a [good experience for me]."
Although Woo had already been to China once before, she believed this experience was different and she was able to further her language skills.
"I learned that I was capable of communicating with the locals there," Woo said. "In 2014, I got a chance to use my language skills then, but going back again I got to use a whole lot more. Two of my friends and I got lost a number of times … so I had to ask the locals around us if they saw a group of white Americans walking by."
Another benefit to the trip was the bonds people made, according to English teacher and trip leader Kerry Galson. Galson said she saw the kids furthering their relationships with each other more than ever while in China.
"Sometimes the kids from Glenbrook North and Glenbrook South in the Academy don't necessarily grow to know one another deeply every day," Galson said.  "That is something that was really awesome and unique to the experience in China. I think you need to eat meals with and fall asleep on a bus with and have all of those real life moments in order to have that sort of growth."
Later, as the Academy group started to hike around the top of the Yellow Mountains, Wood said he realized his appreciation for the culture and the country.
"[At the Yellow Mountains], I understood the magnitude of the place I was in," Wood said. "That was the moment where I took a step back and said, 'I am in China'. I don't think I'll ever see a place like that unless I go back there, it was so surreal. That was the moment I realized that I really really love China and I would want to go back again."