Students, faculty praise Cope as distinguished teacher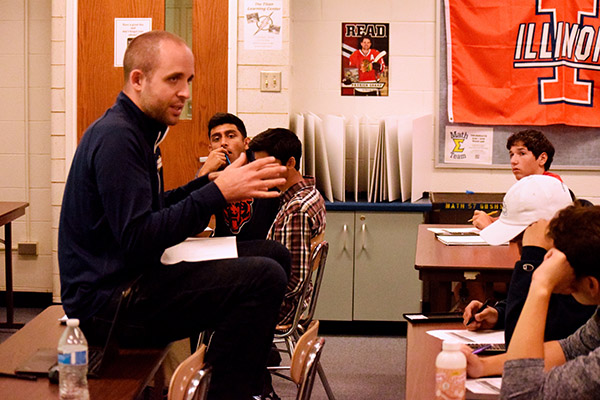 Every year, students vote for teachers who have had a positive effect on their experience at South. This past June, students voted Math teacher Bryan Cope  the Distinguished Teacher for 2017.
Cope began his career at South in 2005 after he graduated from the University of Illinois at Urbana-Champaign and has been teaching for 13 years. At first, Cope began college thinking he would become an aeronautical engineer, but felt a calling to teach instead.
"I think I went into college thinking engineering major because I thought it would be cool to … work with [Computer Aided Design]," Cope said. "I realized that I actually want to work with people more than I want to [design objects]."
According to Cope, one of the reasons he wanted to be a teacher was, in part, the influence of his own high school teachers. He really enjoyed how passionate they were, including his band directors whom he got very close with in high school.
"[My band directors] were really inspirational and were so passionate about sharing what they loved for us, and helping us become good performers," Cope said.
For Cope, it was important to replicate this same passion and respect for his own students. While it is important for him to help his students understand the material they are learning, Cope believes success comes from connecting with his students.
"I think the heart of teaching comes in when you treat your students as real people," Cope said.
Maeve Plunkett, GBS alum and one of Cope's former students, was one of the many students that nominated Cope for this award. Plunkett's respect for Cope comes from his excitement of teaching and infectious energy. Her favorite thing, however, was his positive attitude towards his students.
"He talked with us about math but also about life and shared his own thoughts, but never imposed them on us because he treated us like people with our own lives and thoughts," Plunkett said.
Junior Josh Boas, who has been one of Cope's students for two years, agrees with Plunkett's nomination for Cope. Boas, just like Plunkett, acknowledges that Cope truly cares about who they are as people, not just students.
"What I appreciate about him is that he wants the best for us," Boas said. "He does as much as he can to help us succeed."
Boas also notes that Cope is very interactive and works along with the students, which benefits them in understanding the concepts he is teaching them.
"[Mr. Cope] stands out compared to other teachers because he works with us to come up with solutions," Boas said.
According to Phil Gartner, Mathematics Instructional Supervisor, Cope is an ideal representative of the Math Department as a whole and serves as  a premier example of someone who goes above and beyond to strive for excellence.
"[Mr. Cope] inspires [students] to work hard, appreciate math and become better human beings," Gartner said. "His dedication, professionalism and integrity represent the very best that education has to offer."
Cope explained that he is thankful for his students. In turn, the award makes him strive to become a better teacher every day. The relationship between Cope and his students shows that both sides want the best for one another. Cope will continue to make his students' high school experiences great ones.
"It was a huge honor to win the award," Cope said. "I am really thankful to the students who nominated me. It makes me want to be better, live up to that expectation, [and put my] best possible foot forward."