Freshman English classes participate in exchange field trip, discuss racism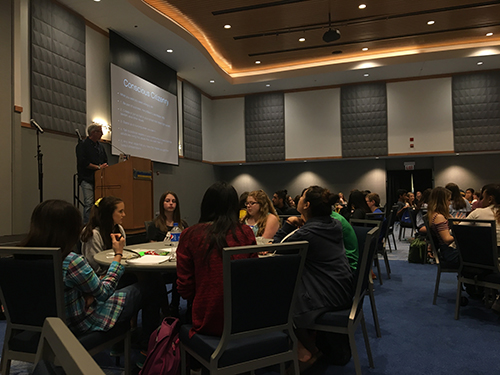 Some South freshman honors English students took two field trips during second semester to discuss race and race relations with students from two Chicago Public high schools. During the field trip, students learned about each other lives, formed friendships and created meaningful connections to their English curriculum.  
English teacher Bob Wysocki created the field trip, known as the Austin/Lane/Glenbrook Leadership Academy, for his freshman honors English class. After Wysocki taught at Austin High School, located in the west side of Chicago, he decided to bring students from his former school, GBS and Lane Tech College Prep together at Northeastern University to discuss issues surrounding race.  
"I started it last year for English 173, and throughout the year we talk about issues of race and how race shapes our identity," Wysocki said. "The exchange is not just a group of kids sitting around talking and saying, 'Oh hey I like your jeans or by the way racism is bad.'"
The three high schools meet twice during the year in March and in May at Northeastern Illinois University. During the day, students work in small groups led by student chaperones. Senior Saarah Bhaiji went on the field trip as a chaperone and explains the major differences between the three schools.
"[Austin High School and Lane Tech College Prep] were very much [experiencing racism]," Bhaiji said. "These kids actually experienced it and were going through these problems themselves. GBS kids knew the fundamental problems of race and how it plays into our society, but it was a very "book" version. They didn't really know the real-life street version experiences that the Austin kids would share."
Freshman Diana Shunnarah went on the field trip in March with Wysocki and their English class. Hearing stories from the two high schools regarding race allowed GBS students to create more meaningful connections to their English classes.
"When you read a book, you can [say], 'Yeah I understand' as much as you want, but when you hear a person's experience in [real] life [who] isn't just a fictional character in a story, you can relate more," Shunnarah said.
After the first field trip, students returned to their English classes and continued to discuss with each other what they learned about the other students, as well as applying their new knowledge to the English curriculum. Freshman Nicole Bim saw a connection between the conversations at the field trip, and the books read in class.
"I think To Kill a Mockingbird was the book that mostly addressed the issues we were talking about on the field trip because it was more about racism and racial problems in society today," Bim said.
The meeting in May focused more on what the students can do outside their classes and the community. Once the students have learned about each other and defined how race affects many lives, the second meeting targets conversations about how the students can make a difference in the world, according to Wysocki.
"One of the things that we talked about last year, and [that] we're trying to stress this year is what the kids can do in the community to take action" Wysocki said. "We're talking about [the] issues of race, [and now we're] trying to have the kids come up with an action plan."
Dr. Howard Bultinck, Chairman of Literacy, Leadership & Development, from Northeastern University, helped coordinate the Austin/Lane/Glenbrook Leadership Academy. Bultinck believes there is a major value behind the field trip academically and socially.
"I think it really was a life altering experience for all [the students]," Bultinck said. "They were all able to not only learn from it, but take away that experience that I think many of them will remember long, long after they have graduated."