Leaving their mark: South teachers reflect on careers before retirement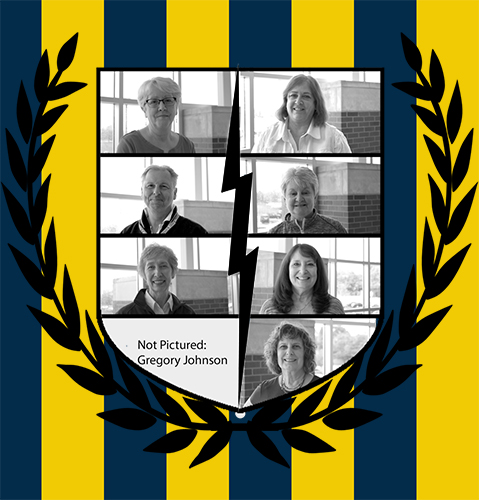 Table of Contents:
Kathy Hargesheimer
Paul Zwiercan
Chris Valles
Carol Buresh
Bernice Kirchler
Anne White
Suzanne Shore
Gregory Johnson
---
Kathy Hargesheimer
by Caroline O'Shaughnessy 
Kathy Hargesheimer, executive college assistant in the College and Career Center, has announced that she will be retiring at the end the 2016-2017 school year. According to numerous colleagues, Hargesheimer is a very important part of the South community and after 28 years of service to the school, she will surely be missed.
Hargesheimer explains how she has mixed emotions about leaving, but has many happy memories to carry with her into retirement.
"I have lots of funny memories," Hargesheimer said. "I've made so many friends over the years, and some of the people [I] have worked with were so much fun."  
One of Hargesheimer co-workers of 12 years, Julie Smith, explains what she values and appreciates about her.
"My favorite thing about Kathy is her sense of humor," Smith said. "We are always making each other laugh. She also gives wonderful advice."
According to Smith, Hargesheimer has helped her become more efficient and taught her to not worry about the little things she cannot control.
After retiring, Hargesheimer plans to travel and visit her two granddaughters in Kansas City, participate in volunteer work and read new books.
"I love to read," Hargesheimer said. "[…] I also love to gather the family and play games. Those are some of my passions."
John Klasen, a co-worker of 15 years, described Hargesheimer as efficient, ambitious and thoughtful.
"My favorite thing about her is her ability to multitask and keep an office, that at times can be quite chaotic, calm on the surface," Klasen said.
Hargesheimer has worked with many students over the years and believes that taking an active interest in the school can make a big difference during your time at South.
"Get involved," Hargesheimer said. "Go outside your comfort zone, find things that you are interested in and find things you want to explore. The biggest mistake I think you can make is not to be involved and to stay in your little clique of friends and not meet more people and learn to do more things. The more you challenge yourself and the more you go outside the box, the better the experience high school will be for you."
While it may it be hard to leave her Titan family behind, Hargesheimer is looking forward to her retirement.
"It's been a great experience," Hargesheimer said. "It's bittersweet to leave. I'm excited to be able to have free time, and my favorite thing in the world is going to be not to set an alarm clock. It is exciting to think of all the things I can do, but it's sad to think about the people I'm leaving. [South] has really become my second home."
Paul Zwiercan
by Lizzie Garvey
Tucked away in a corner of Glenbrook South, the Driver's Education office is a place where the teachers not only work but laugh enjoy each other's company, according to Driver's Education teacher John Skorupa. An integral part of the office will be missing, however, when Driver's Education teacher Paul Zwiercan retires this year, according to Skorupa and Zwiercan's coworkers.
According to Zwiercan, although he's now working in the Driver's Education program, he's had many different jobs and responsibilities since he began working at South in 1999. Zwiercan has worked in the dean's office and the test center, taught woodworking, and been involved in many other athletics and extracurriculars at South.
"I've been a sponsor to Key Club for about ten years, and I did a lot of athletic support work," Zwiercan said. "I scored a lot of the basketball games, a lot of the volleyball games, I worked a lot of track meets, and I've done almost every activity; I've worked as a security person, or a judge, or a scorekeeper, for almost every sport here at South."
Zwiercan has also been an important influence for both the students and teachers he works with due to his constantly positive outlook, according to Key Club sponsor and co-worker Joshua Koo.
"You see [Zwiercan] around a lot, and I think he's just an example of what the school embodies in terms of how it can affect your life and change your life," Koo said. "He's someone who's here because he wants to be here."
According to Zwiercan, the people are what he loves most about South, including both students and faculty, and are what he will ultimately miss the most. He considers those he works with to be his family, and he has become close with a variety of people over his career.
"The people here are fantastic," said Zwiercan. "I come here every day, and even though I have a lot on my mind I smile, I laugh, every day. If you're not having a good time you don't belong here, and I feel like you can't help but have a good time."
South itself holds a special place in Zwiercan's heart, as the school has been his home since he first arrived in 1999, according to Zwiercan.
"I was 30 when I moved out here [from Massachusetts], and after 19 years Massachusetts wasn't home anymore, but Chicago wasn't home either," Zwiercan said. "But when I started working here in 1999, probably a month after working [at South], I realized this is my home. That's why I don't like the idea of retiring, because I don't want to leave home again.
According to Skorupa, Zwiercan has served as both a friend and a teacher to those he works with while sharing his wisdom with others and ultimately serving as a role model for them. Consequently, according to Skorupa, these characteristics along with the friendship they share will leave a hole in the Driver's Education office next year that Zwiercan had previously filled.
"I'm going to miss him," Skorupa said. "He's been a great friend, and a really important part of this department; the person who is going to replace him in that chair is never going to fill the shoes that he has left behind."
Chris Valles
by Avery Jerva
Poised, graceful, efficient and creative are just some of the ways that Christine Valles, executive assistant for athletics, has been described. Valles, who has worked at South for 27 years, is retiring after this year.
According to guidance counselor Karen Klebba, she has known Valles since she was seven years old and was taught figure skating lessons by her.
"Ms. Valles is arguably one of the kindest adults working in the building," Klebba said.  "Working in the Athletic Department is a big job. She is smart, organized and very good at what she does. She has a lovely smile, is very easy to talk to and always approachable. She is a beautiful person inside and out."
Aside from her experience as an executive assistant for athletics, Valles is a certified teacher.
"I got my degree in 2004, and at that point I just felt like I didn't want to make the whole change into teaching because I knew I'd be retiring soon and I was already established here, so I just stayed with GBS," Valles said
According to Transitional Specialist Julie Smith, she was surprised to find out that she would be working with Valles after also being taught figure skating by Valles when she was in second grade.
"I did not know that [Valles] worked at GBS when I was hired," Smith said. "So when I ran into her, I was so excited to see her and to know we would be working together. It's fun to become friends with someone as an adult that helped you when you were a child."
According to Valles, although she has loved her time at South, she is excited to retire and try something new.
"[After I retire], I'm going to probably continue teaching skating part-time, but I'm going to spend a lot of time with my grandkids," Valles said.
According to Klebba, Valles is fluent in Spanish, so she urges students to approach her and say, "Buena suerte" (good luck) and "felicitaciones" (congratulations) as Valles looks forward to this next chapter of her life.
Gregory Johnson
by Mia Merchant
At 3:30 p.m. on a Monday afternoon, the hallways are empty and everyone has either gone home or is in an after-school activity. That is, everyone except people like Custodian Gregory Johnson, who begin their work at the end of each school day and who work hard to keep South clean. At the end of this year, Johnson said he will be retiring and moving out West to Oregon.
According to Johnson, he likes being able to help keep South clean and keep everyone happy. Johnson said that his favorite thing about working at South is meeting people, and that he has the opportunity to talk to different people every day, including teachers, counselors, and sometimes even students.
"The people are good here," Johnson said. "I got lucky […] meeting interesting people here is pretty cool."
According to Mia Jerva, an administrative assistant for the Special Education Department, Johnson cleans their department at the end of each school day.
"He keeps the department very in-shape, and he's always here making sure that everything is taken care of," Jerva said.
Jerva also said that he is very cordial and is a diligent worker.
"He absolutely is a hard worker, he's very focused on what he's doing, very pleasant, personable, always asks us how we're doing, and dedicated," Jerva said.
Rosa Nevin, also an administrative assistant for the Special Education Department, agreed with Jerva and said that Johnson has an agreeable personality.
"He's always cheery; he always has a good attitude," Nevin said. "He's always very friendly, and has a really positive attitude."
According to Nevin, Johnson is an important part of the department and will be missed.
"When somebody works so closely with the department […] even though we're […] passing ships, he's an important part of the department and so he will be very much missed at the end of this year," Nevin said.
Carol Buresh
by Taylor Everson
At the point in the school year where there are six weeks left, students and teachers alike start to count down the days. Carol Buresh, special education teacher,  however, has been making her last weeks at South the best they can be. Buresh, who has worked at South in a variety of special education positions, will be retiring at the end of the school year after 31 years of teaching.
According to Buresh, she had always wanted to be a teacher, however, the passion for working with kids in the special education department came in high school.
"I jokingly say that I've been playing school since first grade, because I've never veered from teaching," Buresh said. "I wanted to work with high school special needs kids because I felt like I could relate with them, and I saw the need for preparing them for the next step [in life]."
Throughout the years, Buresh believes that her biggest accomplishments have been changing the lives of her students and building personal relationships.
"I once found one of my students a bicycle," Buresh said. "It was a used bicycle that my husband fixed up and we gave him to get back and forth from work. Little things like that is why I'm here. I'm not here for the test scores, I'm here for the kids. My favorite memories are knowing that I've touched those kids lives."
Further emphasizing Buresh's impact on her students, Jamie Bachmann,  special education teacher, believes that Buresh is unique in her teaching because she gives all of herself to her students and work.
"The thing that strikes me the most is how focused Buresh is on her students and how many different ways she is constantly trying to figure out how to get the information across to them," Bachmann said. "She's frequently inspired by her students, which impacts everyone around her."
Bachmann said he has known Buresh for 20 years and was her former graduate class student. Bachmann believes that this unique situation of both being a colleague but also a former student has made their relationship grow.
"Buresh has always understood me and I've always understood her on some level," Bachmann said. "She is one that I look to for advice or help when I get turned around on something. My relationship with her has made me a better teacher."
Similar to Bachmann, Brian Baxter, special education teacher, has seen their relationship grow since they first met.
"Buresh has always been a rock steady support to me as a friend," Baxter said. "When I first found out she was retiring, I tried to talk her out of it. My plan was to suggest to her that she should retire with me later as opposed to going out earlier than me. Now that I think about it though, this is an amazing opportunity for her."
Baxter believes that even through her retirement, Buresh will continue to have an amazing impact on the world.
"She is a very caring and giving person in terms of how she approaches life," Baxter said. "She is adventurous and she has a gift that will allow her to find a way to continue to give to people. I want to tell her to enjoy the time and figuring out what to do in the next chapter."
With all the lifelong friends she has made in the Special Education department, Buresh believes the hardest part about retiring will be leaving her colleagues and students behind. According to Buresh, although she is nervous, she is excited for what the future brings.
"There is a sadness of leaving and a nervousness of what the new chapter is going to be like because for 31 years I've parked in the same parking lot and walked in the same door," Buresh said. "[However], I think I'll enjoy the flexibility of my new schedule. I'm sure I'm going to be active, but maybe I'll be active three days in a row or three weeks in a row and then I'll take a break. I think that's going to be the biggest change."
Anne White
by Youjin Shon 
For almost two decades, Anne White, Special Education Department job coach has roamed the crowded halls of GBS, and assisted students about their education and career in their near future. After all the teaching and service completed at South, 2017 will be the last year GBS witnesses White's presence in the hallways, as she has announced retirement.  
"I'm going to be 65 years this summer and I have three small grandchildren who live in Dubuque, Iowa aging from one to three and a half," White said. "They're very young and I really want to be part of their lives as they're little."
In the past, White has transitioned from a substitute teacher in the Science Department to an instructional assistant in the Special Ed Department to fill in for an absent teacher for about a year, and has since remained. She has generated creative concepts and organized events to help the Special Ed students learn important life and social skills. According to Kara Bolf, special education teacher, White has always tried to find different ways to encourage her students to participate at GBS.
"I just remember her coming up with ideas and trying to ask, 'who can I help? Who needs help?' and trying to think of ways that she could help the students be more involved in the community," Bolf said.
Senior Emma Lantry believes White has encouraged her to reach greater heights and helped find her passion for the future. According to Lantry, White has not only been an excellent job coach, but she was also her mentor and her friend.
"She helped me realize my job skills, being proactive and pursuing opportunities," Lantry said. "[White] helped me understand where my interests are in getting a job like working with children and taking care of animals instead of just working [in] stores."
Out of all of White's notable successes in her special education career, she believes the most distinguished and memorable accomplishment at GBS would be her Titan Balloon Store. Not only does this shop provide the necessary balloons for school events, it also allows the special ed students to engage in a social, business activity within the school.
"We were looking for a venue within the school where students could have jobs at," White said. "We didn't want to do coffee because Quest sells coffee already and we didn't want to do anything that would expire. Bake goods don't stay fresh, and I used to watch kids walking around with birthday balloons all the time in the halls and I thought, 'hey, we can do balloons.'"
White always felt welcomed due to the warm, accommodating environment at GBS, and feels bittersweet about her upcoming retirement this summer. According to Julie Smith, a transition specialist in the Special Ed Department, she feels ecstatic for White's opportunity to spend time with her family, however at the same time, will miss her cheerful personality and presence in the department.
"I'm happy for her that she gets this time to be with her family [but], I'm sad for me because Annie has been a wonderful friend to me both personally and professionally, and we really connect well," Smith said. "I will miss just having her here with me, her sense of humor, and [her] work ethic ethic."
White has always remained busy and occupied to happily enjoy some of her longing hobbies. After retiring, she hopes to reconnect with her grandchildren, but also return to her love of gardening and back to nature.
"I'm really looking forward to exploring [nature] and learning new things," White said. I've always loved zoos and things a little more exotic, and this is going to turn me back a little closer to home."
Suzanne Shore
by Lorelei Streb
Since 1999 South nurse Suzanne Shore will be retiring after 18 years dedicated to aiding the South student body, according to fellow nurse Pat Watermann.
"When I think about Mrs. Shore the first thing that comes to mind is her kindness and her thoughtfulness,"  Watermann said. "That's why nursing has been the perfect profession for her, because she is constantly thinking about other people and the details about other people."
According to Barb Marzillo, a retired South nurse, Shore is the heart and soul of the office as she gives everybody such a warm greeting every time they come in.
"She'll make tea if [the students] need tea to help them relax or calm down," Marzillo said. "She plans a lot of social activities outside of work for the nurses. She just reaches out to everybody, and she's so sweet."
According to Shore, she has also been an advisor for Interact Club for about 10 years. Shore says taking on this role has furthered her connections within the GBS.
"Making a connection with the community [included] teaching students that a little part of them needs to be given back to their community." Shore said.