South alumni embrace independent life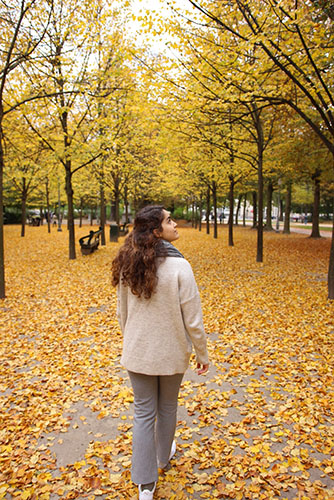 For two weeks, USC freshman and South alumni Dani Tuchman found herself alone in an eight-person hostel in Prague with seven native Spanish-speaking strangers. Although the experience was not what she had planned or expected, it pushed her out of her comfort zone and resulted in Tuchman traveling the city with people that quickly became her friends. Tuchman isn't the only graduate taking strides after high school, as many South alumni choose to take non-traditional steps toward adulthood and the realization of their dreams.
Tuchman graduated from South in 2016, and chose to spend her first semester of college abroad in London through an alternative start program. According to Tuchman, some experiences, such as staying in the hostel with strangers in Prague, were unplanned but ended up being valuable learning lessons for her as she navigated her way through her first few months of autonomy.
"I think [traveling to Prague alone] really epitomized my independence […]," Tuchman said. "It typified how crazy the entire experience [was] for me in terms of growing as a person."
After spending the first four months of her college career living in England and traveling to places such as Stockholm, Paris and Antwerp, Tuchman reflects that the atypical decision to go abroad at the start of her freshman year was one of the best she's ever made. According to Tuchman, it was not the most common path to take, but it was the best decision for her.
"You need to do some research," Tuchman said. "You need to take it on your own hands and research alternative programs if you're considering it because there are very few people that are going to hold your hand and convince you to do it. Ultimately, you need to be the one to pull the trigger to do something different. It's always exciting to do something different, and it might end up changing your life."
South 2010 graduate Youngeun Kim, who now goes by Amber Kim, works on the legislative team at an environmental nonprofit organization in Washington D.C. called Environmental Defense. According to Kim, she remembers having been interested in environmental issues even at a young age.
"I remember [in] sixth grade, we were reading TIME for Kids in English class and there was this little piece about the deforestation of the Amazon rainforest," Kim said. "Ever since then, [working with the environment is] just something that I felt more called to do and pursue […] That was like the little seed that was planted, and it's kind of grown ever since."
According to Kim, she has been considering taking different paths for her future, such as enrolling in graduate school or pivoting off of the politics route. Despite the uncertainty that may come with making these decisions, however, Kim believes that each step is essential to the journey.
"There are […] points where you definitely look back at your choices or look at what you're doing now and struggle with whether you've taken the right path or not," Kim said. "But I think that's a continuous struggle throughout life, no matter how old you are or what stage of life you're in […] I definitely wouldn't have been able to figure that out without all the steps I've taken in between to get where I am now."
Leaving South a year after Kim, fellow alumna Julia Duerst graduated in 2011 and currently works as the program director for the Chicago branch of an interfaith organization known as Hands of Peace. According to Duerst, she had participated in the program herself as a high school student and recently had the opportunity of leading a group of students from the U.S. to Israel/Palestine.
"Basically, [Hands of Peace works] with high school-age Palestinians, Israelis and Americans partnering to pursue peace, justice, freedom and equality," Duerst said. "I just got back from our very first spring break program taking American alumni to Israel/Palestine, so [getting] to come back as a chaperone for twelve students from the U.S. [and] guiding them through that experience was very, very cool and rewarding."
According to Duerst, having been a member of Hands of Peace in the past has not only motivated her to give back to the organization that had first cultivated her passions, but has also enriched her ability to reach out to the current members as an educator. Although Duerst says that she had never imagined herself returning to Glenview after college, she advises current South students to keep their minds open.
"I really believe that it's always going to be most useful, and authentic, and meaningful to do work within the community that you know and the community that you come from," Duerst said. "So, I see it as making a lot of sense right now for me to be working with high school students in Glenview because I [understand] the way that I was thinking and processing these different issues when I was their age."
DePaul freshman Chuck Quinn graduated from South in 2016, and began auditioning for plays professionally the summer after his senior year. After long careers in South's music and drama departments, Quinn has finally earned roles in gigs such as a Lunchables commercial and professional plays.
"It's nice to be [acting] in the real world," Quinn said. "Doing it in the school environment is great and it's a wonderful learning experience. But outside of the school environment, a lot more of your time as an actor is spent auditioning than on actual rehearsals and performances. So learning how to treat auditions like performances, how to perform well in that environment, and how to enjoy auditioning and not get sucked into the competitive world of it has been really great."
According to Quinn, he has been forced to weigh his passions against reality, and ultimately decided to major in computer science while still pursuing acting. However, Quinn is extremely happy with where life has taken him, and is excited to see what the future brings.
"It's an important choice, and you need to think about it, but it's not deciding the rest of your life," Quinn said. "You can change majors really easily, you can transfer schools: no decision you're going to make is permanent. So make the best decision you can at this point, but don't stress out about it too much. You can't steer a parked car, so just get the car moving as fast as you can."