Transient students adjust to South community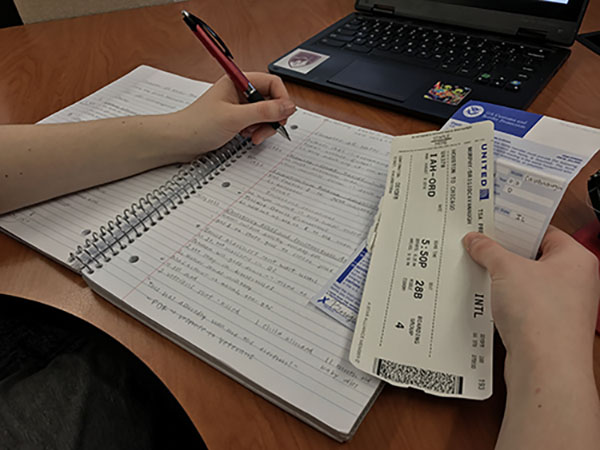 Imagine it is the night before the first day of school. Locker combinations are being memorized, classes mapped out and new outfits picked for the day ahead. All the faces that make up Glenbrook South's student body will be returning tomorrow, but there will be brand new faces as well. Transient students face an additional challenge to starting school: fitting in.
According to Assistant Principal Lara Cummings, this school year has had 117 transfer students enrolled out of  South's 2,661 student body. Student counselor Travis Meyers said that Glenbrook South is a school that families often target when moving to the Chicagoland area because of what the school offers and its reputation. Staff members like Meyers and social worker David Hartman said different kinds of assistance are tailored to students making a transition, as there are many challenges that come along with it.
"When you come into a building with 3,000 kids where almost all of them already have a friend group; we do see scenarios where students are really anxious and nervous," Meyers said. "We then try to introduce [new students] to [other] students who have similar interests."
For sophomore Melanie Quadros, she said she wanted to avoid having to adapt to both the academics aspects of high school and the socializing aspects at the same time. She said was given a choice from her parents on when to move, and decided to during middle school instead of her first year of high school. After moving to Glenview from Des Plaines, Illinois, simple things like teachers assigning her partners became a way for her to meet more people, she said.
"At my old school we'd do projects with friends but here you [are assigned] a group," Quadros said. "We grew up together so maybe that was why, but here we are told who to work with. You meet more people that way. I met most of my friends in classes or when teachers said, 'Here's an empty seat'. It was different and fun, and I don't regret anything."
Sophomore Jaime Suarez described a similar experience; he moved from Mexico City, Mexico to Glenview just before starting eighth grade. Along with adapting to social and academic lives of students in Glenview, he had to adapt to the culture
"[We moved because] I think it's really good to experience how places around the world work, so I don't have a closed-minded view of just my country but understand how different countries work [too]," Suarez said. "I'm just living in a different country with values from Mexico."
Suarez said that both countries grow up with different values and different ways of working and studying, but participating in different activities at South allowed him to integrate into the existing social life easily. And after a year of having only acquaintances at Springman Middle School, Suarez said he made closer bonds in high school.
"[Freshmen] are all just looking for something different, so in that aspect it was way easier to find people I could connect with," Suarez said. "I joined the swim team freshman year and radio helped me too, they received me really well. Joining clubs helped me a lot."
However for students like Suarez and junior Tugi Davaadorj, sports and clubs became the best way to make friends, they said. According to Davaadorj, he first moved to Missouri from Mongolia in 2006. After attending school there until second grade, he moved again to Glenview.
"It was hard to make new friends at first because we didn't speak the same language," Davaadorj said. "For the most part I remember I was able to connect with people through recess. One thing that allowed me to make new friends were sports, it gives you something to bond over and meet new kids."