Fine 3D-prints prosthetics for amputees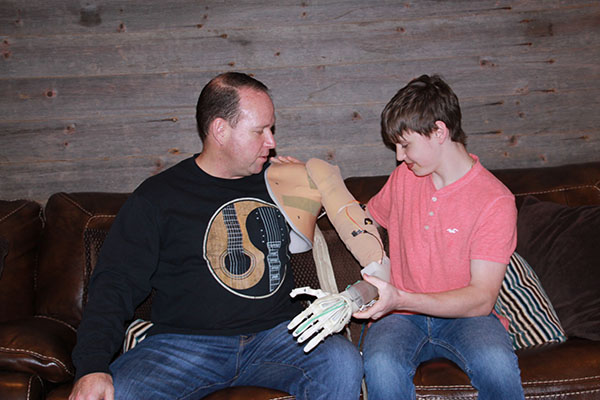 In April of 2010, Glenview resident Michael Fine was involved in a tragic head-on car accident, causing him to lose his left arm from the shoulder down. Since then, Fine says the accident caused him to experience major depression, chronic pain and other various obstacles. But in the summer of 2016, something positive resulted from his accident.
Michael's son, senior Jacob Fine, decided to use his interest in engineering and his summer internship at a 3D printing company to build a prosthetic arm for his father. As Jacob realized the need for effective, affordable prosthetic arms went beyond his own dad and into the Chicagoland community, he decided to start what is now called Project Mobility.
"As I was able to use these 3D printers [at my internship], I decided I was going to make my father a myoelectric arm, since he's an amputee at the shoulder, and it ended up working really well," Jacob said.
According to Michael, watching Jacob's design process of the first arm evolve over the summer made him incredibly proud and confident in his son. When Michael tried on the prosthetic for the first time in their backyard, he was amazed at what Jacob was able to accomplish with both the technology and the aesthetics of the arm.
"The way that it works is that there are sensors attached to my body, and when I flex my pec muscle or my lat muscle or what would be my bicep muscle, because all those nerves are still there, [the arm] still senses that and can open or close, and I can hold stuff in [the prosthetic hand]," Michael said. "My favorite band is the Foo Fighters, and Jacob put a Foo Fighters tattoo on the forearm that he engraved into the arm, so it was a neat experience."
Before Jacob started Project Mobility, Michael says he bought a prosthetic arm, but he stopped using it shortly after he got it because it was extremely heavy, uncomfortable and lacked functionality. According to Michael, the differences between this arm and the one Jacob made are stark.
"[Jacob's prosthetic arm] opens and closes; the hand can hold things, […] but it's not nearly as heavy because it's 3D printed out of this composite resin that is stronger and lighter," Michael said. "The arm that I got through my insurance was like 14,000 dollars, and I think Jacob printed his for less than 100 dollars."
After completing his first arm, Jacob decided to involve some friends and create a club at South to start printing more arms for other amputees. The group has since worked with engineering teachers Michael Sinde and Corey Duzan, providing resources for the arms at South. Sinde believes that Jacob's desire to help others is one of the main reasons why the project is such a success.
"A lot of students come in and they are focused for that 90 minutes while they're in class, but the initiative that [Jacob] takes outside of class really shows that he's passionate about [Project Mobility]," Sinde said.
Senior Danny Polyakov started working with Jacob shortly after Project Mobility began and has since taken over the public outreach part of the project. Polyakov says his main job is to find amputees in the Chicagoland area that need a prosthetic arm but may not be able to afford one.
"Initially, we started cold-calling places and emailing out organizations that work with amputees," Polyakov said. "[…] We try to see if we can find anyone that would like a prosthetic through our [previous clients]. 3D printing the [prosthetics at South] and allowing the school and us to absorb some of the cost from donations [we receive] means we are basically able to give them out."
As Michael reflects on the difficulties of being an amputee, he also acknowledges how it has inspired both his sons to help many others and create positive change in the world. In addition to Jacob's involvement in Project Mobility, Michael's older son, Jeremy, is currently studying at Washington University in St. Louis and hopes to become an orthopedic trauma surgeon, inspired by his dad's accident to help others that may be in the same position.
"Looking at how [my children have] focused [from my accident,] I wouldn't change a thing," Michael said. "It sucks to be in pain all the time […], but I wouldn't change it for a new arm, I wouldn't change it for wealth, I wouldn't change it for anything. So much good has come out of this and continues to come out of this. For me, I just wake up every day and say, 'Thank you.'"
With Project Mobility in mind, Jacob says he plans to continue studying engineering in college and advancing the capability of modern prosthetic limbs.
"I want to keep doing this to help people in general," Jacob said. "For the [amputees], it's not going to change their lives entirely, but it's just going to make things easier from day to day, and that's really just the goal."