South faculty couples reflect on co-worker relationships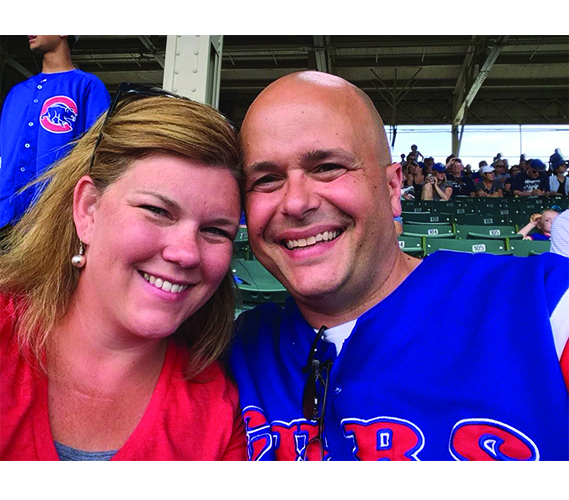 Sitting at a table for two, English teacher Steve Bolf enjoys a romantic dinner at the Cheesecake Factory alongside Kara Bolf, Special Education teacher, when suddenly, they are spotted by several of his South students. Worried about creating a big deal out of their date, Steve laughs nervously and smiles at his students. Although he is teased by his students the next day, he eventually is excited to be able to announce his engagement the following year, Bolf said.
Along with Steve and Kara Bolf, there are other teachers who have met at South and eventually continued on their relationship towards marriage. According to Physics teacher Michael Stancik, he remembers having a positive first impression of Physics teacher Deborah Berlin, who is now his wife.
"She's the kind of person I remember distinctly that we'd be driving down the highway, and someone would have a flat tire, and she'd be like, 'Pull over we, gotta help,'" Stancik said. "You see, there are tons of people who have the opportunities to help someone, but she decides that she's the one who needs to be that person, which I think is rare."
According to Berlin, meeting Stancik in a romantic relationship was a difficult task, but she believed finding her soulmate was the most important task.
"We both liked each other, but neither one of us was willing to be the one to say that to a coworker [because] that's a pretty awkward position to be in," Berlin said. "As a policy, you shouldn't date coworkers, but there's that true love cause that says if you really are going to turn this into a life relationship, maybe it's worth that risk."
According to Steve, his relationship with Kara was not widely known throughout the school and was agreed to be kept a secret at first. Steve remembers the initial reaction to the news of their relationship from several of his co-workers, including Dr. Jim Shellard, assistant principal of student activities.
"[One funny story] was that because Mrs. Bolf was [coaching] cheerleading at the time, she was working with Shellard a lot," Steve said. "She showed Shellard her ring, and he said, 'Well who are you engaged to?' and [after] she said my name, he was freaked out. He was shocked."
In order to maintain the professionalism at work, Kara says that she and Steve try to keep their work and home lives separate. According to Kara, she makes a conscious effort not to bring her work life to her conversations at home.
"If we want to talk about our students or something fun that happened in class sometimes at the dinner table, we'll find ourselves talking about work so much," Kara said. "We look at our children and they're like, 'What are you guys talking about?'"
Similar to the Bolfs, English teacher Katrina Prockovic and Matthew Whipple, Social Studies teacher, met at South and recently got married. According to Prockovic, being married to a fellow teacher at South has deepened the couple's understanding towards one another and has enriched her experience at South in general.
"I [have] always enjoyed working here [and I] get a lot out of it, [so] sharing that with someone is definitely a positive," Prockovic said. "We can talk about our days and understand what each other has experienced. This is a place both of us care about, so it really complemented our relationship, but it also heightened our experience here and made it more meaningful."
In regards to Prockovic and Whipple's soon-to-be born daughter, Whipple says that having this child has instilled in him a greater passion and responsibility towards his human rights work, as well as given him a new angle on the world he is already trying to change for the better.
"For years I've been active in the human rights arena, but it's been about making my world a better place and helping students to be involved in making their world a better place," Whipple said. "It changes a lot when, suddenly, it's about your kid's world. […] We're going to bring our daughter into a world [and] it matters to me that she's going to have access to all of the same human rights that everybody else has."
In general, Whipple mentioned that both the faculty and students at South have welcomed the marriage and that he feels fortunate to be a part of the positive community that South has always been.
"People have been accepting, supportive, encouraging, thoughtful and kind, and generally [people] are here, even when you're not in a relationship, or even when you're not marrying a colleague," Whipple said. "I'm very passionate about this place in general. […] It's a pretty caring and giving group here, so we've been really fortunate and feel very lucky to be surrounded by people here who are kind."