Peer Mentors bond with students, take interest in teaching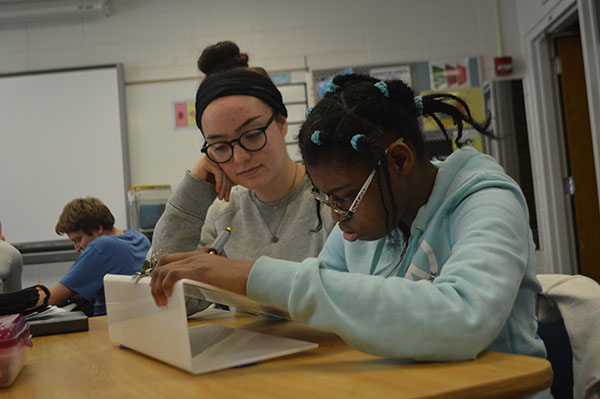 While some students enjoy their elective time in the dark room or woodshop, others choose to spend their time helping out in Special Education classes.  These students belong to South's Peer Mentoring program, which aims to create relationships between students in both mainstream and Special Education classes.  While many mentors have cultivated relationships with their peers in Special Education, some have even chosen to pursue the field in college and beyond.  
The program acts as an opportunity to create meaningful experiences and bonds between students with and without disabilities in South, according to the formal class description. Lindsay Smigiel, Peer Mentoring Coordinator, believes the experience of Peer Mentoring leads to deeper learning about oneself.
"It's a very eye opening experience for [students]," Smigiel said. "I think [mentors] learn a lot about themselves and they learn a lot about other people. I think it's a rewarding experience to be able to feel like you're making a difference in someone's life, and I think the students who are getting help from Peer Mentors […] feel connected […] with them."
Similarly, Brianna Wolski, communications leader of Peer Mentoring, reflects that through her time as a Peer Mentor she has been able to take away important values, such as withholding judgment before getting to know someone.
"[The program] has taught me to look beyond the surface of a person," Wolski said. "A lot of people are not so nice regarding people with disabilities, but I have come to know that looking beyond the surface of a person is probably the key thing to get to know somebody. I think that it should apply to everybody; before you [get to] know someone, don't be quick to judge [them and] be a little more open."
Like Wolski, Lori Steffel, co-president of Peer Mentoring, says that during her years in the program, she has developed a special regard for Special Education teachers.
"I really have gained so much more respect for teachers who are teaching in Special Ed classes; I firmly believe that in many ways it is a lot harder to teach a Special Education class than it is to teach an honors class," Steffel said. "You know in an honors class the teacher can go one hundred miles an hour and teach the same thing the same way for twenty years in a row, and you know it's hard content. It's commendable regardless, but in a Special Education classroom, teachers, (a lot of the time), do have to think outside the box. [Teachers] have to cater to the different learning styles of students."
According to Smigiel, the Peer Mentoring program has inspired past mentors to pursue Special Education as a college major and career. According to junior Anna Fookson, she fits this description.  Fookson explained that a discussion with one of the Special Education teachers solidified her future plans.
"[My teacher] actually pulled me aside and she talked to me for a long time about her experience in college, what it was like for her to have Special Education as a major, and [where] I can apply it to," Fookson said.
Like Fookson, Wolski also says that her involvment in the mentoring program has helped steer her in the direction she wants to go in college.  According to Wolski, when she started as a Peer Mentor she did not think that it may become her future occupation or something she would be passionate about.   
"My freshman year, I had no idea that [Special Education] was something I wanted to do," Wolski said. "Even up until last year I told myself, 'No, I just do this and I love it but I don't want to do it when I'm older,' but then I started to research and I'm going to double major in Speech Pathology and Special Education."
According to Wolski, Mary Jaeger, a teacher from the Peer Mentoring program, especially influenced her decision to major in the Special Education field after the two had a conversation.
"Ms. Jaeger in particular helped me realize how fun it is to do something you love and get paid for it," Wolski said. "She absolutely loved her job and I think [seeing someone] go to work and have fun everyday is something that I thought about."
Henry Tarbox, 2016 South graduate, is currently majoring in Special Education at Butler University. Tarbox says that his three years peer mentoring heavily influenced his outlook on South's student body as a whole.
"It makes you realize how big GBS is because we have our friends, […] sports, […] choir and all that stuff," Tarbox said. "It's easy to forget how big the Special Ed Department is and how vital it is for these kids."