Japanese exchange-teacher immerses self in American culture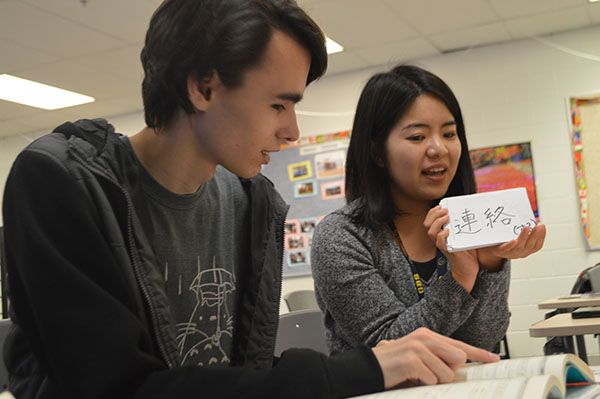 Japanese Teacher Eri Kanda, visiting all the way from Japan, has two goals: educating students on Japanese culture and learning American culture.
According to Kanda, she previously worked in special education, but realized her dream was to teach the Japanese language to students. Kanda now works through the Japanese Language Education Assistant Program (J-LEAP) that sends teachers from Japan to schools in the United States.
"I saw the information [for J-LEAP] and thought it was awesome," Kanda said. "I could learn American culture and also teach Japanese in high school. I could also learn how to teach Japanese [further] from [South], so it [was] perfect."
The first day of school, according to Kanda, was the only time she was nervous. Kanda said she was unsure of how the students would react, but believed it went better than expected.
"My first class was an AP class," Kanda said. "It had a lot of super hardworking students. They greeted me in Japanese, [which] made me very happy.  I'm happy when they try to speak Japanese to me [because] I'm very comfortable [with that]."
According to Danita Fitch, instructional supervisor of the World Language Department, having Kanda at South has been very beneficial to students.
"In language, a lot of times we are trying to demonstrate to students the intrapersonal skill," Fitch said. "[When I sat in on a class], it was really fun to be able to see [Kanda] model those types of conversations with [her] students. The students were then able to understand what they were expected to do."
According to Fitch, she had the chance to host Kanda for her first week, and believes that host families are very critical.
"[They] not only help [Kanda] navigate the culture shock but also the logistical things such as getting a social security number, getting a driver's license, purchasing a car," Fitch said. "Those are things that [Kanda] needs to do to become as independent as possible here."
Her host family,  according to Kanda, has been introducing her to the unique aspects of American culture and taking her sight-seeing.
"I had Thanksgiving dinner [with my host family]," Kanda said. "Thanksgiving morning, I watched the parade in New York, [which] was very fun to watch. I had a nice dinner, and there were a lot of desserts. I [got to] meet her parents, brothers and husband's parents. I had a very good conversation with all of them."
There are a few cultural differences between Japanese and American schools, according to Kanda. Kanda claims that she is excited to learn more about these differences.
"In school, I'm surprised about the hallways," Kanda said. "I saw people running [in the halls] and I'd never seen students in a rush in Japan. All of the students also use a computer here. We don't use a computer all the time, so I was surprised about how high-tech it was; […] students also come to school by their car, it's different in Japan because we use a bicycle or walk."
Kanda's passion towards American culture is clear to the Japanese students at South, according to senior Jason Noh.
"I saw her at one of our football games," Noh said. "You could tell she had no idea what was going on, but […] she was having fun and trying to get to know what was going on."
According to Noh, Kanda's helpful presence has assisted him in improving his Japanese.
"She goes out of her way to make everyone feel comfortable and welcome into Japanese class," Noh said. "Even though she's new, she's still trying to get used to everything."
Makita-Discekici co-teaches with Kanda, and claims that she can't imagine the classroom without her. Kanda started off the school year observing and assisting the classroom environment, according to Makita-Discekici.
"She would bring up images from websites when I was not prepared […] or when I would talk about [places] in Japan," Makita-Discekici said.
Kanda is a great asset to the classroom and to the department due to her bubbly personality, according to Makita-Discekici. Makita-Discekici described the positive vibe Kanda creates amongst her colleagues.
"She's pretty cheerful and polite," Makita-Discekici said. "She tries to talk to other department teachers. She used to be a cheerleader, so she looks quiet in the beginning but she's actually very outgoing."
According to Kanda, she wants to share her teaching philosophy and her Japanese culture with students in her class.
"I want to make students smile," Kanda said. "I want students to care about the Japanese language and culture so they understand us. I want to show them Japanese culture and American culture combined."