Women's sports teams develop support system with big and little sister programs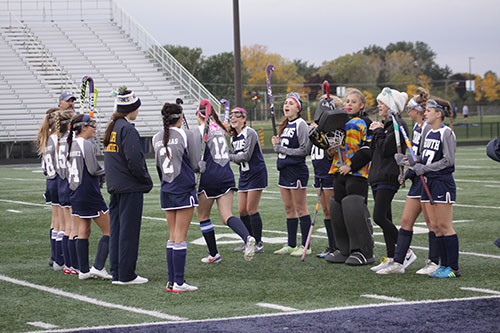 As freshmen, some South students think it can be intimidating to come into a new school and begin playing on a sports team. To help integrate new Titans into GBS sports and give players an all-season support system, some women's sports teams across South have adopted a program with "big and little sisters" to help players build new relationships with their teammates.
The big and little sister programs usually have one underclassman on a freshman or junior varsity team paired up with an upperclassman on varsity, according to junior cross country runner Emily Noone. Girls cross country is just one sport that has a big and little sister program, and according to Noone, they've had the program ever since she started as a freshmen.
"I loved my big sister [as a freshman]," Emily said. "She was on varsity, so she brought me closer with all the girls that were on [the varsity] team. She told me not to be intimidated or scared by them."
Noone, in her junior year, now has a freshman little sister of her own. According to Noone, the two help motivate each other throughout the season by cheering each other on and bringing gifts every meet.
"I think it has [improved races], especially for me this year," Noone said. "I've been out most of the season because of an injury, but I still get [gifts] from my sister Kayla. It cheers me up a lot."
Freshman Kayla Hyun agrees with her big sister, Noone. According to Hyun, Noone is a big motivator for her while she runs.
"I can always hear [Noone cheering at the meet]," Hyun said. "It's nice to know that your big sister is cheering for you."
Similar to cross country, field hockey also has the big and little sister program. According to junior varsity B Coach Dana Boehmer, there is one sister from the junior varsity A team and one from the junior varsity B team in each pairing. Like cross country, girls also bring in small gifts for their sister before games and serve as great support systems for each other, according to Boehmer.
"I think it's really good for the program," Boehmer said. "It brings unity to the program, [and] everyone supports each other, [and] it helps the girls get pumped up for the day and game. [There's] just a really nice cohesiveness that it brings."
Boehmer also believes that the big and little sister program is very beneficial to freshmen, who may be intimidated by new surroundings and a different sports environment.
"It helps them build relationships with upper classmen," Boehmer said. "It makes them more comfortable in the building, especially in the beginning of the year since [field hockey is] a fall sport."
Girls volleyball, on the other hand, had a different approach to the big and little sister program. Instead of one big sister and one little sister, the volleyball teams created "families." According to Kate Gregory, sophomore junior varsity player, a family is made up of a player from varsity, a player from junior varsity, and one from each freshman team.
"It's nice to not just have a big sister and to instead have a whole group of people I can count on," Gregory said.
Gregory believes the relationship she's built with the girls in her family has definitely benefitted her throughout the season, especially through traditions such as giving each other gifts before home games and watching each other play.
"During all of our games it was really beneficial to have a family because they were always there supporting me, and I could always support them," Gregory said. "It was just great to know that they were looking out for me."