South faculty works to guide students struggling with self harm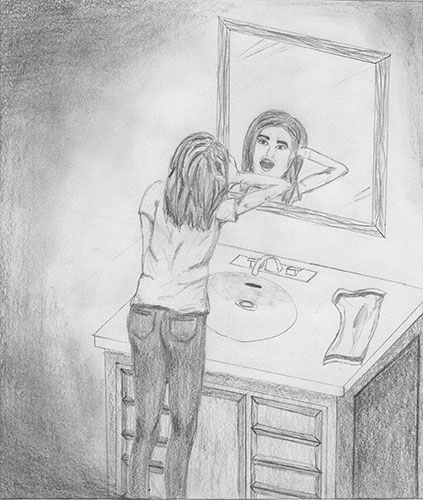 To many South students, between the classroom walls lie homework assignments atop homework assignments. To other students, the area between these walls institutionalizes a place of love and friendship. And to another group of students, between these walls sprawl the essential helping hands to life-threatening problems: a myriad of mental health issues.
According to Social Worker David Hartman, South's goal of establishing a safer environment is to help improve the wellbeing of students who may be struggling emotionally. According to the National Alliance on Mental Illness (NAMI), 50 percent of all lifetime cases of mental illness occur at the age of 14.
"We try to help kids be better students, be healthier students," Hartman explained. "We're focused on how mental health impacts kids in school. [….] We don't purport to be a therapeutic school. [But for] the kids that need really significant assistance, we like to refer to community based practitioners."
According to Josh Koo, Key Club sponsor, teachers act as the foot soldiers in identifying students struggling with self harm tendencies that in need of help. Koo said that although he has had experience in the past in dealing with students who suffer with emotional health issues, he has not encountered a situation like this at South. However, he acknowledges its existence among the students at South.
"At South, I haven't had a student [reach out to me] yet who does self harm, but I would be foolish to say it never happens," Koo said. "I think there are so many stresses [and] pressures that high schoolers face now, whether it be emotional or academic, so for some, [self harm] becomes an avenue for release."
As the Key Club sponsor, Koo creates club events specifically to combat emotional health issues like self harm and depression.
"We deal with things beyond the physical, but also in the emotional," Koo said. "That's where GBS RAK, random acts of kindness, came from. We wanted to make sure we were able to put smiles on people's faces […so [we] can uplift them and support them]."
According to junior Amber Stewart*, her emotional health issues began in middle school and continued on into high school. Stewart explained how South guided her through the smooth transition from middle school to high school.
"[We all] had a meeting and my parents were there, I was there, both schools were there; we discussed future plans, new social workers, counselors, classes and special education options, so it was pretty organized from the get go," Stewart said.
According to Stewart, her meetings with her social worker have reflected a positive change in her. Stewart believes that her social worker's assistance was valuable because she provided Stewart with alternative avenues to help cope with her indecisiveness.
"She doesn't just give you advice; she will also give you options. So, it won't just be like, 'You have to do this [and that in order to recover],'" Stewart explained. "[She will provide] three different things [I] can do. It's better [help] than I've had in the past because [now I] get to pick for [myself]."
In a similar situation, junior Anna Roads* recalled the beginning of a gradual decline in her emotional health over the course of a few months during sophomore year, leading to depression and anxiety. Roads explained how her first meeting with Hartman guided her onto a path of recovery.
"[Hartman] saw me in the shape that I was, and he said, 'Okay, I'm going to call your mom, and we're going to get you admitted into Highland Park hospital,'" Roads explained. "I was there for five days, and I learned a lot about how to be mindful, how to stay in touch with yourself. […] It obviously wasn't fun going through a situation like that, but I knew that I had to do it, and I'm really glad that I did."
According to Roads, she was relocated to a community-wide program called Compass, located in Northbrook, after her time at the Highland Park hospital. Roads described the facets of the program and how they were the foundation of her improvement toward happiness.
"[Compass] focuses more on mindful activities and why you were admitted, and they help you get back into the flow of schoolwork," Roads said.
Looking back on her experience with Compass, Roads reflected on her status before and after receiving treatment from the therapeutic program and  South.
"Before [getting help from South], I felt alone, I felt like nobody was there to listen or to help, or nobody cared, or nobody could see what I was going through; it was just a feeling of complete loneliness," Roads explained. "And after [attending Compass], I felt like I had all the support in the world; […] it was really gratifying."
If you or someone you know are feeling depressed, or you know someone who is committing self harm, please call 847-486-4949 or fill out the anonymous concern Google form on the GBS website to get help.
*Names have been changed