South says 'thanks': Looking back on the life and memory of Paula Hess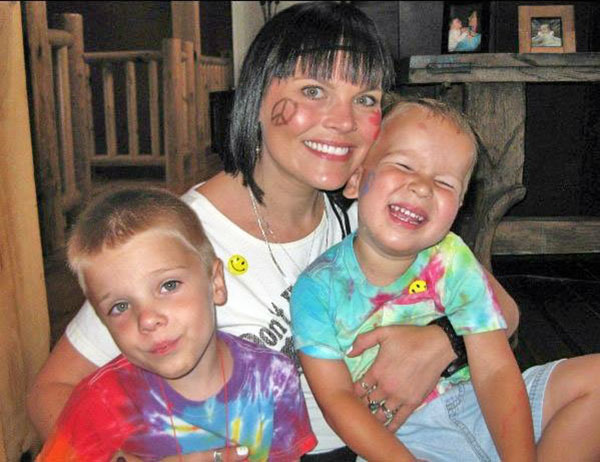 In a sea of blue and gold, one confident dancer, Paula Hess, shone through the crowd. Her every movement was synchronized with the rest of her Poms team, but her genuine smile formed a spotlight on her. Her impact on the stage and in the lives of her family and friends continued even after this moment. Sadly, on August 2nd, Hess passed away after battling Metastatic Breast Cancer.
Julie Smith, Varsity Titan Poms coach, recalls fond memories of her childhood watching Hess' extraordinary contributions to GBS as a dancer. Over the years, their relationship was cultivated through their love for dance.
"As I watched the team perform, my eyes were drawn immediately to this charismatic, gorgeous girl in the front," Smith said. "When she danced, you couldn't take your eyes off her. She was talented and energetic, and you could see how much she loved dance and performing. I admired her so much; she was the girl I wanted to be."
Hess' palpable passion for dance extended far beyond her involvement in high school. After graduating from GBS in 1990, Hess went on to coach various Chicagoland teams and even choreographed the Junior Varsity (JV) Titan Poms for the last two years. Hess was able to create routines in less than two weeks, one of which earned the JV team second place at the Varsity sectional tournament.
"She was so incredibly proud that day," Smith said. "And the team's success meant that they were able to attend the Varsity state contest as a JV team. Paula was back in the dance room this summer, creating more brilliance with our JV routines."
Her dedication to dance and her programs was unwavering despite battling Metastatic Breast Cancer since 2008. Hess's strength and resilience caused her passing on Aug. 2 to come as a shock to many. Smith says that through dance, Hess has impacted thousands of people who will forever remember her as a motivator, a visionary and an inspiration to all.
"I was lucky to share so many wonderful years with Paula," Smith said. "I only wish I had more time with her. I only wish we all had more time with her. After Paula passed, one of my former Poms who knew Paula and I very well dropped off a card and an orchid. The card said, 'Through love, through friendship, a heart lives more than one life. Paula gave so much to this world, and she will live on in all of our hearts.'"
Hess served as the Illinois state director for the Universal Dance Association (UDA), whose goal is to inspire leadership and maintain school spirit amongst dance teams. Smith believes that Hess' leadership in the UDA and involvement with various teams is unparalleled.
"She was like a life coach for dance team coaches," Smith stated. "She helped with everything. She ran enormous competitions, meticulously and always on time. […] She helped teams realize their dreams of going to nationals."
Hess' experiences as a director, coach and dancer made Paula an exceptionally compassionate and experienced leader. Smith says that Hess valued every person and their contributions, making everyone feel like a significant part of the team.
"The [team] loved having her around," Smith said. "Whether it was to help perfect the choreography or to apply lipstick or to sew a costume five minutes before they were walking on the floor, Paula was always an asset. And as we walked around at nationals, it was like walking with a celebrity. Everyone knew Paula and everyone loved Paula. She was the most personable and encouraging person who truly cared about her job and positively influenced dancers of all ages literally all over the world."
Kendall Cameranesi, Varsity Titan Poms captain, says that Hess' love for dance radiated from within and warmed the spirits of the Titan Poms, including herself. They valued her opinions and her desire to help them excel in their dances as best the team could.
"She gave us such a positive outlook on our routines and our potential to succeed in our season," Cameranesi said. "Whenever there was something that she wanted us to fix, hit harder or be sharper with, she put it in such a motivating manner it pulled everyone on our team closer [together]."
Similarly, Dayna Parenti, JV Titan Poms coach, says that Hess treated the JV team as a Varsity team and set high expectations that they always eagerly met.
"She always brought her energy to every practice," Parenti said. "You would never know what she was going through […] because she never let it impact the way she approached anything. Paula did not take herself too seriously despite all she was going through."
Even in the midst of serious dance competitions, Hess always knew how to bring enthusiasm to enliven the Titan Poms team, Cameranesi stated. At the semi-finals of nationals last year, Hess purchased two bags of Skittles to help uplift their spirits and get them excited for their next performance for the judges.
"She rips [the bags] open and begins handing out handfuls of Skittles to us, telling [the team] that we have to take them as they will give us our little 'boost' to hit this next routine even harder than last time," Cameranesi exlained. "She was so serious about passing out these Skittles, and all I remember is the entire team laughing because it was so unexpected. […] It just encompassed the kind of person she was: kind, loving and most of all, beautiful."
Hess' positivity was contagious, according to Cameranesi, as her cheerful personality always left a smile on the faces of those who she encountered.
"If you ask anyone on our team, they could tell you that their favorite memory of her was her smile," Cameranesi said. "I can still see it right now as I talk about her and it truly makes me smile."
Parenti believes that Hess' fight against cancer, combined with her incredible achievements in the fine arts, have made an unforgettable influence on the people and dance programs she has left behind in her passing.
"[Hess] profoundly impacted the program because she has been such an inspiration," Parenti described. "[…Poms has] dedicated this season to her and we will continue to make her proud."
This season, the Titan Poms are prepared to honor Hess' memory and passion with every performance they have, according to Cameranesi. They hope to embody the same spirit Hess had for dance when she was a member and coach on the Titan Poms team.
"[…] Before every football half-time performance, both JV and Varsity get into a large circle and we say on three, 'Poms for Paula,'" Cameranesi explained. "[Although] she is not here to physically motivate us, she is always still with us and our season will only be that much more successful knowing and remembering what we have dedicated it to."