South says 'thanks': Looking back on the life and memory of Linda Kocian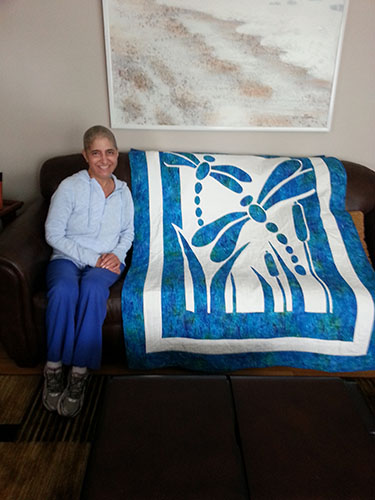 It is rare for someone to willingly sacrifice a piece of his or her identity for their friend's well-being. However, science teacher Linda Kocian, who passed away just over a month ago, was worth every lock of hair, according to fellow science colleague Jennifer Friedmann. Friedmann willingly shaved off her hair after dying it purple for a fundraising event, Kranes for Kocian, which helped to pay for Kocian's Multiple Myeloma medical bills.
According to Jeffrey Rylander, Science Department instructional supervisor, Kocian touched many lives during her time at South and had the ability to see the best in even the hardest of times and situations.
"Like an artist with a canvas yet to be colored, Linda patiently saw the beauty yet to be realized," Rylander said. "In her mind, no canvas, no matter how torn or stained at first, was outside of the opportunity to become a work of art."
After having taught nearly 800 students and impacted the lives of many more, Kocian passed away on Aug. 25. Kocian fought a long battle against Multiple Myeloma, a cancer that weakens the bones. Although the complete impact of Kocian's time at South is still yet to be realized, according to Rylander, her presence induced change in both the students and staff.
"We have been changed," Rylander said. "Changed to extend grace to each other when pressures could lead us to criticize; changed to see the potential in others when tempted to lose hope; changed to not take ourselves too seriously when the challenges of life get us down."
As a teacher, Kocian was able to extend her impact on students beyond the classroom, according to senior Julia Sultz. Not only did Kocian spend time helping students decipher Biology, she was also always willing to talk to them about their lives.
"Some of us would stay after class, even though it was the last period of the day; we would stay after and talk to her, and she was genuinely interested in our lives," Sultz said. "If we ever had a problem […she understood] and worked to take any stress that she might have been adding out of our lives."
Kocian's dedication to students' lives and overall well-being was also seen by senior Isabel Spingola. According to Spingola, Kocian inspired her to be a nurse and facilitated her love for Biology.
"She is someone that I'll carry with me for the rest of my life," Spingola said. "Losing her was something that was really hard for me to have to deal with; right away I just rushed off to Mr. Koo in the Science Department because I couldn't believe it. What hurts me the most is that other students aren't ever going to get to have her as a teacher."
Although Kocian taught many students during her career, her reach spread outside of the classroom, according to Sultz. Through event fundraisers such as Kranes for Kocian and Kolor for Kocian, the student body came together to support Kocian.
"It was awesome [to see the school support her]," Sultz said. "I went to Kolor for Kocian, and it was just so cool how so many people didn't know her—she only taught a few classes of freshmen, so there really aren't a lot of people who knew her—and [yet] they all came out and they supported her regardless. And it's awesome because I know she really loved knowing that the place that she loved was helping her."
For those who were able to know Kocian through her classes, her caring attitude was undeniable, according to Sultz.
"She literally could not be mean," Sultz said. "Our class had five girls and 20-something boys—freshman boys—so she once tried to yell at us and it was kind of funny because it's not in any part of her nature to yell at anyone, so we were cracking up because it was something we weren't used to seeing."
Similarly to Sultz, Spingola noticed her light and fun personality. Spingola wishes that more students were able to know her as a teacher because her love of teaching flowed through the class and brought them together.
"She was very lighthearted; she always had a positive energy in the classroom and she was always joking," Spingola said. "And for someone who has had so many years of experience, she had a very young [energy] to the way she taught."
Acknowledging this difficult time, social worker David Hartman stresses the importance of talking to an adult during the grieving process.
Upon South Principal Lauren Fagel's arrival to South last year, Kocian was no longer teaching due to her illness. However, Fagel says she heard amazing things about Kocian and was devastated by her loss.
"We're just very, very sad for her family [and] very proud of the fight that she fought," Fagel explained. "And she went fighting. Even at the end, when the choices were to keep fighting even though the fight was not looking good or to just kind of say, 'I've done what I can, I'm just going to try to have the best quality of life,' she chose to keep fighting; she wanted to fight."