Peer Group connects communities, creates opportunities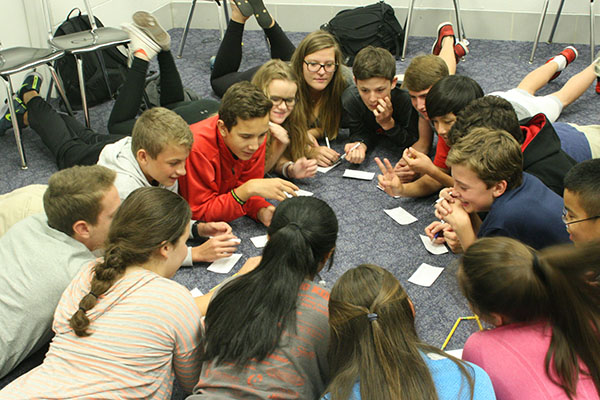 High school can be an overwhelming experience, especially for eighth graders who have to say their good byes to junior high.  Every year, incoming freshmen anxiously walk through the double doors of South as they transition into high school. Luckily, GBS Peer Groups help guide freshmen so that they can make an easy shift to the new environment. Now in its 42nd year, Peer Group ensures smooth changes and comfortable and accepting surroundings for incoming South freshmen.
Before the block schedule was introduced at South in 2014, there were several complications regarding the system and the time schedules of Peer Group according to Joy Cooper, the Titan Learning Center and Peer Group coordinator. She emphasized the many flaws in the previous structure and how they drastically affected Peer Group. Cooper explained that before the block schedule, the Peer Group program ran only during lunch periods.
"The challenge was freshmen didn't necessarily want to give up [their] time with peers at lunch to step away and do Peer Group with a different group of kids, so it was a challenge getting them to see the value of [the program] and [to] commit [their] lunchtime when they sometimes just wanted to sit in the cafeteria," Cooper said.
Similarly, Julia Sultz, senior Peer Group leader, believes the block schedule truly encourages stronger commitment to the program and improves the overall atmosphere for the Freshman class.
"I think that [the] block schedule is good because now Peer Group isn't during your lunch," Sultz said. "It's not an optional thing. If you sign up for Peer Group, your attendance is taken. It really makes kids come into the program and create better relationships."
Cooper acknowledges that all freshmen do not have the opportunity to participate in Peer Group during their first semester. However, the administration attempts to fit as many students as possible into the program by increasing the number of individuals in each group.
"Some kids have had to wait until second semester to [participate] in Peer Group, just because the demand is so high," Cooper said. "[However] we did not want to say no to kids, so some groups are as big as 14 right now. But for the most part they are anywhere between 8-14 freshmen and they all have two seniors working together to co-lead."
Anish Abeysiriwardena, a participant in Peer Group, enjoys the comforting and accepting atmosphere the students share in his group.
"I enjoy the fun and games, the laughter and the openness," Abeysiriwardena said. "It's more of a group of friends than a period in the school day. Peer group allows me to know that there are other people that are having the same troubles as me […] like getting lost at the new pit when I should be at the [old] pit."
According to Cooper, not only is the Peer Group  program attractive to freshmen, but seniors are also highly interested to serve as one of the GBS Peer Group leaders. Lori Steffel, Peer Group leader, believes that it's an extraordinary opportunity to be able to influence an entire group of incoming freshmen.
"It's the only place in school where there are no teachers and you're given full responsibility to lead a group of freshmen," Steffel said. "I think that's an opportunity that is so unique to Glenbrook South, [and] it's really appealing to a lot of seniors."
Despite many of the benefits Peer Group offers to students, Abeysiriwardena believes that it is difficult at times to manage homework without the added time provided by a full 90 minute SRT. However, Cooper believes that the Peer Group program positively impacts students, and compares it to a linking bridge that helps reconnect the relationship gap between the upper classmen and the lower classmen.
"I think to have older, caring kids explain things in a certain way that is non-threatening, safe and non-judgmental is really very helpful to [the freshmen]," Cooper said. "We're trying to break down the barriers between freshmen and seniors."
Peer Group is an opportunity for seniors to assist and mentor the younger generations as they make their way through high school. According to Cooper, Peer Group serves as common ground for both South seniors and freshmen, creating a stronger connection between students across the school.
"This is a culture of kids trying to provide help to other kids," Cooper said.