Senior Bryanna Hernandez graduates early, fulfills father's last request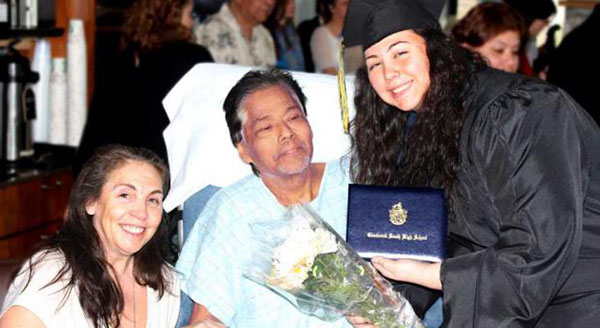 Many students at South are eager to graduate, counting down the days until they can throw their graduation caps in the air and step into adulthood. For senior Bryanna Hernandez, the long-awaited graduation ceremony came early on April 14 when she fulfilled her father, Ricardo Hernandez's, dying wish: to see his daughter graduate.
According to Bryanna, her father was diagnosed with gallbladder cancer this January, which had eventually spread to his liver.
"The doctors had originally given [my dad] a year to live, so we didn't think that we needed to do anything because he would have still been there for my actual graduation," Bryanna said. "We went back to the doctor, and they said that the cancer was progressing faster than we thought."
Susan Hernandez, Bryanna's mother, recalled Ricardo left to visit his sister and nephew after his benefit party but unfortunately returned very sick.
"He knew that he had been diagnosed with a terminal condition but he didn't want to know how much time he had," Susan said. "He asked, 'I just want to know one thing: am I going to see my daughter graduate?' And I said, 'yeah, you are. You'll be here for that.'"
Because Ricardo's life expectancy was shortened to four months, he would have been unable to attend Bryanna's graduation. Upon hearing about Ricardo's situation, South Principal Lauren Fagel recalls that she did not think twice about helping them out with an early ceremony.
"The mood was bittersweet," Fagel said. "Everyone was very emotional because we all knew the reason we were there [and that] was very sad. But people were also very proud of Bryanna."
According to Bryanna, the ceremony was held for her father at the Journey Care Hospice in Glenview with around 25 to 30 people in attendance. Fagel led the 15-minute ceremony, presenting Bryanna with a diploma cover but not a real diploma. Bryanna still attends South and will receive her real diploma with others on stage in June.
"[The ceremony] was overwhelming, but I was also very grateful because I don't think [an early graduation] has ever been really done," Bryanna said. "The fact that it was done for our family makes me give all my respect […] to [South]."
Bryanna treasures the early ceremony because she was able to show her father her graduation. According to Susan, she also feels that Ricardo was ecstatic to witness Bryanna's graduation.
"When I brought him back to the room, I said, 'Hey Papa, what did you think; Bryanna graduated,'" Susan said. "He said, 'I made it. Mama, I made it.'"
Two days after the ceremony, Ricardo passed away in hospice, according to Bryanna, while she and her mother were present in the room. Since Ricardo's passing, Bryanna has asserted that everybody copes differently with loss. Although Bryanna has yet to fully accept his death, she is certain that her father would have wanted her to live on his legacy.
"One of the moments where I've been the […] proudest of my dad is when before this cancer, he was diagnosed […] with multiple myeloma and he battled that for two years," Bryanna said. "We went to the doctor, and they said he went into remission, and I remember he took a picture and said, 'I kicked cancer's ass.'"
Ricardo was well known for his stunning sense of humor and kind personality as a Chicago police officer, according to Susan. According to Bryanna's friend, senior Hannah Qutaishat, Ricardo and Bryanna would pick her up in the mornings, often taking a different route to school because Qutaishat taught for Child Development at another school. Qutaishat is grateful for Ricardo's selfless behavior.
"With the time I did get to know [Ricardo], he was like a father figure to me," Qutaishat said. "I think that he knows that I'm just happy that I got to meet him and that he's the best person there is."
Bryanna and her father were like "two peas-in-a-pod," according to Susan. Acting sometimes like brother and sister, Susan recalls that Ricardo helped guide Bryanna through many experiences.
"They were like two kids," Susan said. "If I took them out to a restaurant, they'd be goofing off and playing around with the food. They would always have a good time doing things together."
According to Bryanna, being the youngest in her family has been tough because her father will not be by her side for as long as her siblings. Despite this hardship, Susan wants Bryanna to remember her father positively.
"[Bryanna should] just remember [her dad's] smiles," Susan said. "It takes more energy to be mad than it does to be happy. It takes more muscles in your face to make a frown than to make a smile."
Within her 22 years of marriage with Ricardo, Susan was proud to be her best friend's wife. According to Bryanna, she wants others to remember her father as who he was: the man who sought out the best for everybody.
"My dad always told me that it's okay to be scared, but don't be afraid," Bryanna said. "I try to live my life by that."