Applied arts offer viable experiences, career opportunities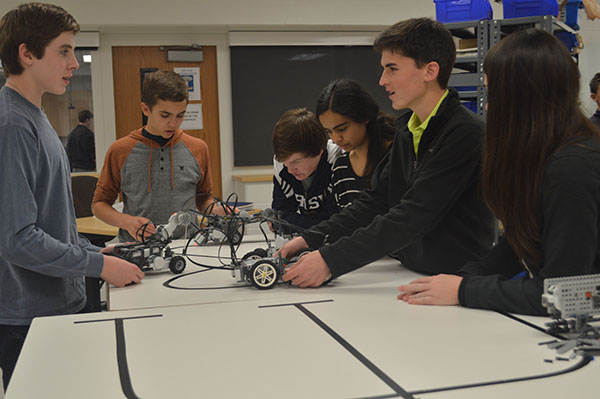 It's 3A lunch when a silhouette appears at the end of the applied arts hallway, followed by the noise of rolling wheels. As the figure approaches the end of the hallway, a strong scent of spray paint and wood diffuses about the air. The silhouette evolves into recognizable sophomore Colb Uhlemann, who had been testing out a new longboard.
According to Uhlemann, he is enrolled in an applied arts course at South with an interest of pursuing a Science, Technology, Engineering or Math (STEM) related career, specifically involving engineering. Uhlemann explained that the Project Lead The Way (PLTW) Principles of Engineering course he is taking has provided him resources to pursue a small outside of school longboarding-manufacturing company, Invent Longboard Co., pertaining to his engineering intrigue. 
"Having the [environment to build at school] is a great tool, because it allowed my friend and I to follow our interest and to start building longboards," Uhlemann said. "We used the tools in the makerspace and our previous knowledge to kind of develop this longboard company."
Agreeing with Uhlemann, senior Paola Santos-DeSoto, a former Computer Animated Design (CAD) and Woodworking student, echoed Uhlemann's sentiments regarding opportunities provided to her as a result of her applied arts classes.
"I am doing a project for Ignite Gym; it's my teacher's gym actually," Santos-DeSoto informed. "He asked me to help the owner out by kind of rendering the space."
According to Santos-DeSoto, she is considering studying interior architecture or interior design after graduation, as a result of CAD classes.
"I feel like [the applied arts classes] have prepared me so much," Santos-DeSoto said.  "I've talked to a lot of colleges because I'm a senior, and they have said that some of the work that the teachers are teaching us right now is stuff that you end up learning in college."
According to Uhlemann, the PLTW introduction to Engineering and PLTW Principles of Engineering classes have served as preparation in pursuit of an engineering career. Uhlemann explained how field trips, such as attending the International Manufacturing Technology Show in downtown Chicago with his PLTW class, have exposed him to engineering.
"[Field trips] get us out into the world to see, yes, we can take these classes and start learning about our fields, but then once we actually go out and see them in action, it makes a big difference," Uhlemann said. "And that is kind of inspirational to see where we can actually be some day."
Uhlemann explained how he encountered topics within the engineering curriculum that he believes will be beneficial toward his pursuit of an engineering career.
"I feel taking these classes has allowed me to learn more about the field I'm going into, and start to specialize with," Uhlemann said.
According to senior Matt Grinde, the applied arts teachers demonstrate constant support to students. Grinde expressed how he believes that PLTW Teacher Michael Sinde has assisted students greatly with opportunities both in and outside of the classroom related to engineering.
"Mr. Sinde does a great job of getting students opportunities," Grinde said. "He has a lot of connections. He really cares about students. He'll [stay] here late at night to help kids, even if it's for something so small, he'll be here any time."
Grinde plans on studying engineering at University of Wisconsin Madison this upcoming fall. Grinde expressed the significance of encouraging teachers in the Applied Arts Department, and the impact that it made on his pursuit in the engineering field.
"When you have teachers like [Sinde]who care so much about their students, it makes the [PLTW] program great," Grinde said.
Freshmen Nicholas Ermlov explained that he wishes to study computer science in college, as expressed by Grinde. According to Ermlov, Sinde has introduced engineering opportunities outside of school such as Raspberry Pi, a credit-card sized computer used for electronic and computing purposes in the STEM learning field and classroom.
"[STEM students] all went in two separate groups to IIT [Illinois Institute of Technology] as a challenge for Raspberry Pi, and we both won," Ermlov said. "They got $400 and two Raspberry Pis, and we got $300 and one Raspberry Pi. We also got funding for our projects [all from] Sinde; [he] found us this opportunity."
According to Sinde, the applied arts classes teach students more concepts than only engineering techniques. Sinde believes that STEM related applied arts classes also serve as a course in which students are able to develop problem solving skills.
"The big thing is, you're learning how to problem solve," Sinde expressed. "No matter what career you go into, you're going to have to solve problems at some point. The big picture [of these classes] is [to learn] how to solve problems."