Koo creates documentaries, aids community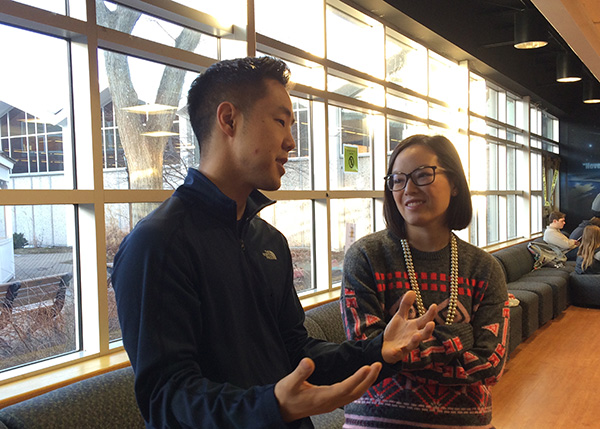 A science teacher, service enthusiast and documentary producer, Josh Koo, often recognized for his role as the sponsor of Key Club, has devoted his time and commitment to helping those within the community.
According to Koo, his involvement with the service club at his high school was one of many outlets for his pursuit of service, which continues today. Koo explained how over time his perspective on volunteering has changed since high school.
"When I was in high school, my mentality was, 'It's gotta be big to make it meaningful'," Koo said. "I think over the years, […] through my traveling experiences and even just leading Key Club, I realized the magnitude isn't important; it's the reflection that happens afterwards."
After four years of sponsoring Key Club, Koo expressed the club's overall focus has been to redefine the definition of service. According to Koo, the primary objective of the leader board was to form a clear distinction between charity and liberty.
"What we've come to is a very loose definition that whenever we do service, we always want to give opportunities of liberty, and not charity," Koo commented. "Charity is the 'feel-good, quick easy, pat yourself on the back,' type of work. But we really want to focus on liberty, meaning if we help somebody out, it should be so that the trajectory of their future has the opportunity to change."
According to Caroline Bodnya, senior Key Club Leader, Koo's support for students as well as his dedication to service opportunities are beneficial qualities for any club at South.
"Mr. Koo encourages us in all we do and continues to push us to continue to look for more and more interesting opportunities to serve," Bodyna said. "Overall [it's] a great quality for the sponsor of any club, and especially of Key Club, to have."
According to Julia Jakubiak, sophomore Key Club leader, she feels that she can depend on Koo as an adult she can go to when she needs guidance.
"I view [Koo] as a really good friend if I need advice or anything, or if I'm having a problem, I can sit down and talk to him, and he doesn't mind," Jakubiak said. "He's always open to listening."
Outside of South, Koo demonstrates his passion for assisting the community by creating documentaries for businesses and nonprofits on the West side of Chicago. According to Koo, the four-month process includes him and his creative arts team finding organizations, without means of media, who they can highlight.
"We find [organizations], build relationships with them, get to know them as people and say, 'We're not just here to take advantage– we want to help you,'" Koo said.
According to Koo, he and his team recently worked to create a documentary for an after-school dance group. The group was created by a mother who strives to shield students from street violence while providing them with an opportunity to become part of a community through learning how to dance.
"[The dance group] wanted to go to San Diego for a dance competition, but they didn't have the money," Koo said. "We worked with them to create commercials and GoFundMe pages [in order to] get them networked to give them an opportunity to go."
He and his team helped the dance group raise enough money to attend the competition in California, according to Koo.
Another project Koo worked on was for a cafe which provides a safe haven where students can go after school in order to avoid gang activity. In order to help the establishment, Koo and his team made a documentary.
"This cafe owner purposely picked a location across the street from the school, so he can get kids off the street," Koo said. "After school times, he reduces all the prices for students, and then he basically creates a study hall area. […] They can hangout, they can talk to each other, and even in the cold winter, stay warm. […] If they get a an A, he'll give them free food."
According to Koo, he attempts to carry over the dedication he has for making mini-documentaries into Key Club at South.

"It's been very rewarding for me to see [the impact]- and it's very encouraging as well," Koo said. "My hope is that kind of heart can be really utilized and transferred to when I run Key Club."
Koo described how life isn't about how much money one makes. The real value of life is derived from one's ability to reach out to others and have an impact through that. Although his aim of service has changed over the years, impacting others in a meaningful way has always been Koo's main goal.
"The heart of service and the heart of compassion has always been in my DNA, and who I am– my identity," Koo said.