H2O Club fosters fellowship, discusses Christianity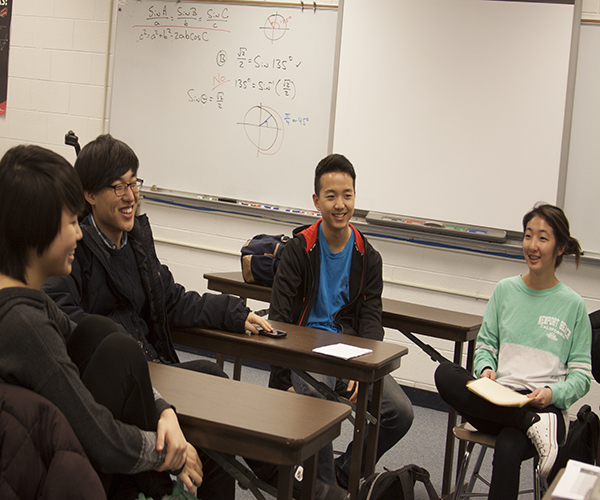 Gina Kim, staff reporter
February 5, 2016
Each Thursday afternoon, one by one, students trickle into the quiet comfort of Room 257. Among the walls adorned with laminated math posters, a muted noise of a singer and his guitar plays in the background  as students exchange lively conversation over plastic cups of soda and a crinkly pretzel bag. Although not a large group, nor a school sponsored one, H2O club, a Christian student-based organization, gathers to share fellowship among other students of the same faith.
"[H2O] is not a chemistry club," English teacher and club sponsor Mark Popovici said. H2O, which stands for "Humbled to One," is a student faith-based organization established across multiple schools in the suburbs, including Glenbrook North and Niles, according to Popovici.
"It's a club for Christian students to get together and just be with another," Popovici said, "But it's also about fellowship […] and to create a positive fellowship in the school."
According to H2O senior leader Kevin Jeon, he shared this sentiment when he joined his freshman year, but his passion for the club only grew with time.
"[Joining H2O] was my first step in showing my faith in an action," Jeon said. "My passion for H2O has been growing, and [so has] the urge to go to H2O meetings and to make H2O more known […] I just wanted to share this vision of mine of living for Christ to my fellow students."
Senior H2O Leader Claudia Choi agreed with Jeon. School can bring trying times to the student body between obligations inside and out of the curriculum, but H2O serves to lighten that burden, according to Choi.
"We want our club to be a light to the school," Choi said. "Especially because the environment is really hard, there are a lot of people who feel lonely and left out […] We wanted to be people who, in these times, [would] be there for [students] so that they're not alone, and [to show that] there's someone who loves them."
According to Popovici, H2O's weekly gatherings are largely student run, in terms of events, planning, and organization for the day, but also for the future. In terms of outreach in community work or coordination with other schools, Popovici said that the students were still looking to do work different from canned food drives and clothing drives that the school has already done.
"I'm trying to build a foundation that we can grow off of," Popovici said. "It's spiritually uplifting for me to see so many people that want to do something […] because they have this passion."
According to Choi and Jeon, the club aims to not only help the community, but to also create a safe space for people looking for a comfortable, relaxed environment where others can share their thoughts and encourage each other.
"[H2O] can provide a second home for [students], and show that people are there for them as well," Choi said.
H2O is not without its religious roots, however. According to Jeon, although the club is based around creating a welcoming community in South, he also wants it to be a place for students to grow closer to their faith, especially in the difficult times that a high school experience may bring. Jeon explained that this was a work in progress, but a goal he wished to see the club achieve for its members.
"I liked the things that [the former leaders] did, but I was thinking that [the club] could be more," Jeon said. "What it used to be was that [H2O] was more like straight up bonding time, straight up fellowship time and having fun […] I wanted it to be more of a training time and helping students to get through school and planting [in them] a passion for God."
Despite this mission's goal, Choi emphasized the importance of the community aspect that built H2O's foundation beneath it, a foundation upon which the club may expand its membership and horizons.
"H2O is more like being a family," Choi said. "Even outside H2O, when I would see [members] in the hallways, or if I'd see them outside school, we'd always encourage each other, we'd always rely on each other."
Popovici notes that although the club is very faith-oriented and places an emphais on the value of prayer, the club also sets aside time to relax and have fun with other members of the club. He believes that finding a balance is very important.
"H2O is not always just [praise]," Popovici said. "It's sometimes just games, it's fun, it's hanging out with other believers, and that's what sometimes you need– and that's exactly what we're here for."