South examines logistics of later start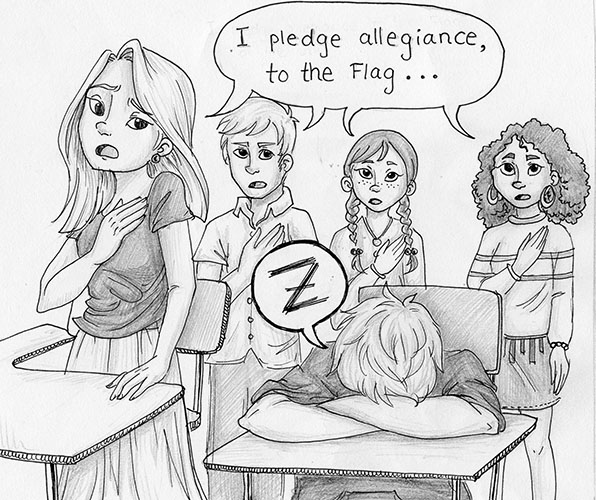 With eyelids trembling, junior Lori Steffel explained how she unknowingly dawdled into a mortifying situation last year when she encountered the terrified eyes of two boys. According to Steffel, after attempting to combat her morning exhaustion while strolling down the halls of South,  she became acquainted with an embarassing situation to which her sleep-deprivation led her.
"I was walking down the hallway when I turned to go into the bathroom, [and] then I realized I was half asleep and had just walked into the boys' bathroom," Steffel said.
Many studies have communicated that incidents similar to Steffel's are a result of students' inability to properly function at an early hour during which school begins. According to the American Academy of Pediatrics, adolescents who don't receive enough sleep suffer from mental health issues, which can alter  productivity during school.
Despite this South's arrival time will remain, according to Dr. Jim Shellard, Student Activities Director.
"[School starting later] hasn't been in discussion for five years because of the other outside factors that weigh into that," Shellard revealed.
Regardless, Steffel expressed how South's arrival time has negatively impacted her school performance in school and her interactions with others.
"If I wake up anytime earlier than [8 o'clock], I'm really not at my maximum potential in terms of how I function, how I interact with other students, how I process information; it's all stagnated by not having enough sleep," Steffel said.
Sophomore Zach Adams shared a mutual sentiment to Steffel. According to Adams, the early arrival time has made a noticiable, negative effect upon his academic involvement.
"I would be zoned out in my first block class, and then that would reflect in my grades as well, because there were certain classes where [the average would] be a distinctly lower grade percentage than all the other classes," Adams said.
Adams expressed the benefits of waking up later, and how if a new start time was implemented he would enjoy coming to school more. He says having the opportunity to sleep in changes his outlook on attending school, causing him to have a better attitude as a result of an adequate amount of sleep.
"The times I do sleep in, I definitely feel more refreshed, […] and [I] actually want to go to school," Adams explained.
Similarly to Adams and Steffel, English teacher Debbie Cohen acknowledged the repercussions an early arrival time positions on students. According to Cohen, she's noticed weariness amongst students in her classes in the earlier hours of the day.
"Earlier this year, there was a student […] sitting bolt upright, and her head was waving back and forth, because she was literally passing out while the class was going on," Cohen said. "To me, that's not a kid who is trying to be bad, defiant or isn't interested. […] She was trying to stay awake, but her body was just betraying her."
Cohen explained how from her perspective as a teacher , she tends to notice when students are zoning out, and tries to implement activities that allow students to get up and move around, especially now with blocks.
"I do believe that it's important to try to get people up and about, or give them opportunities to stretch their legs," Cohen said.
Shellard stated that a later arrival time is not in South's near future, and how a change in arrival time would cause potential complications with students'  transportation by bus in the morning and after school, as the buses work with alternate schools.
"The buses are kind of driving the system at this point," Shellard explained. "All those buses have to be coordinated not only with us; we don't own our own buses."
According to Shellard, moving South's start time to 10 a.m. would result in a 5 p.m. release time, creating further scheduling obstacles, not only with buses, but extracurriculars as well.
"I have an invested interest in maintaining that after-school vibrancy, and I would be very concerned about starting an activities program at 5 o'clock," Shellard said, "I think our numbers would drop off significantly,"
Junior Audrey Brown echoed Shellard's previous concern, explaining how starting school at its current time allows her to be home at a reasonable hour to complete her homework.
"[A later arrival time] would affect my entire schedule, because sports would go later, activities and clubs would go later and it would affect me going home to do my homework," Brown said.
According to Shellard, a later start would jeopardize some athletic programs. Principal Fagel reiterated the potential conflict a later arrival time would impose upon after school athletics.
"If [a] school ends at four, and [the] kids can't get to a shared contest with another school until 4:45, that would be potentially [inconvenience] other schools," Fagel mentioned. "And they might say, 'We don't want to schedule to play you, because we don't want to do our game that late'."
Fagel explained that requiring students to stay at school for a longer time could also have an influence on their families, making some younger siblings unable to attend later events.
"[A later arrival time] could impact families," Fagel stated. "If they're going to come see their child's basketball game, and it starts at 8:30, versus 7:00, or 6:00, that could impact the family life."
Amidst the trade-offs associated with having an early arrival time, Cohen explained how she believes that the current start time serves as exposure to how the outside world functions.
"When you go out into the working world, you're probably not going to start at 10:30," Cohen said. "We want to give [students] the best chance to be successful. But I do also believe that school and school schedules are not divorced from the reality of working life outside of that."
Despite the factors that overshadow the benefits of starting school later, Shellard acknowledges that the morning is not an easy or ideal time for students in classes at school. He recalls a time when he witnessed fatigued South students in the early morning.
"I came in one morning, and it was around this time of the year actually," Shellard described. "It was Canned Food Drive time, and I came into my office. […] I sat down at my desk, and I'm like, 'Ugh!' I looked under my desk, and there was a student asleep under my desk."