Hoekstra battles cancer, strengthened by supporters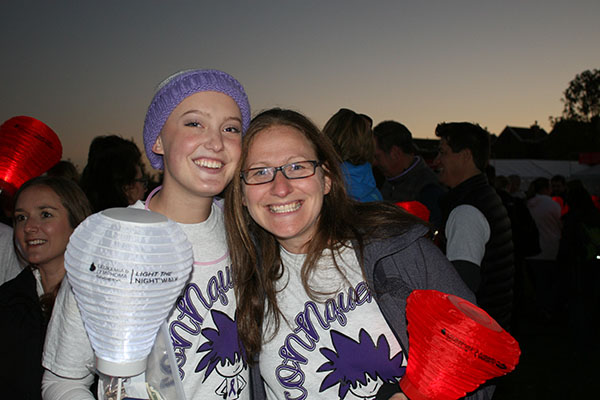 One moment has the power to change an entire lifetime. Glenbrook South graduate Connie Hoekstra has experienced this firsthand after she was diagnosed with Hodgkin's Lymphoma cancer just a week before she was set to leave for Elon University this past September. After receiving the diagnosis, her mind immediately assumed the worst, because her family has a long history of battling with cancer.
"I didn't even know what it was at first, I had heard the word, but wasn't exactly sure," Hoekstra said. "I was super overwhelmed and started crying. In my family we have had a lot of people that have been affected by cancer. When my cousin Will was diagnosed his was terminal, so cancer is a really negative word in our family. You immediately think of all the horrible things you have to go through."
Despite the traumatic experiences that her family has gone through prior to discovering her diagnosis, Hoekstra found comfort in knowing the background behind her strain of cancer.
"I was really nervous, so we did more research on lymphoma and mine is very curable and I'm really lucky," Hoekstra explained. "It wasn't as nerve wracking after that, but in the moment I had such a negative view of what the next year would be like."
The overwhelming amount of support that she received prior to receiving her diagnosis has been her saving grace, according to Hoekstra. She believes that her friends and family have been instrumental in helping her maintain a positive outlook through her battle and hope for the future. In addition, the Glenbrook South community has been a huge support to Hoekstra, even after she graduated, which has meant the world to her.
"It's really interesting how many people [who] I haven't seen in forever have reached out to me," Hoekstra said. "My family was always insanely close, but I've gotten a lot closer to my aunts and cousins. It's really crazy that even though I've graduated a lot of clubs are doing things for me and different teachers have reached out. I've always loved how GBS is a community, and GBS is still here for me even after graduated. I don't really have anything like that in my life because I'm not going to school, so GBS has been a comfort, knowing that people are there supporting me."
Along with Glenbrook South, the community of Glenview as a whole has shown an incredible amount of compassion for Connie, according to her mother Eileen Hoekstra. Demonstrating its support in more ways than one, the community has made Connie's transition significantly easier.
"They've been bringing meals, they bring her flowers, gifts, they showed up for the beautiful Light The Night, and we had close to 200 people there supporting Connie," Eileen said. "I have had friends say the rosary for her and they've had a mass for her. I have to say that the biggest thing has been the prayers that we get from this community, it's just fabulous. People just think about her at all times and let them know they're thinking of her. The community has been outstanding."
This past weekend The Leukemia and Lymphoma Society hosted their annual "Light the Night Walk" event, where over 200 people attended in support of CONNquer, Connie's support team that was first started by her cousins and family. Both Connie and Eileen were very overwhelmed by the turnout and could not have been more appreciative of the love and aid that they received.
"I think she was overwhelmed and she couldn't believe how many people came out to support her," Eileen said. "Her friends that are her age are all at school, but she still had 200 people there. It was unbelievable for her and she was just amazed by the whole thing. I think all the support she has is uplifting for her."
Senior Bobby Quinn, Hoekstra's cousin, has been by her side every step of the way and has had a very difficult time seeing what she is going through. Quinn has always had a very close relationship with his cousin, but he realizes that she needs him now more than ever. When he was first informed of the diagnosis he was stunned, but immediately showed his support.
"She was feeling really sick before, and then she went to the doctor and my mom called me saying that they said she might have cancer," Quinn said. "I couldn't believe it, but then the next day it was confirmed. I was really broken up about it for so long, and when I got over the initial shock I realized that I had to be there for her."
Eileen feels that witnessing Connie battle cancer is one of the most difficult experiences of her life. She would rather be ill herself than watch her own daughter suffer but is infinitely proud of the strength and determination that Connie has displayed every step of the way.
"It's hard to watch your child be sick," Eileen said. "You just want the best for your children, and when one is sick it's hard. My husband and I would both be happy if it was one of us instead. We were all prepared for her to go to college the next week, and we know that's going to happen now next year and she has such wonderful people who will be her new classmates. We're so proud of her."
Looking to the future, Hoekstra realizes that she has many crucial decisions to make. Due to the fact that Elon University is too far away, she is considering attending schools within the state such as University of Illinois or Illinois State University. She is hoping to attend college as a freshman next fall, but is concerned about the fact that her friends will be a year ahead of her in school by that time.
"I applied to [University of] Illinois and I'm also really looking at Illinois State," Hoekstra said. "I have some friends who go there who aren't my best friends, so I wouldn't feel weird that they're technically older than me in school. I'm having a difficult time deciding because five of my best friends go to University of Illinois, so I feel like it would be hard going there as a freshman when all my friends are sophomores. I am in such a different place in my life than all of them, so I'm going to make this decision when I'm healthier and my mind is clear."
Quinn understands that her cancer will inevitably have an impact on her life, but hopes that it will be for the best rather than for the worst. Quinn unceasingly believes in his cousin and knows that she refuses to let cancer hold her back from reaching her full potential in life.
"This time next year we hope that it was just a bad memory and it just fades away," Quinn said. "We hope that it doesn't make too big of a bad impact on her life and that it's something that she can just get past, which I know she can."
Throughout this past year, Hoekstra has noticed a change within herself. This experience has really put things into perspective and has provided her with knowledge that could only come from facing adversity. Although her battle with cancer has not yet been won, she feels that she already has in so many ways.
"I think I've grown up a lot," Hoekstra said. "After my car accident [senior year] I already just had a new take on life. I think I've become a stronger person because a lot of things have been thrown my way this year. If someone had told me this would happen to me I wouldn't have believed it, but I'm fighting with this huge support system behind me and I feel like I'm seeing everything in the bigger picture. I think I have a lot more knowledge of how life is than most people do at my age."