Tom Henderson named 2015 Distinguished Teacher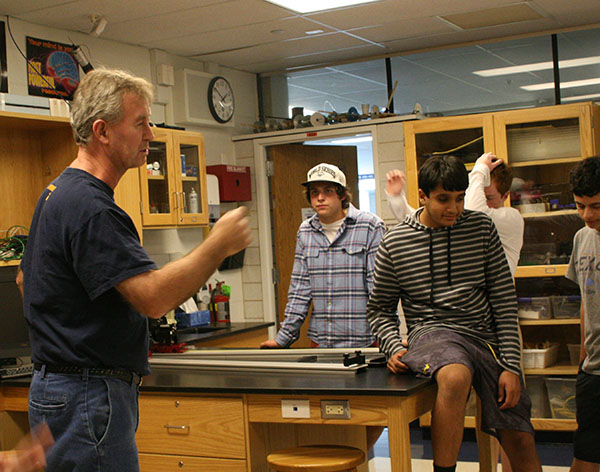 For 26 years, Physics Instructor Tom Henderson has put thousands of hours per year into his work as a teacher, and has become a source of knowledge for millions of people worldwide. All of his past efforts were put in the spotlight this year at GBS as Henderson was given the 2015 Distinguished Teacher Award in May. He was given a golden apple as an award for being named Distinguished Teacher of 2015.
In addition to teaching multiple different levels of physics at South, Henderson is also the creator of a website called The Physics Classroom. According to Henderson, The Physics Classroom is a full-service physics website that provides easy to understand and ready-to-use materials for students and teachers alike.
"There are a lot of teachers who come to The Physics Classroom [and] have said, 'I'm no longer going to use a textbook, instead I'm going to use The Physics Classroom,'" Henderson said. "So it becomes a free textbook for numerous classes [around] the world."
Other resources on The Physics Classroom include interactive materials, as well as quiz and test preparation. According to Henderson, these resources are designed to assist first-year teachers who need something to help them work their way through the subject matter. Every day, Henderson gets proof that his work has impacted people all around the world in emails thanking him for his website.
"The emails that I get [keep me motivated]," Henderson said. "The other thing is finding new, cutting-edge ways to present physics to students and provide teachers with good tools."
According to Henderson, the success of The Physics Classroom has surprised many students and teachers that have used the website as it has grown over the years. It started as a "sideline" endeavour and has become a professional project.
"It started as just a hobby and something I was passionate about and something I could create to support my students, and then it grew bigger than I ever expected it to grow," Henderson said. "Now people are expecting [a lot from] The Physics Classroom, but they don't know there's just one person here that's doing all the work."
According to Henderson, he is also taking this time to reflect on the past 26 years as a teacher. He claims that working at South has provided him with a lot of insight into the world of education.
"There are a lot of things I like, from the colleagues that I teach with, who are so wonderful and professional, to being in the classroom with students and thinking about creative ways that you can guide a lesson as well as foster good learning," Henderson said.
Henderson also explains how teaching at South for 26 years changed the way that he focuses on certain aspects of education. He describes how, as his teaching career continued, he began focusing more and more on his students as his primary interest.
"I've tried to focus less on my instruction and curriculum, and more on my students in their learning," Henderson said. "So I've shifted the focus from what I'm doing to what [the students] are doing as a result of the instruction."
One fellow physics teacher in the Science Department, Neil Schmidgall, who has been teaching alongside Henderson for 25 years, would agree that Henderson has provided an extensive amount of resources for South's physics curriculum. According to Schmidgall, Henderson's knowledge extends beyond what is in The Physics Classroom.
"He's tremendous support, and he's a tremendous supply of things to teach with," Schmidgall said. "He's great at digesting information and organizing it, and he's able to share that at any point in time during the year. He's always sharing anything he's ever produced or known about, so he's a tremendous colleague."
According to Schmidgall, most of the recognition for the South physics classes comes from Henderson's work on The Physics Classroom. His ability to broadcast various physics resources, explains Schmidgall, is what makes Henderson so worthy of the Distinguished Teacher award.
"He has put GBS on the map as far as physics goes because he's the originator of The Physics Classroom, and that's known throughout the world," Schmidgall said. "So that's where his abilities shine because he's able to take all that information and put it into a readable and usable format for students. That's his way of using his abilities to impact the whole community of physics education."
Schmidgall also reflects on the impact that The Physics Classroom has had on his own physics curriculum. He explains that The Physics Classroom is very applicable for students to use at all times, which is part of what makes it so useful in and out of the classroom.
"We use parts of it very specifically, targeted for specific assignments so it's a great supply of exercises and animations," Schmidgall said. "I think that's the profound nature of the internet: it has the ability for a student to interact with an animation and it's always there, so they can use it whenever they need to."
According to Schmidgall, working with Henderson for the length of his career at South has had a positive impact on his ability to problem-solve. He credits Henderson with the ability to improve the learning experience for both his students and colleagues.
"He's a guy that you can go to for anything," Schmidgall said. "If you've ever wondered how he approaches [a problem], he will always try [to] help with what you could do to make [it better]. 25 years later we're still [working towards] making it better and that's pretty impressive."
Former students of Henderson's, sophomores Savera Zulfiqar and Sophia Lau, also have nothing but positive things to say about Henderson after having him for physics as a part of the STEM program last year. They both felt he was extremely deserving of the award.
"He's such a great teacher because he explains things thoroughly, but in a very interesting way," Lau said. "He knows how intensive his class is, and he knows how to keep people engaged. If he feels like he is losing his audience, then he knows he can tell a joke or something relatable to the students to get them involved again and start concentrating."
Zulfiqar explains how Henderson's use of The Physics Classroom has increased her educational experience, and has provided her with an abundance of physics resources to help with any potential confusion within the class. She points out that his skills are exemplified both in  his work on the website and in the classroom.
"Whenever he wanted to teach us certain topics he had the perfect video or reading to go along with it because [The Physics Classroom] was tailored to what he wanted to teach us," Zulfiqar said.
According to Henderson, one of his favorite parts about teaching is seeing students interpret concepts in ways he never thought of, and having students ask profound questions. This changes his outlook on physics, while expanding his experience and knowledge to be even greater than before.
"I've taught all levels of first year physics," Henderson said. "I've taught some of the best freshman physics students that we have, [as well as] some of the best junior and senior physics students we have. I've [also] taught students who struggle a lot with [math, physics, and reading]. It's a difficult thing. And I think on both those ends, I get a challenge."
It was Zulfiqar's idea to nominate him for the award, and petitioned his name to other students in order to get signatures.
"I thought that he deserved the award because of the way he interacted with everyone," Zulfiqar said. "He was very warm and friendly, and he was also open to answering any questions."
According to Zulfiqar, Henderson approaches teaching in a refreshingly new way. She attributes her knowledge of physics to his effective techniques when delivering learning material to his students.
"He helped us learn in a very fun way so that we would be able to digest the knowledge and be able to remember it for future purposes," Zulfiqar said. "My favorite part about him is that he is very comical in his teaching [style]."
Henderson's willingness to help has also been recognized as one of his strongest qualities by many colleagues and students. According to Schmidgall, Henderson is very focused on supporting his colleagues and ensuring that his students understand the content.
"He's other-centered with colleagues and students, and he does whatever he can to help the students succeed," Schmidgall said. "Teaching takes a lot of work [outside of class] and he's able to enjoy the work he has put in to be prepared during the day and during the class. He's willing to do whatever it takes for the class to be successful."